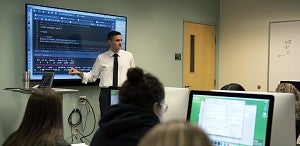 Master's Degree in Communication and Media Studies
How does media influence our lives and shape our future? Investigate the inner workings and impact of one of the most powerful forces in society at one of the nation's most respected schools of journalism and communication.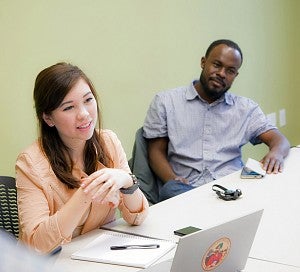 Communication and Media Studies at the SOJC
In our academic master's program, you'll examine media and communication from every angle, with interdisciplinary coursework spanning ethics, law, philosophy, sociology, and politics. You'll study under the guidance of leading researchers who are breaking ground in areas like global media, emerging technologies, and social change. And you'll develop the skills to continue your graduate studies or launch a career in business, government, or nonprofit work.
5-10
Students In each Cohort 
18-21
Months Spent In The Program
60%
students from outside oregon
What You Can Do with a Communications and Media Studies Graduate Degree
Our master's students develop valuable analytical and research skills that set them apart in any field. A media studies degree offers a solid foundation that can springboard you into academia or a career in media, government, law, or nonprofit work. The master's program is also aligned with the SOJC's Communications and Media Studies PhD.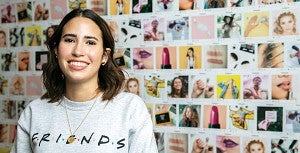 Unlocking the Secrets of Instagram Success
What does it take to become Insta-famous? Colombian international student Maria Cano '19 wanted to find out. An avid follower of beauty influencers—Cano, now a digital advertising strategist—leveraged her passion into an innovative master's thesis analyzing Instagram influencers' formula for success.
"You have the freedom of choosing classes that are the most fitting to what you want," she says of the communication and media studies master's program. "There's a lot of room to be different."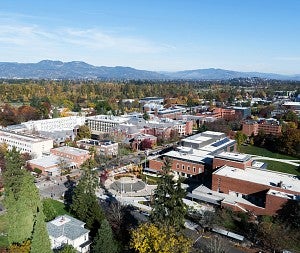 Study in the Beautiful Pacific Northwest
Named for renowned journalist Eric W. Allen, who founded the SOJC over 100 years ago, Allen Hall sits at the heart of the tree-filled University of Oregon campus in Eugene. In our state-of-the-art classrooms, studios, and collaboration spaces, you'll get expert guidance from leading researchers and teachers in the field.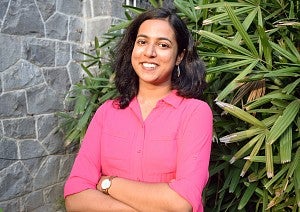 "The opportunities for intellectual stimulation [at the SOJC are] tremendous. I was lucky to have some meaningful conversations with professors like Gabriela Martínez and Chris Chávez who have played important parts in shaping my academic perspective and thought process…. Leading my own discussion lab and teaching in the final year was a great opportunity [that] seeped into my professional skill set."
—Keya Saxena, 2015 master's graduate, PhD candidate in communication and media studies doctoral program
Your Investment
Below are approximate tuition estimates for a typical student in the Communication and Media Studies Master's program. The program is eligible for federal financial aid, graduate employment fellowships, the G.I. Bill, and scholarships.
$55,000
Nonresident and International
Why Are Female Gamers Flocking to D&D?
Women are abandoning digital gaming spaces for tabletop classics like Dungeons & Dragons. Gamer and assistant professor Amanda Cote is on a quest to find out why. Her recent book, Gaming Sexism, explores the misogyny embedded in video game culture, while her research has helped shape the SOJC's cutting-edge game studies curriculum.