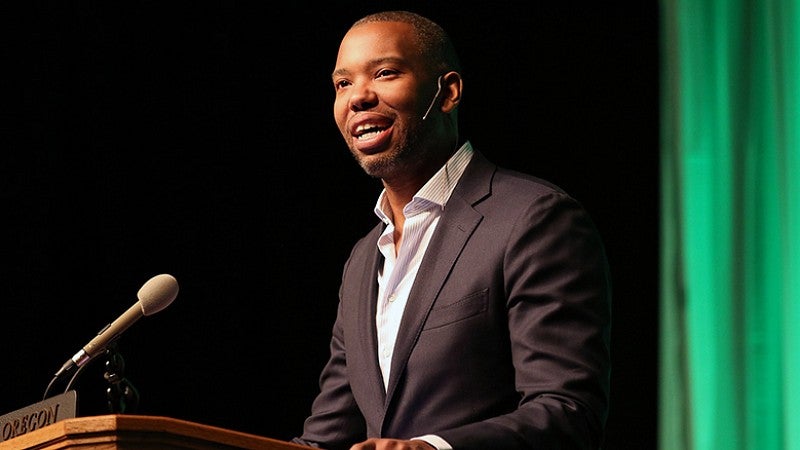 Made possible by the Robert and Mabel Ruhl Endowment, the annual Ruhl Lecture brings the industry's most influential voices in mass communication to the UO campus. Mabel W. Ruhl established the endowment in 1976 to honor her husband, the late Robert W. Ruhl. A celebrated publisher and editor of the Medford Mail Tribune, Robert Ruhl's editorial battle against the Ku Klux Klan in the 1920s clinched his reputation as an archetypal crusading small-town newspaper editor.
Past lecturers have included National Book Award winner Ta-Nehisi Coates, ProPublica editor-in-chief Stephen Engelberg, journalist and author Nora Ephron, and broadcast journalist Ann Curry.
---
2023 Ruhl Lecture: "The Promise of Immersive Realities"
"This format allows you to experience things in ways you never could before."
— Wesley Della Volla, Immersive Media Storyteller, Meridian Treehouse
The 2023 Ruhl Lecture featured Wesley Della Volla, founder of Meridian Treehouse and an immersive media nonfiction storyteller. Using a combination of virtual reality (VR) headsets, traditional media, and in-person narration, Della Volla created a shared experience among participants to spark connection, curiosity, and discussion. He took the audience, wearing VR headsets, to places most will never go in real life, from the depths of the ocean to the edge of the Earth's atmosphere. Throughout the moving experience, attendees learned about the immersive technology's potential to enhance storytelling and communication.
Learn More about Wesley Della Volla
---
2022 Ruhl Lecture: "The Art of Science Journalism"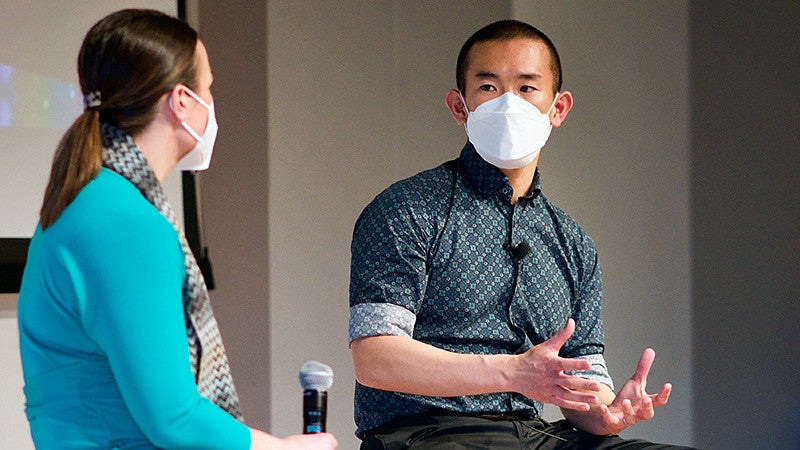 "A better world is always possible. We can do better."
— Ed Yong, science staff writer, The Atlantic
Pulitzer Prize–winning science writer Ed Yong of The Atlantic visited the UO campus in April 2022 to discuss the art of science journalism. Speaking from his experience writing before and during the COVID-19 pandemic, he explored the core of what it means to be a science journalist, how inseparable science is from the rest of society, and how it is shaped by our culture, our social norms, and our collective decisions.
---
2021 Ruhl Lecture: "1619 and the Legacy that Built a Nation"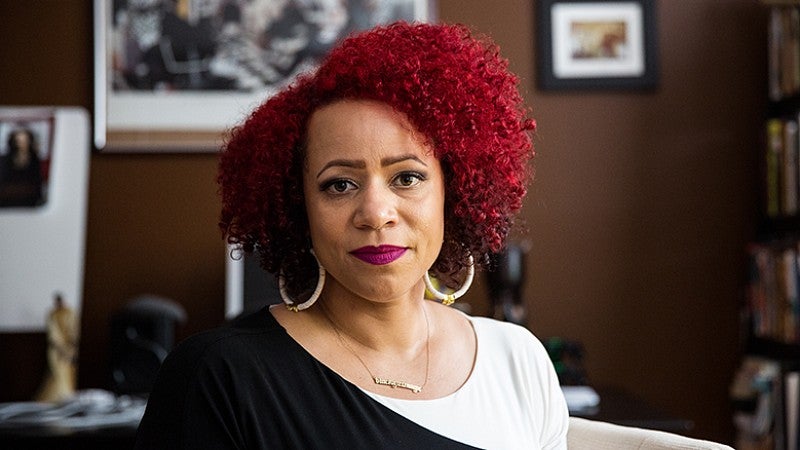 "Objectivity isn't dead; it never existed."
— Nikole Hannah-Jones, lead writer of the New York Times Magazine's The 1619 Project
In February 2021, the SOJC welcomed Pulitzer Prize-winning journalist, George Polk Award receiver, and MacArthur Foundation fellow Nikole Hannah-Jones to discuss "The 1619 Project." The groundbreaking multimedia initiative observes the 400th anniversary of the first African slaves arriving in America. Andrew DeVigal, journalism professor of practice and director of the Agora Journalism Center, facilitated a virtual panel discussion and Q&A with UO assistant professor Courtney Cox and SOJC journalism senior Shyann Montgomery on the lasting legacy of Black enslavement on the nation, specifically how Black Americans pushed for the democracy the country has today. "The 1619 Project" was also the fall 2020 selection for the UO Common Reading Program.
---
2019 Ruhl Lecture: In Google We Trust
"Technology has value, but it doesn't have values. It's what we do with it."
–Richard Gingras, Vice President of News, Google
In February 2019, the SOJC welcomed Google's Vice President of News Richard Gingras and Vice President of Global Communications and Public Affairs Corey duBrowa '88 to discuss technology's influence on society and news and the rising role of the "chief conscience officer." SOJC Associate Professor Seth Lewis facilitated the conversation and an audience Q&A.
---
Past Ruhl Lecturers
2018: Dennis Dimick, National Geographic | Watch the Talk
2017: Ta-Nehisi Coates, journalist and author | See a Photo Gallery
2016: Stephen Engelberg, ProPublica | Watch a Video
2015: Karen Pensiero, The Wall Street Journal
2014: Eric Liu, author
2013: Ann Curry, NBC
2012: Anand Giridharadas, author and columnist
2011: Jere Van Dyk, author and journalist
2010: Philip Meyer, professor ermeritus, UNC Chapel Hill
2009: Martin Baron, editor, Washington Post
2008: Jan Schaffer, executive director, J-Lab
2007: Leonard Pitts, commentator, journalist, novelist
2006: Jay T. Harris, Wallis Annenberg Chair in Journalism and Democracy, University of Southern California
2005: Ann Marie Lipinski, journalist, curator of Nieman Foundation for Journalism at Harvard
2004: John Carroll, editor, The Los Angeles Times
2003: Tom Rosenstiel, author, journalist, press critic and executive director of the American Press Institute
2002: Frank A. Blethen, publisher, The Seattle Times
2001: Nicholas Kristof, columnist, The New York Times
2000: Sandra Mims Rowe, former editor, The Oregonian
1999: Susan Meiselas, Magnum Photos
1998: Jerry Ceppos, San Jose Mercury News
1997: Suzanne Braun Levine, Ms. Magazine, Columbia Journalism Review
1996: Lawrence K. Grossman, NBC News, PBS
1995: Ellis Cose, Newsweek
1994: Jonathan Alter, Newsweek
1993: Joann Byrd, Washington Post
1991: Geneva Overholser, Des Moines Register
1990: Jay T. Harris, Knight-Ridder, Inc.
1989: David Shaw, The Los Angeles Times
1988: James H. Ottoway, Jr., Ottaway Newspapers, Inc.
1987: Deborah Howell, St. Paul Pioneer Press Dispatch
1986: Frederick Taylor, The Wall Street Journal
1985: Lewis Lapham, Harper's Magazine
1984: Steve Neal, Chicago Tribune
1983: Seymour M. Hersh, journalist and author