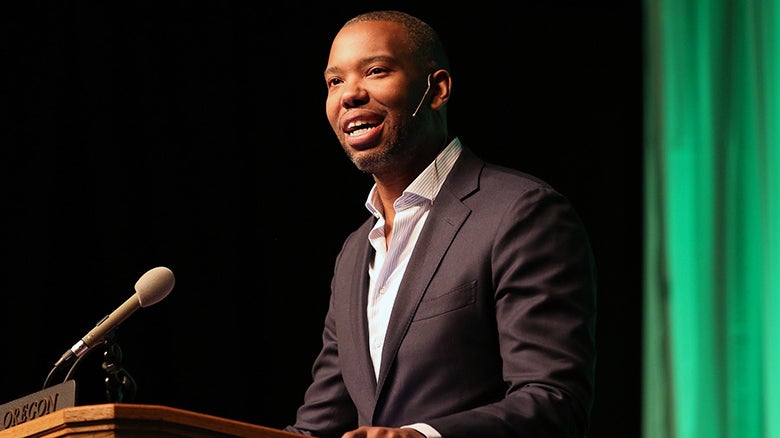 Made possible by the Robert and Mabel Ruhl Endowment, the annual Ruhl Lecture brings the industry's most influential voices in mass communication to the UO campus. Mabel W. Ruhl established the endowment in 1976 to honor her husband, the late Robert W. Ruhl. A celebrated publisher and editor of the Medford Mail Tribune, Robert Ruhl's editorial battle against the Ku Klux Klan in the 1920s clinched his reputation as an archetypal crusading small-town newspaper editor.
Past lecturers have included National Book Award winner Ta-Nehisi Coates, ProPublica editor-in-chief Stephen Engelberg, journalist and author Nora Ephron, and broadcast journalist Ann Curry.
---
2019 Ruhl Lecture: In Google We Trust

Join us for an evening with Google's Vice President of News Richard Gingras and Vice President of Global Communications and Public Affairs Corey duBrowa '88. SOJC Associate Professor Seth Lewis will facilitate a conversation with Gingras and duBrowa about technology's influence on society and news as well as the rising role of the "chief conscience officer." This event is free and open to the public.
Where:           
University of Oregon Campus, Eugene
Erb Memorial Union, Redwood Auditorium
When:            
February 12, 2019
4–6 p.m.
---
Past Ruhl Lecturers
2018 Dennis Dimick, National Geographic | Watch the Talk
2017 Ta-Nehisi Coates, journalist and author | See a Photo Gallery
2016 Stephen Engelberg, ProPublica | Watch a Video
2015 Karen Pensiero, The Wall Street Journal
2014 Eric Liu, author
2013 Ann Curry, NBC
2012 Anand Giridharadas, author and columnist
2011 Jere Van Dyk, author and journalist
2010 Philip Meyer, professor ermeritus, UNC Chapel Hill
2009 Martin Baron, editor, Washington Post
2008 Jan Schaffer, executive director, J-Lab
2007 Leonard Pitts, commentator, journalist, novelist
2006 Jay T. Harris, Wallis Annenberg Chair in Journalism and Democracy, University of Southern California
2005 Ann Marie Lipinski, journalist, curator of Nieman Foundation for Journalism at Harvard
2004 John Carroll, editor, The Los Angeles Times
2003 Tom Rosenstiel, author, journalist, press critic and executive director of the American Press Institute
2002 Frank A. Blethen, publisher, The Seattle Times
2001 Nicholas Kristof, columnist, The New York Times
2000 Sandra Mims Rowe, former editor, The Oregonian
1999 Susan Meiselas, Magnum Photos
1998 Jerry Ceppos, San Jose Mercury News
1997 Suzanne Braun Levine, Ms. Magazine, Columbia Journalism Review
1996 Lawrence K. Grossman, NBC News, PBS
1995 Ellis Cose, Newsweek
1994 Jonathan Alter, Newsweek
1993 Joann Byrd, Washington Post
1991 Geneva Overholser, Des Moines Register
1990 Jay T. Harris, Knight-Ridder, Inc.
1989 David Shaw, The Los Angeles Times
1988 James H. Ottoway, Jr., Ottaway Newspapers, Inc.
1987 Deborah Howell, St. Paul Pioneer Press Dispatch
1986 Frederick Taylor, The Wall Street Journal
1985 Lewis Lapham, Harper's Magazine
1984 Steve Neal, Chicago Tribune
1983 Seymour M. Hersh, journalist and author