Technology is changing fast, and it's driving massive shifts in the fields of journalism and communication. The SOJC's Journalism Advancement Council helps us stay relevant. It keeps us on the leading edge. It tells us what real-world skills our students need to cultivate. These experts in the field are instrumental in ensuring the SOJC lives up to its reputation for excellence.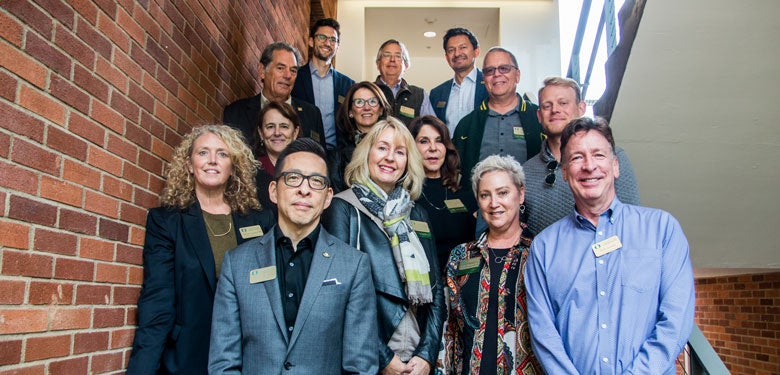 Chair
Betty Staniak '80
Senior Writer and Producer, State Farm Creative
---
Members
Jon Anderson
President and Publisher, Random Length Publications
Scott Bedbury '80
Founder and CEO, Brandstream, Inc.
Cameron Blanchard '91
Barbara Blangiardi '79
Senior Vice President, Strategies and Creative Partnerships, FOX Sports
Therese Bottomly '83
Editor and Vice President of Content, The Oregonian
Julie Dixon
Co-Founder/Advertising (Retired), Sports Incorporated
Tonya Dressel '88
Shirley Hancock, BS '80
Director and Trainer, GratiaPR
Contributing Writer, 1859 Oregon's Magazine
Former anchor and reporter, KOIN-TV
Rick Jacobs
Executive News Director (retired)
KGW-TV
Brock Kirby '08
Freelance Copywriter
Ryan Knutson '09
SVP, Media Partnerships - Dow Jones
Anne Marie Levis '96
President, Funk/Levis & Associates
Jim Pensiero '75
Deputy Managing Editor (Retired), The Wall Street Journal
Mark Pilkenton '79
President, StoryMark
Scott Reames '89
Content Director and Historian, Nike
Neal Rosen '74
Owner, Rosen Communications
Jane Wildman '83
Board of Directors Combe, Inc.
Tracy Wong '81
Chairman, Creative Director, WONGDOODY