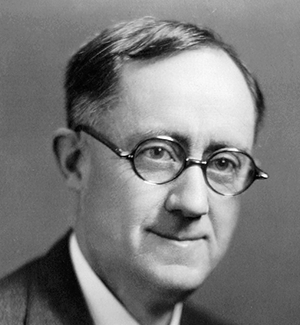 During his school years at the University of Wisconsin, Eric Allen was the campus correspondent for the Milwaukee Sentinel. After graduating, he held reporting jobs at the Milwaukee Free Press, the Denver Post and finally the Seattle Post-Intelligencer. He had worked there for eight years when, in 1912, he accepted a position as the head of the journalism department at Oregon. The department was still in its infancy when Allen became part of the faculty, but he soon became a respected figure on campus and in the community.
In 1916, the Board of Regents of the University raised the status of the journalism program to a School of Journalism and Allen was appointed its first dean.
Allen was a perfectionist who established rigorous educational requirements for the journalism program, developed internships with Oregon newspapers, built the school's enrollment, and established the first graduate program in journalism in the Northwest.
His philosophy of discipline was the foundation on which he built the school. He wrote in the Portland Chamber of Commerce Bulletin in May 1913: "We will drill them [the new journalism students] hard in accuracy, terseness, fairmindeness, and ability to understand and sympathize with all classes of the community. Then we will throw them in and see if they can swim."