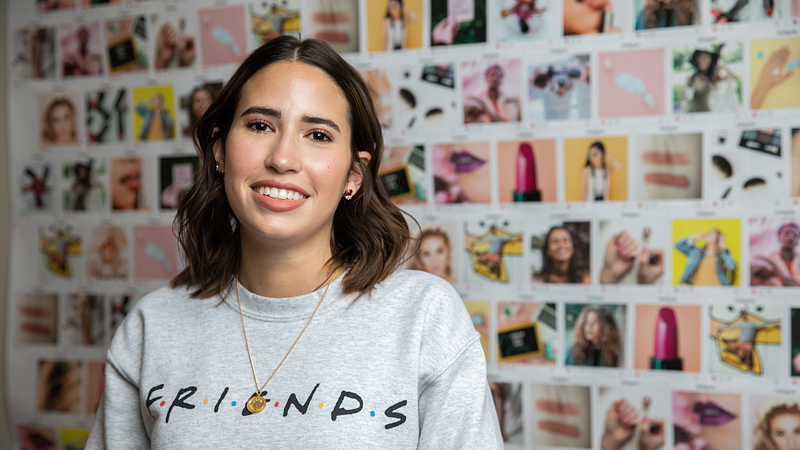 Ever wonder what it takes to become "Insta-famous"? Media studies master's student Maria Cano has made it her mission to find out.
An international student from Colombia, Cano has followed social media influencers in the U.S. and Hispanic beauty industries — particularly on Instagram — for years. Now, in the UO School of Journalism and Communication's Media Studies Master's program, she's getting the research skills she needs to investigate the secrets to their success.  
"I focus on what makes some social media influencers grow and others not," Cano said. "I'm interested in how the people behind the camera start developing relationships with people in the audience and how the audience starts thinking of the influencers as friends or people they can trust."
For her research, Cano is tracking the methodology and growth of five Instagram beauty influencers with 10,000-500,000 followers. She's observed that these influencers engage with their followers almost constantly, which has helped them grow their platforms.
She says she still has a lot of work to do before she can draw any definitive conclusions, however. Cano finished her thesis proposal this winter and is now in a race to complete her research and write her thesis by June.
"I've always been interested in social media — how it started with blogs, and now it's evolved into people literally sharing their everyday lives and creating this persona of themselves," Cano said. "Instagram is about curating your life. Everything looks pretty, and you have to find those Instagrammable places."
Cano first heard about the SOJC from a professor at Trinity University in San Antonio, Texas, where she received a bachelor of arts in English and communications. She hadn't considered going to graduate school until her undergraduate paper comparing U.S. and Colombian audience perceptions to the Netflix show "Narcos" was accepted to the Association for Education in Journalism and Mass Communication (AEJMC) conference, a rarity for an undergraduate entry.
"Because the paper got accepted, I felt like research was something I could continue doing," Cano said.
She chose to go to the SOJC after learning more about Professor Chris Chávez's work.
"I was very interested in his work on Latinos and Latino audiences in the U.S.," Cano said. "I was interested in the cultural differences among audiences and how that influences their consuming behavior."
Chávez is now her thesis advisor.
Cano is the only second-year Media Studies Master's student at the SOJC at the moment, as all her peers have moved on to the SOJC's Media Studies Doctoral program. She chose to finish up her master's degree and head into the working world.
"I like how the program isn't overly specific in one thing, and you have the freedom of choosing classes that are the most fitting to what you want," Cano said. "There's a lot of room to be different."
Cano is interested in working for a marketing and strategy agency, and she currently works remotely as an account coordinator for the Florida-based data strategy agency Parscale Strategy.
She also applies what she is learning through her research to her own beauty-based Instagram account @mariiacanoa, which has more than 6,000 followers.
Cano says the classes she's taken within and outside the SOJC have helped her prepare for and write her thesis. The first year in the program focuses on media theory, requiring students to take a three-part Media Theory course. Students learn methods for turning their observations into research-relevant stats and trends. Her favorite class was Media Theory 3 with Professor Kim Sheehan.
"We read a book called 'Technically Wrong,' probably my favorite reading during grad school, where the author discussed all the faults of the tech industry," Cano said. "I found it quite humorous, as I could actually relate to some of those things from working at a digital agency. But it was also very eye-opening in terms of how the design and construction of tech can benefit some groups over others."
During the two years of the Media Studies Master's program, students take other courses in and outside the SOJC to explore their interests. Cano is currently taking a course called Culture and Psychology in the Anthropology Department to continue learning about the role social media plays in what she calls "the construction of self."
"I have actually been able to find articles about self-presentation on social media that I had not found before by working on my thesis review, so it has already helped me with my master's thesis," Cano said.
Her thesis topic may seem out of the box for a thesis, but the SOJC's program encourages innovative thinking and a wide scope of topics.
"I appreciate that the faculty covers a wide variety of research areas," Cano said.
—By Becky Hoag
---
Becky Hoag is a senior double-majoring in journalism and environmental science (with a marine focus). This is her second year writing for the SOJC Communication Office. This past summer, she worked as an intern at the KQED science desk in San Francisco, producing content for the new program about climate change, "This Moment on Earth." She is also a science writer for The Daily Emerald and the student-run environmental magazine Envision Magazine, and web designer/researcher for marine conservation education and outreach organization Ocean Everblue. She wants to become an environmental/scientific journalist. You can view her work at beckyhoag.com.