2022 Hall of Achievement Inductee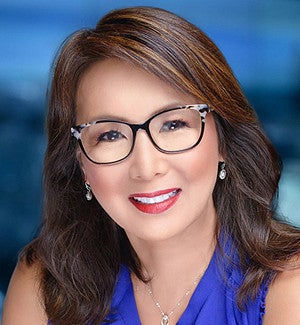 Nancy Loo is an Emmy Award–winning journalist now based in Los Angeles as a West Coast bureau correspondent for NewsNation. She joined the new cable news station in 2020 from WGN-TV Chicago, where she was a reporter and fill-in anchor for 10 years.
She earned a bachelor's degree in broadcast journalism from the UO School of Journalism and Communication in 1986 and landed her first broadcasting job out of college with TVB Pearl, an English-language channel in Hong Kong. Loo served as an anchor and traveled extensively to cover news in the Philippines, Taiwan and Thailand.
She later became a freelance journalist for ABC Radio, reporting on major news events in South Korea, North Korea and Japan before moving to New York City in 1989. News assignments have included trips to England, China, Japan, Taiwan, North and South Korea, Thailand and the Philippines, where she met her husband while covering a coup attempt. Before moving to Chicago in 2001, Loo spent six years as an anchor/reporter for WABC-TV in New York.
She was also among the journalists to launch NY1 News in 1992, the all-news cable channel for New York City. In 1993, when terrorists bombed the World Trade Center underground garage, Loo was filling in as anchor, staying on-air continuously from 4 p.m. to 1:15 a.m. Her coverage garnered a Women in Cable National Anchor of the Year Award. She has previously served as a co-president of the Asian American Journalists Association and remains active in AAJA and other organizations.