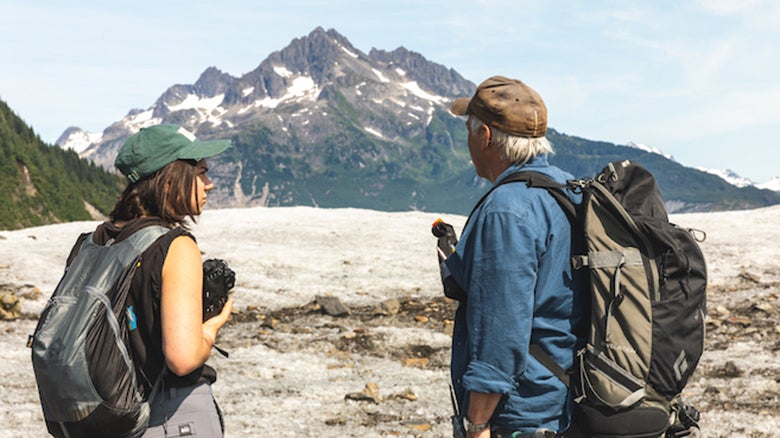 By Kristin Kessler
In the communication world, versatility is the name of the game as you pivot from one topic to another. But there is nothing wrong with a little specialization.
Having a minor bolsters your skills and concentrates your background knowledge into something you can consider a specialty. If you already know what you want to write about or who you want to work for, minoring in a related area can prepare you to approach that subject from a communications point of view and show potential employers that you have specialized expertise.
Here are a few reasons to pursue a minor along with your communication major:
1. You can take full advantage of the SOJC's experiential learning programs.
Experiential learning is one of the features that sets the SOJC apart from other schools — and    taking advantage of it can set you apart from other people in your field. Many of these hands-on learning opportunities blend communication with other subjects. For example:
Science & Memory, one of the experiential learning programs that drew me to the SOJC, focuses on reporting about climate science and the experiences of people who are being affected by climate change. My environmental studies minor made me a much more viable candidate during the application process and prepared me to discuss key issues. 
Cross-Border Interviewing and Story Development in Spain, led by Professor Peter Laufer, gives you a master class in interviewing while living in Europe for a few weeks during the summer. You do not have to minor in a language to take this class, but if you are, it is a great opportunity to use the skills you've been learning. Read some student-written blog posts about this trip. 
2. A specialized interest helps you connect with SOJC faculty members. 
Our professors have so much to share with us, both within and outside of Allen Hall — and many have areas of expertise outside the journalism field. No matter what you minor in, there is probably an SOJC faculty member who has a similar interest or passion project.
Here are a couple of examples:
Through Science & Memory, I had the opportunity to work closely with SOJC professors and students in different communication disciplines and see how they approached the project. They have helped me advance the way I think about storytelling and integrate my knowledge of environmental issues into the journalistic work I produce.
Payton Bruni, a journalism major with a minor in Arabic studies, had the opportunity to work closely with Damian Radcliffe, a prolific journalism professor with years of field experience, to produce a report on social media use in the Middle East. Learn more about his experience.
3. Fulfilling your requirements for a minor gives you a break from SOJC classes.
However much you may love your SOJC classes, adding variety to your class schedule can help prevent burnout. It also gives your general education requirements a more cohesive purpose. 
For the sake of time and cost efficiency, it is prudent to make every credit count. The SOJC majors have some of the highest credit requirements at the UO. I was able to fulfill my additional block requirements, as well as some of my history and literature requirements, with classes that also counted toward my minor. Working with an academic advisor is helpful when you're trying to choose classes that meet multiple requirements.
4. You'll broaden your understanding of how topics can be presented.
Spending an extended period of time studying a specific issue influences your perspective on what constitutes a story and helps you approach your work from new angles. Here are a couple of examples of what I mean:
I recently attended a lecture by Ros Donald, who discussed how climate change should be covered in every news beat. Having a background in environmental studies makes it easier for me to incorporate those larger themes into my work and understand how issues can be interrelated.
Grace Hashiguchi, who graduated with a public relations degree in 2018, found her Spanish minor to be especially useful for expanding her understanding of how issues impact groups of people differently. It also increased the number of people she can work with and the projects she can take on for her employer.
Some of the most fulfilling and successful communication careers come from blending storytelling skills with another area of interest. If you have a passion outside the SOJC, consider pursuing a minor in that subject. You might be surprised where it can take you.
---
Kristin Kessler is a senior majoring in journalism and minoring in environmental studies. She is a writing coach for the SOJC's Writing Central and an intern at the SOJC's Communication Office.