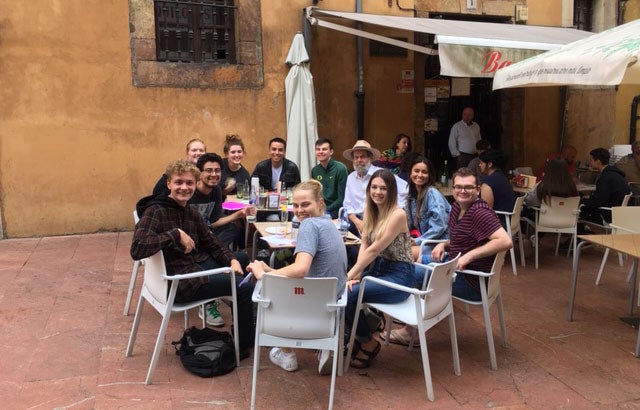 Working together to chase down Woody Allen, write about mass tourism and uncover racism
Editor's note: The following pieces were written by UO School of Journalism and Communication students who traveled to Oviedo, Spain, in summer 2019 for the Cross-Border Interviewing and Story Development in Spain study-abroad program. Taken together, the three offer slices of life students experienced during this unique learning trip. 
Detectives
By Addie Lacewell
On the first day of class in a cube-shaped classroom, 10 of us sat in foldable chairs and awaited the arrival of our professor. We were there to prepare for our summer Global Education Oregon study-abroad program, Cross Border Interviewing and Story Development in Spain. At exactly 10 a.m., Professor Peter Laufer came floating through the door, wearing his signature panama hat.
From the moment he began teaching, we all knew that this would not be a traditional class. He insisted that we skip the proverbial "ice breakers" and instead tell a story of something that happened on the way to Oviedo. We all told our stories and laughed with one another. Professor Laufer's ice breakers worked — we were all friends by the end of the first class. 
The next day Professor Laufer and Silvia, the Oviedo site director, filled us in on some of the main tourist attractions in Oviedo. This conversation led us to the Woody Allen statue.
In 2007 the Princess of Asturias award was given to Woody Allen, and a statue of him was subsequently installed in the city of Oviedo.
"Why should we care about Woody Allen right now?" we wondered.
We looked at each other in confusion. We weren't quite sure what his angle was.
"Because of the allegations against him?" one of us asked with little confidence.
"Yes, and?" Professor Laufer prompted.
"And because he is filming a movie in San Sebastian?"
"Exactly! Wouldn't you all love to get an interview with Woody Allen?"
We had not considered a story like this possible, especially in the month we would have in Spain. However, every person in that cube-shaped classroom was inspired and determined to at least try.
For the next four weeks, we spent large portions of class brainstorming on how to track down Woody Allen. We spent multiple classes discussing the iconic Gay Talese profile, "Frank Sinatra Has a Cold," and mapped out what our final piece would look like, even if we never managed to score an interview with Allen himself. 
Professor Laufer broke us into missions. One of us would be in charge of chasing down his publicist, while someone else would be in charge of contacting the production company. We would come in to class every day and update one another on what we found. It was detective work. 
Throughout the process, we came across numerous dead ends, but we also scored just as many wins. That final week was spent tirelessly trying to set up the interview. We called hotels, agents and production companies.
As that final Thursday rolled around, it became clear that we were not going to get that interview we were hoping for. But the detective work made for great content anyway. We all managed to meet and interview multiple sources related to Allen, many of which led to great stories themselves. 
Collaborative newsroom
By Michael Strite
I spent my sophomore year developing the fundamentals of journalism. In Reporting I and Reporting II, I chased stories throughout Eugene that were newsworthy.
Although I was ultimately proud of my work, the journey to tell those stories was a lonely one. My friends provided me with connections to interesting people and leads for good stories. I leaned on my network for peer editing, but the story was ultimately my own. The grade I received was my own, and the process of chasing down a story and conducting interviews was lonely. I was the only one that truly wanted to tell my stories, and I employed only my own skill set to craft the story. 
Studying abroad in Spain and telling stories with my classmates was an eye-opening experience. In our close group of 10 students, we discussed openly the stories we wanted to tell and leads we explored. Everyone was enthusiastic about joining classmates for interviews and other reporting. There was a special newsroom-like culture, and I wanted my classmates' stories to be just as amazing as my own.
For my final story, I decided to expand on a previous assignment covering tourism in Porto, Portugal. With only three days spent in Porto, I conducted one interview alongside my classmate Lily. In addition to that interview, I used quotes from an interview conducted by classmates Christian and Miranda. An observation made by Jade Yamazaki Stewart and the experiences shared among all of us filled in the gaps between quotes in my story.
I have never felt more encouraged to chase the most interesting story and dedicate my skills to helping classmates do the same. When a newsroom or a team collaborates, everyone leans on their strengths and sees their weaknesses covered by teammates. This specialization helps everyone's stories to be exponentially better. I can thank my team in Oviedo for teaching me this lesson. 
Xenophobia
By Jade Yamazaki Stewart
"We don't have room for all of Africa in Spain," said Roberto Fernández Argüelles, the vice president of the Vox political party in Asturias, Spain. 
"If you let in everybody who wanted to immigrate to the U.S., the country would fall to the level of a place like Guatemala," he said, explaining his anti-illegal-immigrant views to me and nine other journalism students at the Vox Asturias headquarters in Oviedo, Spain.
Vox is Spain's anti-immigrant, anti-feminist party. It's the first far-right party to win more than a single seat in the national parliament since the dictator Francisco Franco died and Spain returned to democracy in 1975.
Naturally, when Professor Peter Laufer decided to bring  journalism students to Spain, he arranged for us to meet with Vox party members. 
That evening we sat in three rows of foldable chairs in a small room without air conditioning in the Vox Asturias headquarters. I sat in the front, three feet away from Argüelles and three other party members. 
For over an hour, we asked the members hard-hitting questions about race, religion and gender. Lucas Warner and Manuela Baez, the best Spanish speakers in the class, helped interpret questions and answers. Warner, who lived in Oaxaca, Mexico, as a child, became angry when Argüelles ignored Spain's colonial history and insisted it was not a racist country. I was appalled when the party members said they preferred Christian immigrants to Muslim ones. 
But we channeled our frustrations into asking more questions. And the members gave us wonderfully bigoted answers, like Argüelles' comment about Guatemala. 
From this experience, I learned how to effectively interview people I disagree with. I learned that being combative in an interview can sometimes lead to great responses. And I learned how interviewing with a group of people can lead to better content.
I used our Vox visit as part of my final story for the class. Its headline was "Racism, xenophobia and Islamophobia find a voice in the Vox party in Spain." 
---
Addie Lacewell is a junior at the University of Oregon currently earning a bachelor of arts in both cinema studies and journalism. Born in Atlanta, Georgia, and raised in the Chicagoland area, she attended Neuqua Valley High School and earned all-conference in both varsity cheer and track. In addition to her athletic accomplishments, she is also a published poet. She is currently a scholarship athlete on the Acrobatics and Tumbling team. She was awarded rookie of the year as a freshman and was named an All-American as a sophomore in addition to All-Academic honors. In her free time, she enjoys watching films and writing. After college, she plans to attend law school and ultimately pursue a career in film.
Michael Strite is a junior at UO with a double major in journalism and business administration. Strite wants to work in the sports world, where he hopes to use his journalism degree to pursue a career in sports broadcasting or documentary filmmaking. He also hopes a business degree can lead to a career working for pro sports teams and leagues. Strite spends his free time volunteering for DuckTV Sports and KWVA Sports, along with frequent movie watching and a large backlog of video games. 
 
Jade Yamazaki Stewart is a writer from Miura, Japan. He studies Japanese, Spanish and journalism at the University of Oregon. Jade has worked for the Daily Emerald in Eugene and the East Bay Express in Oakland, California. He's currently a news intern at the Eugene Weekly. Jade studied journalism in Spain this summer with the help of the Gilman Scholarship. He wants to use his language skills to pursue a career in multicultural journalism. In his free time, Jade eats nigiri, rides his Kawasaki Ninja 250 and dances to reggaeton.