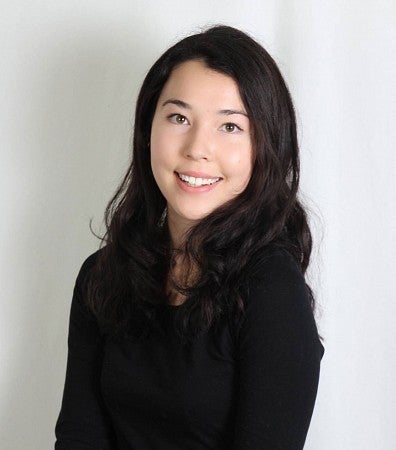 Just months after graduating, public relations major Grace Hashiguchi '18 landed a job with a top global PR firm, Edelman San Francisco. Working with consumer technology and global software clients, she draws upon both her Spanish minor and the writing skills she cultivated at the SOJC. From studying abroad in Spain to joining the PR networking trip to San Francisco, her hands-on experiences as a student have been instrumental in getting her to where she is today.
What made you decide to pursue public relations?
I quickly became interested in joining the SOJC because of its energetic, driven community and many pre-professional opportunities. Public relations combined all the skills I take pride in — relationship building, communication, strategic thinking — and presented a career path that was both tangible and adaptable.
Why did you minor in Spanish? How has it impacted your PR career?
Learning a new language not only opened up new opportunities to communicate with people, it allowed me to begin thinking in new ways. I love reflecting on how language shapes our sense of the world and inspires a broader perspective as we relate to ourselves and others. Minoring in Spanish also gave me a good reason to study abroad my junior year in Seville, Spain, through the Council on International Educational Exchange — a highlight of my college experience.
Once I chose PR as a major, my Spanish classes provided a welcome outlet for meeting people in another school and contextualized the importance of communication skills and intercultural competency. In my current role, I assist with global reporting for my clients, which requires compiling and analyzing media coverage from many regions. I feel grateful for my experience with another language because it allows me to review content from other markets and understand how to glean insights beyond a literal Google Translation.
What is your work like? Is it similar or different from how you imagined PR work would be?
My clients include consumer technology and global software companies. I support them in many areas of their businesses, from planning events and securing executive speaking opportunities to pitching media and supporting influencer activations. Some days I'm focused on scheduling meetings and creating coverage reports, and other days I'm developing a last-minute PR plan or staffing a thought-leadership event at my client's headquarters. That's the fun of working at an agency in the Bay Area!  
I knew theoretically PR would be fast paced, but I couldn't have imagined just how diverse the work would be — and how demanding it could become during certain campaigns. It has taken time to adapt, but I know this experience will be an invaluable foundation regardless of where my career takes me.
How did you get your position at Edelman?
My career with Edelman began my junior year in the SOJC when my instructor, Courtney Munther, suggested I apply for the Prism Scholar internship, an inaugural program in the Edelman Seattle office aimed at diversifying the PR pipeline. I had an incredible time during that internship, and the experience inspired me to pursue a full-time position after graduating. I kept in contact with the recruiters at Edelman and began a conversation with the hiring manager in the San Francisco office to better understand its culture and potential openings.
I debated whether I wanted to work in Seattle or San Francisco, but decided that SF's reputation as a hub for tech made it an exciting new city to launch my career. During the SOJC's PR networking trip to SF in winter of 2017, I also connected with Courtney Mains, another SOJC alum, who met me for an informational interview and flagged my resume to the HR team once I applied for the summer 2018 internship. I was hired in the spring and began just a few weeks after graduation in July as an intern, then got hired on as an assistant account executive three months later.
How did working for Writing Central help prepare you for the workforce?
My time as a coach with Writing Central prepared me in countless ways for the workforce, through both personal and professional development. In addition to the empowering experience of supporting my peers in their writing, Writing Central helped me investigate my own communication skills and areas for improvement. Whether we debriefed challenging coaching situations or celebrated successes of the students whom we worked with, Writing Central provided a space to appreciate the power of writing and acknowledge the importance of the way we teach it. Learning syntax and grammar is important, but the first step toward great writing is to reassure students that they have a story to tell.
The Writing Central team, especially our leaders Lori Shontz and Courtney Munther, also provided unfailing support beyond matters of Writing Central itself. I recall nights during my senior year when, on slow evenings, the team would listen to me rant about my thesis or my doubts about my professional path. It was so cathartic to express my uncertainty in the presence of capable, supportive peers and mentors. Looking back, those moments allowed me to overcome many fears and move forward in the projects and life decisions that would come to shape my career!
Do you have advice for incoming or current PR students?
As you look ahead to a career in PR, my advice is to practice precise writing, the ability to prioritize tasks, creative thinking under pressure and relationship management between colleagues with different communication styles. I also advise that, no matter what stage you are at in your career as a student or professional, it's always a good idea to push for the "why" behind any project. Ask yourself, where is this request coming from? How can you go beyond the deliverable to anticipate the needs of your colleagues and the needs of the people above them? Thinking critically in this way will make your efforts both actionable and indispensable.
---
Kristin Kessler is an SOJC senior majoring in journalism and minoring in environmental studies to prepare for a career as an environmental journalist.