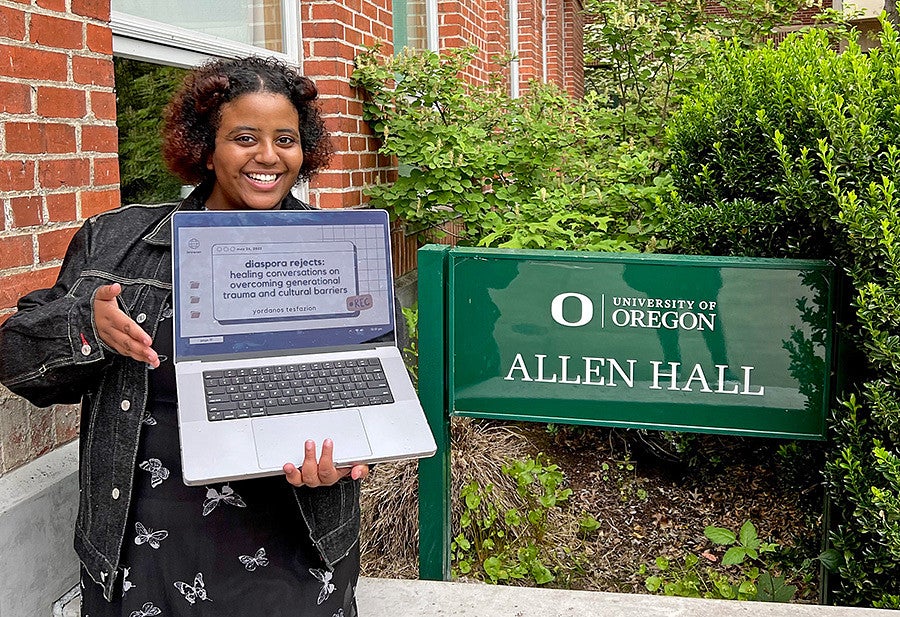 Yordanos Tesfazion '22 always knew she wanted to pursue a career in journalism. To her, storytelling provided an outlet to raise the voices of the unheard and promote audio and visual platforms. But when she graduated from Willamette University in 2020 with a bachelor's degree in sociology and civic communication and media, she could not find a role tailored to her skill set.
"I was pretty lost," she recalled. "I wanted to find some sort of position that would allow me to be that person to communicate stories and make sure that people see themselves represented."
At the time, COVID-19 media reporting and police brutality created a tangled mess of news for Tesfazion to decipher. She knew she wanted to be a voice of clarity and do work that would allow her to stand up for minorities and tell stories that accurately represented the communities they impacted, but she didn't know how to start. She decided to return to school to grow the skills she needed.
"The SOJC Journalism Master's program was my dream program," she said. "I had been looking at the SOJC since high school but ended up committing to a small liberal arts college for financial reasons."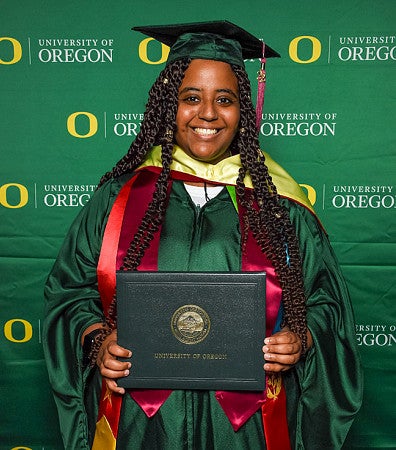 In fall 2021, Tesfazion set foot in Allen Hall, the home of the UO School of Journalism and Communication (SOJC), for the first time. Immediately, she noticed the interest that her professors took in her and the level of support they offered.
"One of the first things that I remember telling all of my friends and family at home was how genuinely nice and caring my professors were," she said. "Because of their support, I was less hesitant about focusing on stories that I didn't see most of my peers covering."
Tesfazion's desire to highlight marginalized groups accelerated after she took J532: Reporting for Electronic Media. Taught by associate professor Ed Madison, who is now the director of the program, the course centered on using audio and video communication technologies to gather and present news for digital media.
"What I had been reporting on was not normally something you would see on the news," she said. "I had this passion project tucked away at the back of my brain for a couple years, and I was like, 'I'm in the perfect place to experiment with that because it has so much to do with what I've been doing here.'"
She used this idea as her culminating project for her degree. Under the mentorship of Madison and multimedia professor of practice Torsten Kjellstrand, Tesfazion generated "Diaspora Rejects," a podcast that hosted "healing conversations about generational trauma and overcoming cultural barriers."
"I wanted to feature anyone that came from some kind of immigrant background. It didn't matter if they were first-generation American or a fourth-generation American, as long as they had a story that was the result of being a part of a diaspora group," she said. "I wanted to find the common ground across different diasporas and help platform those stories."
Madison said that during his time with Tesfazion, he witnessed "a sensitivity for cultural awareness" in her interactions with podcast participants and formation of self-identity. He credits how she has embraced her East African heritage in shedding light on estranged communities.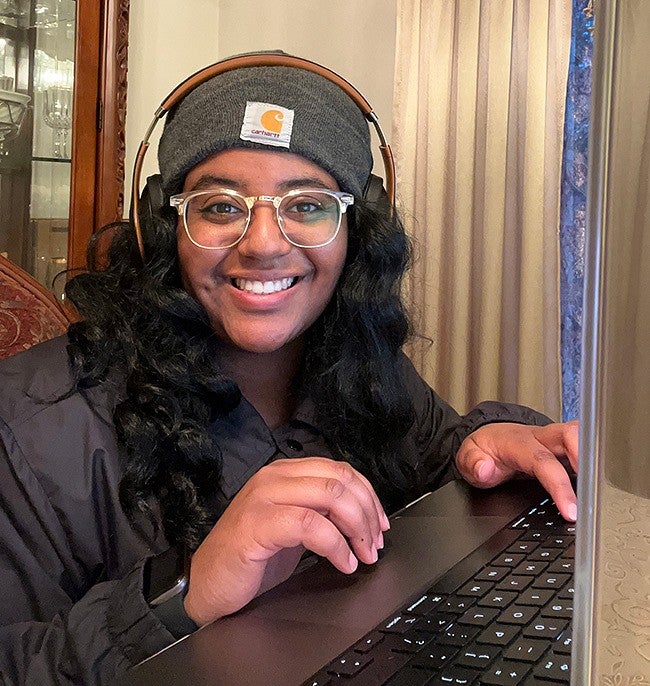 "I think in the past, in terms of media, it was more favorable to be homogenized," Madison said. "You had journalists that kind of all spoke the same way and looked the same way and dressed the same way. So it's refreshing to see people embrace their cultural background."
After graduation, Tesfazion quickly found an opportunity at NPR Next Generation Radio, a digital project that teaches aspiring journalists to produce their own audio and multimedia stories. Today, she interns with NPR's "Code Switch" and "Throughline" podcasts, where she continues to encourage empathetic and intentional discussions about race.
"I would not be in the position that I am now if it wasn't for the support and care of the professors that I had," she said. "I'm a first-generation college student, and I come from a background where my family still doesn't fully understand what I do or what I studied. So my professors were really crucial in helping me find my voice and my passion."
Once she's done with her current internship, she plans to revive her "Diaspora Rejects" podcast and search for other broadcasting opportunities around the Portland, Oregon, area. Wherever she goes, she plans to continue her work amplifying multicultural voices and building inclusion through multimedia journalism.
"I feel like storytelling is really valuable in the way that it can help heal, educate and bring people together," she said. "It's also the oldest form of communication. I would love to continue that tradition to help make the world a kinder place and to contribute to public discourse in a productive way."
—By Kayla Nguyen, class of '23
---
Kayla Nguyen, class of '23, is a fourth-year journalism major and art minor working as a writing intern with the SOJC Communication Team.