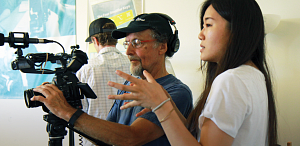 Master's Degree in Journalism
In this one-year journalism master's program, you'll learn the craft of journalism and how to use cutting-edge communication tools to inform and inspire communities.
Journalism Graduate Studies at the SOJC
If you want to tell stories that impact your community and society, we want to meet you. No journalism or media background is required. In our full-time, one-year residential program in Eugene, you'll learn the foundations of journalism, including story research and development, fact-finding, writing, and multimedia skills. You can complete the full-time, 46-credit program in just 12–15 months (four or five 10-week terms).
What You Can Do with a Journalism Master's Degree
You'll learn how to tell stories that can inform the public, influence legislation, and inspire change—skills in high demand at media outlets, nonprofits, and businesses across today's competitive economy. Graduates from our recent cohort have already landed internships or jobs at NPR, High Country News, Oregon Public Broadcasting, Newsday, and the East Oregonian.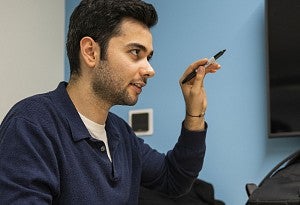 Virtual Information Sessions
Want to learn more about our one-year journalism master's program in Eugene? Register for an upcoming info session.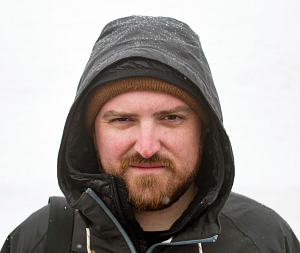 What Our Alumni Say
"I took part in the Media in Ghana internship program with senior associate dean for academic affairs and professor H. Leslie Steeves…. That program opened my eyes to the world around me. Taking part in these programs while at the UO is the most crucial step for anyone in their journalism career."
—Jeff Dean '18, freelance photojournalist for Agency France Passe, Reuters, Getty Images, USA Today and Associated Press
Specialize in Science Journalism
Public understanding of science- and tech-related matters determines the laws we pass, the behaviors we adopt, and the causes we champion. But research shows that scientists and citizens often see the same issues through different lenses, especially when it comes to polarizing topics. Journalists can become change agents by spurring public understanding and action. Work with program advisors and the SOJC's Center for Science Communication Research (SCR) to get specialized training in science and tech communication.
Where Science Meets Storytelling 
Visual storyteller Miranda Daviduk '18 examines intersections of science, gender equality, and the environment. Her multimedia terminal project, "Growing from the STEM," explores how women and minorities at the University of Oregon are working to bring more diversity to science, technology, engineering, and math. "Diverse viewpoints lead to diverse ideas and solutions," she writes. "The hope is that one day kids will draw a different kind of scientist: one that looks just like them."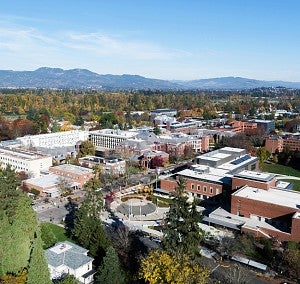 Study in the Beautiful 
Pacific Northwest 
Named for renowned journalist Eric W. Allen, who founded the SOJC over 100 years ago, Allen Hall sits at the heart of the verdant University of Oregon campus. During your studies in Eugene, you'll enjoy expert guidance, hands-on experience with the latest technology, and opportunities for collaboration.
Your Investment
The numbers below represent estimated tuition for a typical student in our Journalism Master's program. For a customized estimate, use the UO graduate costs calculator. These amounts are subject to change at the university's discretion.
$37,000
Nonresident and International
The Journalism Master's program is eligible for federal financial aid and the G.I. Bill.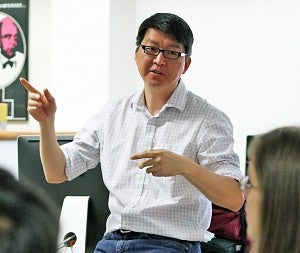 Meet Sung Park
An award-winning photojournalist and multimedia producer for more than 20 years, Sung Park continues to freelance while helping students at the SOJC and across the globe harness the power of visual storytelling. From teaching multimedia storytelling at the University of Ghana as a Fulbright Scholar to co-founding the Story-Arc Cinematic Journalism Workshop—and in his work with the Multimedia Journalism and Journalism master's programs—Sung guides aspiring journalists to view the world through a new lens.