You can pick between two program timelines to complete the 48-credit program—the standard two-year, six-term pathway or our new accelerated five-term pathway—or negotiate a pace that works for you. Each term is 10 weeks long. We offer all our courses on evenings and weekends, and the core classes can be virtual or in person.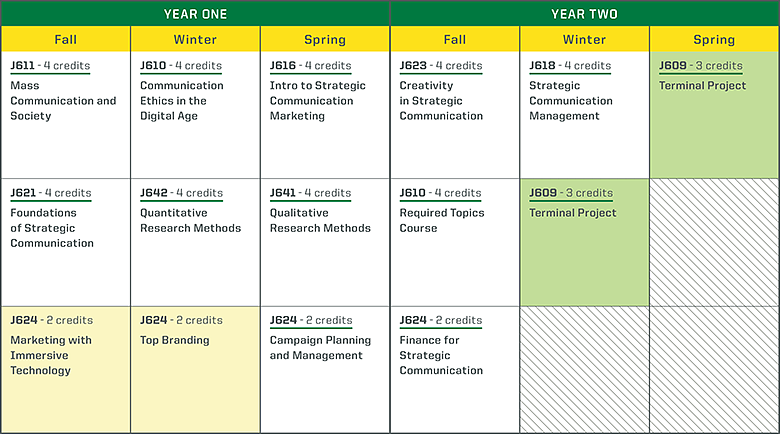 click to enlarge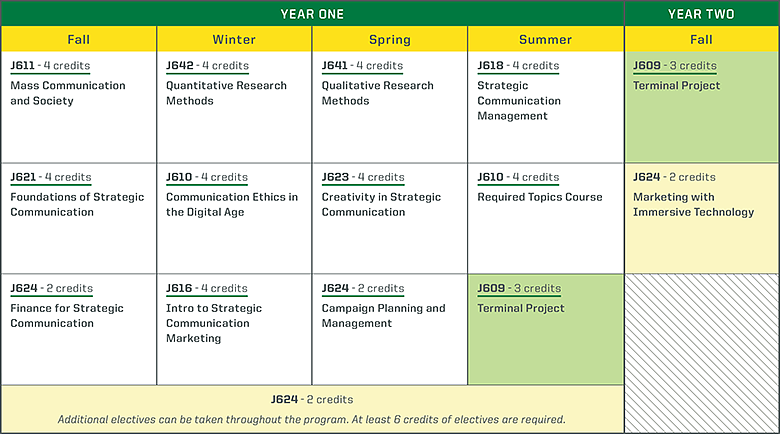 click to enlarge
---
Academic Checklist
In addition to your required courses, you've got some tasks to complete between enrollment and graduation. Complete these steps in order, with guidance from the program director.
Make contact with the program director. The program director, Donna Davis, will be your first point of contact for questions about the program once you're enrolled, so make sure to introduce yourself. You may select a different advisor for your terminal project. You will also select a second advisor to give input on your final draft.
Select and confirm committee members. At the beginning of spring term of your first year, you'll ask faculty members if they will be on a committee to review your terminal project.
Start planning your terminal project. By the time you complete 24 credits, you should start working with your faculty advisor to shape your project plans. It is recommended that you complete your proposal by no later than the end of fall term of your second year.
Secure your committee's approval of your project proposal.
Apply for graduation. In the second week of the term in which you plan to graduate, fill out the graduation form on GradWeb.
Complete your oral defense of your terminal project. This should happen at least two weeks before the end of your final term. As part of this process, you will also present your project to the public in a poster format during spring term.
Submit your capstone project to the SOJC Graduate Programs Office after your advisor has approved the final project.