For Graduating SOJC Journalism Seniors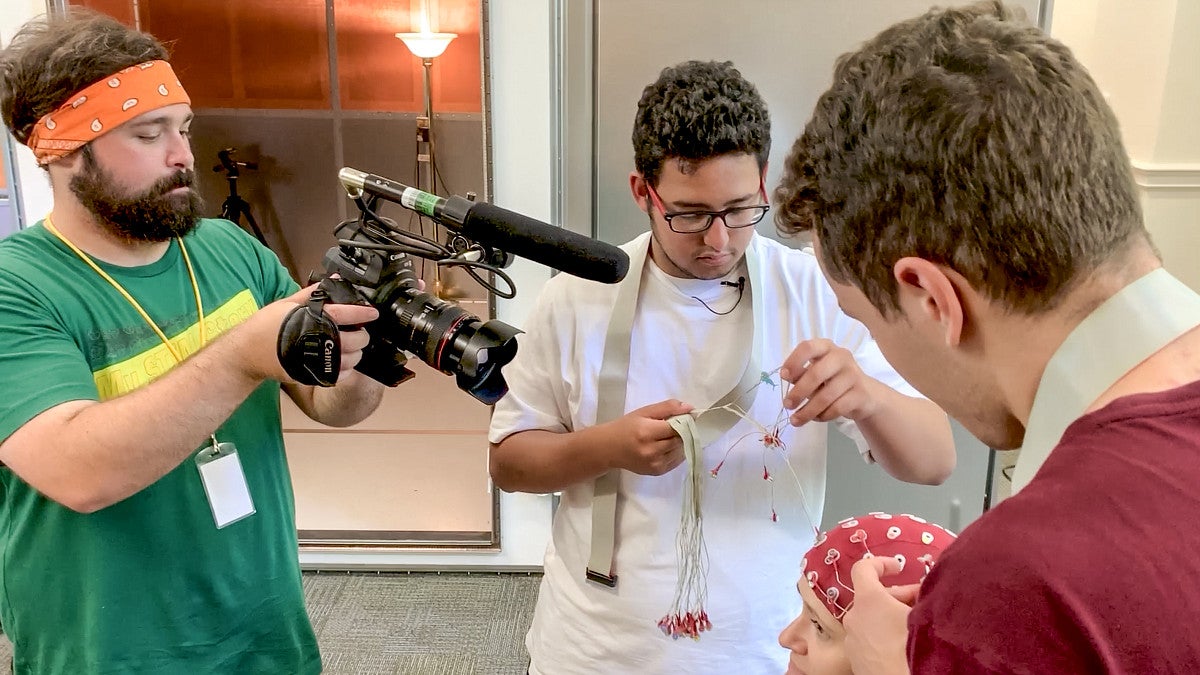 Hit the Ground Running with a Master's in One Year
Are you a current or prospective SOJC journalism major looking to take your storytelling and technical skills to the next level—and stand out in an ever-evolving field? With our new Multimedia Journalism Accelerated Master's program based at SOJC Portland, you can start taking graduate-level courses during your senior year and earn a master's degree within one year of completing your bachelor's in journalism at the SOJC.
What You Can Do with a Multimedia Journalism Master's Degree
In today's rapidly changing media landscape, digital journalists and reporters need to know how to find the story and how to tell it in ways that engage and resonate. In our one-year accelerated Multimedia Journalism Master's program, you'll develop strong storytelling experience and broaden your career prospects with multimedia skills in high demand in journalism, at nonprofits and governmental agencies, and at companies around the world. Graduates regularly land jobs at well-known organizations, from the Oregon Museum of Science and Industry and Oregon Public Broadcasting to Blue Chalk Media, Muse Storytelling, and Intel.
Learn About the Multimedia Journalism Master's Program
What You Will Learn in the Accelerated Program
Based at SOJC Portland, our accelerated program offers hands-on access to state-of-the-art gear along with direct instruction, mentoring, and expertise from some of the best multimedia professionals in the Pacific Northwest. You'll get a jumpstart on adding new skills in video and immersive storytelling, podcasting, drone cinematography, engaged journalism, and more to your creative toolbox.
Is the Multimedia Journalism Accelerated Master's Program Right for You?
Want to learn how to tell stories that matter in video and other media so you can make a difference in your community? Save time and money while gaining real-world experience and building a strong professional network? Pursuing an accelerated multimedia journalism graduate degree can help you achieve your goals.
Our accelerated program is designed for current SOJC journalism majors who are passionate, highly motivated, and ready to hit the ground running. You'll start taking graduate-level courses during your senior year, with some of your classes counting toward both your BA and MA, allowing you to save on expenses and finish your master's degree within a year following your undergraduate graduation.
How It Works
SOJC students must take a minimum of 10 graduate-level credits (and no more than 16) as part of their undergraduate coursework, including at least one course from Section I below. They should work closely with their graduate adviser to determine how to reach or exceed the 10-credit minimum.
Section I: Required Courses
Students will complete at least one required Multimedia Journalism Master's class from the list below during their senior year.
J654 Reporting within Communities or J563 Engaged Journalism, offered every winter in Eugene
J627 MMJ Foundations, offered every fall in Portland and as a hybrid distance course
J611 Mass Communication & Society, offered every fall in Eugene and Portland and as a hybrid distance course
J610 Digital Ethics, offered every spring on weekends in Portland, or J596 Visual Ethics, offered occasionally in Eugene
Section II: Electives
Electives can include SOJC Eugene courses such as those listed below, Multimedia Journalism Master's electives offered in Portland (often offered on weekends), or graduate-level non-SOJC electives that align with your graduate culminating project plans. Students should work closely with their adviser to select appropriate electives.
Example SOJC Eugene Electives:
Offered most years:
J532 Reporting for Electronic Media  
J536 Topics: Web Design
J566 Advanced Photojournalism   
J563 Audio Story
J510 Media Entrepreneurship    
Offered occasionally:
J583 Journalistic Interview   
J563 Investigative Reporting   
J563 Solutions Journalism   
J563 Data Journalism   
J566 Lighting for Stills
Example SOJC Portland electives (offered most years):
J608 Audio Storytelling
J608 Motion Graphics
J610 VR Building
J608 Drone Cinematography
J608 Intro to 360 Video
Section III: Culminating Project Preparation
For students to complete the accelerated program on time, they will need to arrive in Portland at the start of their fifth year with their culminating project substantially underway. Therefore, during their senior year, students must:
Take two (2) independent study credits via J601 Research, with their adviser as instructor of record

OR take J510 Documentary Pre-Production to begin conducting background research

Create a two- to three-page project proposal
Develop a production plan for their project
Senior Year Sample Schedules
Sample A - 10 credits
| Fall | Winter | Spring |
| --- | --- | --- |
| 611 Mass Comm & Society1 | J563 Engaged Journalism1 | J601 Research (2 credits)2 |
Sample B - 12 credits
| Fall | Winter | Spring |
| --- | --- | --- |
| J510 Documentary Pre-Production2 | J563 Engaged Journalism1 | Interdisciplinary or SOJC 4-credit elective course3 |
1 Required courses (take two or three);   2 Culminating Project prep;   3 Elective (if only taking two required classes)
---
How to Apply to the Multimedia Journalism Accelerated Master's Program
STEP 1: Contact Multimedia Journalism Master's Director Wes Pope for a brief orientation on the application requirements.
STEP 2: Gather your info. You'll need:
General Info: Just the basics—name and contact info, residency status, and education level.
Unofficial Transcripts: Upload PDFs of your unofficial transcripts to the online application.
Personal Statement: Describe your professional goals and aspirations, including specifically how this program will help you achieve them. Tell us about what you hope to gain from the MMJ program beyond the degree itself.
Resumé or CV: We want to see what you've been up to in your academic career and your professional life. Your resume or CV recounts your educational and professional background and highlights the skills and abilities you have acquired through your education and work experiences.
Portfolio: We also want to see what you're capable of. Please share three samples that represent your best nonfiction work. These may be any combination of video, audio, photography, writing, data visualization, etc. In whatever format you submit, we are looking for evidence of your potential as a strong storyteller.
References: List two to three SOJC faculty who can vouch for your strengths, skills, and aptitude. We will contact them directly to follow up.
International students must also provide proof of financial support. According to U.S. federal regulations, nonimmigrant international students must provide supporting financial documents, bank statements, and/or proof of support from a sponsoring agency. Learn more about requirements for international students.
STEP 3: Fill out the online graduate application on GradWeb. The form has two parts: the UO Graduate School application and the SOJC's graduate application.
STEP 4: Check the status of your application. After applying, you can review the status of your application anytime through our online application system. Admissions decisions are typically made within four weeks of the application deadline.