2022 Hall of Achievement Inductee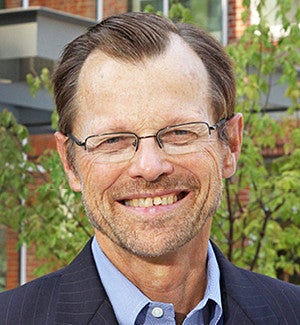 Professor Emeritus Tim Gleason taught his first class in SOJC's Allen Hall in 1987 and his last class on Zoom in 2021. He taught the SOJC's law and ethics courses for many years and, along with two colleagues, offered one of the UO's first distance learning classes. After serving as dean of the SOJC from 1997 to 2013, Gleason returned to the classroom, where he taught Communication Law and served as UO's faculty athletics representative.
Gleason founded and directed the SOJC Hall of Achievement as well as the Ancil Payne Award for Ethics in Journalism, which from 1999 through 2021 celebrated the tough decisions journalists make in the newsroom and in the field that are often invisible to the public but make a difference in the community. As dean, he oversaw the opening of SOJC Portland, an expansion of Allen Hall, and the launch of the Charles Snowden Program for Excellence in Journalism.
Gleason was the first recipient of the SOJC's Jonathan Marshall Award for Innovative Teaching in Journalism and Communication and the 2013 Scripps Howard Journalism Administrator of the Year.
Gleason holds a PhD in communication from University of Washington. His scholarship focused on the theory, history and practice of freedom of the press, exploring questions such as the origins of the "watchdog concept" in libel law, the legal definition of "journalist" and public meetings and public records law. He has published two books, several book chapters and articles in law and history journals. In an earlier career, he was a photojournalist and reporter in New York State.