2018 Hall of Achievement Inductee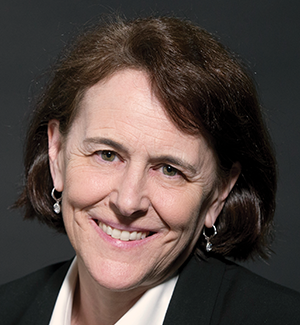 Therese Bottomly '83 was recently named editor and vice president of content of The Oregonian/OregonLive. She landed a job at The Oregonian soon after graduating from the SOJC and has been a director of Oregonian Media Group since 2013. Over the past 35 years, Therese has been extremely influential in the paper's management and helped lead its transformation to a digital-first newsroom. The Oregonian has received six Pulitzer Prizes during her tenure, including the 2006 Pulitzer for Breaking News for coverage she helped guide.
An outspoken advocate for open records and government transparency, Therese is a longtime director of Open Oregon, a not-for-profit organization dedicated to protecting the state's public records law and educating the public about its right to open government. She has served as a judge for many national journalism awards, including the Livingston Awards and our own Ancil Payne Award for Ethics in Journalism, and she has been a Pulitzer Prize juror.
Therese is a former president of the Oregon Newspaper Publishers Association and chair of the Oregon Bar-Press-Broadcasters Council, which is dedicated to resolving conflicts between the press and the law community. She is a longtime member of the SOJC's Journalism Advancement Council.