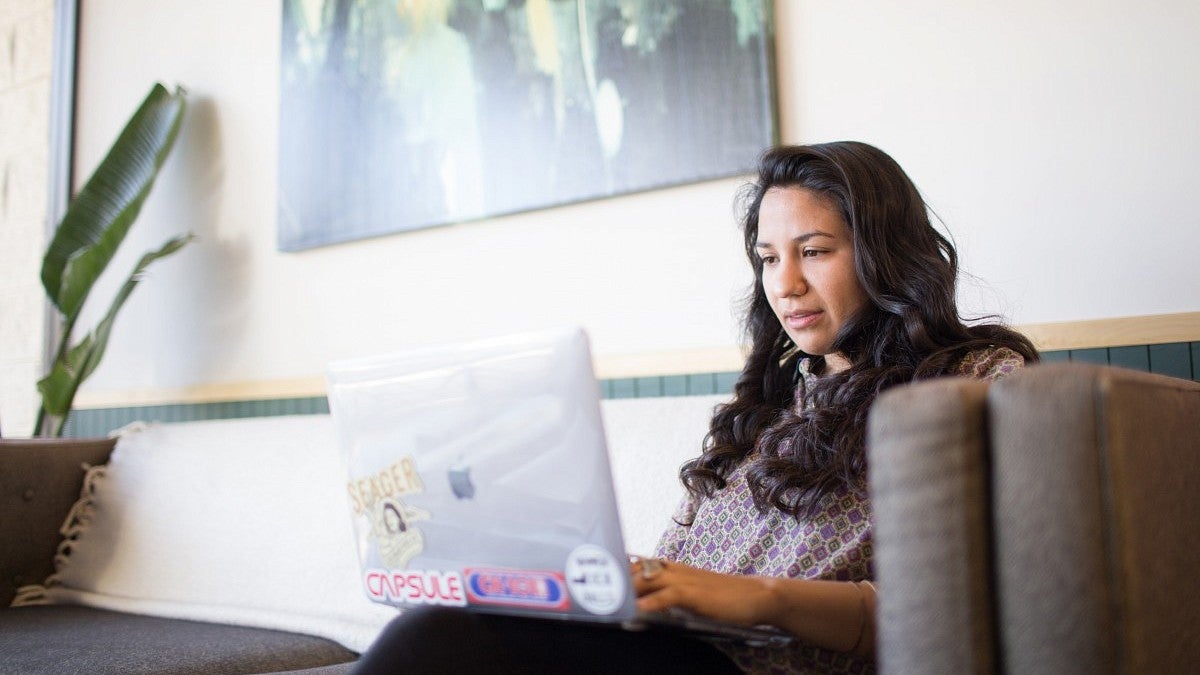 Jackie Gutierrez '21 loved soccer from the moment she stepped on the field as a kid. In high school, she developed a passion for writing and saw herself wanting to document women's soccer.
Complications with her health forced Gutierrez to stop playing soccer, but she knew she could still be a writer. In 2019, she started a soccer news platform to share insight on women's soccer from around the league.
As a journalism master's student at the University of Oregon School of Journalism and Communication, Gutierrez explored the experiences of fellow female sports journalists in a male-dominated industry for her culminating master's project, which became Women Kick Balls, her sports journalism website and magazine.
SOJC: How did you become interested in sports journalism?
Jackie Gutierrez: When I was 17 years old, my Uncle Joe asked what I wanted to do after high school. I said, "I don't know. I want to be a sports journalist and cover women's soccer, but I don't know how to get started."
He told me, "Jack, you just have to start writing. Start a blog and get some experience."
My Uncle Joe encouraged me to start my first blog, which only he and my parents read at the time. Then I started a second blog, which I had for a year. During that time, I had nine email subscribers and wrote 32 articles. I thought this was huge growth for me.
It wasn't until December 2018 when my uncle came to my house and said, "Let's get you a website and make it professional."
I sat down with my dad, uncle and brother and came up with the name "Women Kick Balls." During that first year, I wrote over 150 articles and had 50 email subscribers. Compared to my other sites, I marketed Women Kick Balls as an independent news source and as a one-woman show. I've spent a lot of time developing it and even have an international audience.
Although I've been doing sports journalism for six years, managing Women Kick Balls for the past two years has felt like I'm finally getting my feet wet. As the writer and founder of the website, I manage it all, from interviewing players to marketing my business and even personalizing hand-written notes to my subscribers.
SOJC: Why did you decide to pursue your journalism master's degree at the University of Oregon?
JG: During my senior year of college, I thought it would be interesting to do a master's degree. The more I thought about it, I realized I was already doing what I wanted to do, and I didn't know how a master's degree would help me.
I researched three schools, and my main intention was to see what proximity those cities were to soccer teams. My focus was on finding a location with both a women's soccer team and a good master's program.
Initially, I didn't know the depths of what I would learn from it, but it was honestly the best year. In the SOJC, I finally felt I was in the right spot to learn from professionals, as I had some experience but was also challenged in the best ways possible.
SOJC: While at UO, is there a professor that influenced you?
JG: I always reference the reporting classes I had with professor Damian Radcliffe. I know some people are surprised we take two courses on asking questions, but it helped me because I learned how to be strategic about the questions I'm asking.
SOJC: Why did you decide to focus your culminating project on female soccer reporters?
JG: I thought my terminal project would be this huge research paper, but Todd Milbourn, director of the journalism master's program, gave me the idea of doing a website.
I remember my first time covering a soccer game. I was intimidated and felt like I stuck out like a sore thumb because I'm this young kid compared to seasoned professionals. The more I talked to other people about this, I realized they felt this way too, especially other women reporters.
They believed they weren't fully represented in the room. We're the minority, and we always have to fight to be in the room. I talked to my close friends about this issue and reached out to other women in media to capture a variety of voices with different backgrounds and experiences.
The issues we face as women aren't just because we are reporters; we see this with athletes. When I interview players, I feel I get good responses from them because they see I'm different and can relate to them. I wanted to showcase this in my terminal project and the experiences of other women who put in all this work to grow the game.
SOJC: How do you apply the skills you learned in the SOJC to your professional life?
JG: As a journalist, you learn to be efficient with your questions because you need to capture the story and are sometimes limited on the time you have with your subject. When I first started my classes in the SOJC, I avoided doing anything video-related, but now I use video in my everyday work. I also appreciated learning how to use different storytelling mediums, especially social media.
SOJC: What advice do you have for women who want to become sports journalists?
JG: People can question you about why you decided to go into this field, but at the end of the day, if you know your purpose and why you want to do this and how you want to impact the game, then you should find yourself an Uncle Joe (because you'll need the guidance) and just go for it.  
—By Alli Weseman '22
---
Alli Weseman (she/her/hers) is a first-year student in the SOJC's multimedia journalism master's program in Portland. She has freelanced for Portland Monthly Magazine and hopes to work in a newsroom one day.