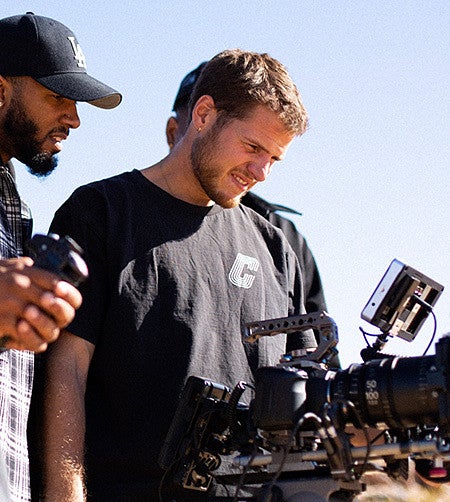 Most of us remember the feeling of a school day ending and racing home when we were kids or teens — the sheer excitement built from the anticipation of watching your favorite TV show, grabbing a snack or taking a running leap toward your bed. But Sutton Raphael looked forward to something different.
"I used to run home from school and start filming videos with friends," said Raphael, who graduated from the UO School of Journalism and Communication's (SOJC) journalism program in 2016. "Skateboarding videos, basketball videos — you name it."  
Raphael's fascination with cameras started early when he picked up his dad's camcorder. Before long, he was taking it everywhere with him. He branched into stop-motion animation, getting a feel for how he could use a camera and what genres of stories he could tell. He spent time watching creative music videos and finding film directors he admired, hoping to someday emulate their work.
"Music videos consistently opened my eyes to what is possible with a camera," he said. "I started to appreciate the art of what was inside of the frame."
Then in high school came a gamechanger: the Canon EOS 7D camera.
It was a digital single-lens reflex camera (DSLR) equipped with Canon's latest sensors and processors, high definition video recording and a movie mode allowing for full manual control of settings.
"When I first got my hands on a Canon 7D … it was breathtaking," he said. "It was better than anything I could have imagined."
He discovered the beauty he could create with the camera and the endless opportunities it presented. His passion for cinematography grew, and with it, his mindset shifted from seeing it as just a hobby to something more.
Fast-forward to the present day, and Raphael has turned that passion into a career. He currently freelances as a director and director of photography, working on everything from short documentaries and commercials to music and comedy videos, all while pursuing personal projects. Raphael is now based in Los Angeles, but his journey began at the SOJC.
Turning a storytelling hobby into a lifelong pursuit
When he first arrived at UO, Raphael gravitated toward the cinema studies major and launched into it in his first year. But there was a catch: He wouldn't be using a camera until junior or senior year. So instead, he looked for a better fit and changed his major to journalism, where he could get his hands on a camera the moment he set foot in Allen Hall.
The summer after his freshman year, he took a trip to Morocco through an Arabic language program that focused on journalism. It was the first of a handful of journalism-based trips he would take during his time at the SOJC. While in Morocco, he partnered with a local reporter to work on a documentary and discovered something he still implements in his process today.
"I learned how important it is to partner with producers and reporters that live in a city you've never been to before," Raphael said. "When you open up that production process and collaborate, every single time the story gets better and better."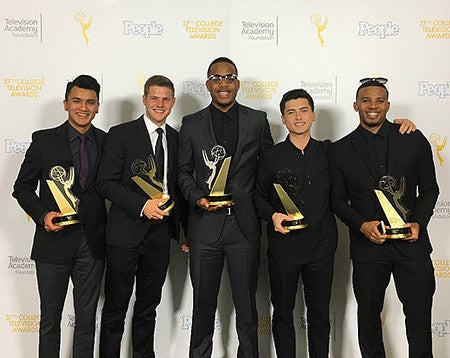 In the following years at UO, he joined forces with other creative, motivated students — many of whom are now SOJC alums — to form a collective called Combined Culture. He describes it as an interdisciplinary group of creatives who each brought something different to the table. They collaborated on social justice campaigns, seeking to create stories that would work well on a variety of platforms.
"Numb in America," a video the group worked on about school shootings in the aftermath of the 2015 Umpqua Community College shooting, sent them to the College Television Awards, also known as the "college Emmys." The success of the project gave Raphael the confidence to pursue a career at the intersection of journalism and cinematography.
"It made us realize how far our voices could travel," he said.
On a trip to New York during his senior year with journalism instructors Damian Radcliffe and Lisa Heyamoto, Raphael got to visit The New York Times office. He saw the video production team in action and quickly realized something.
"It was like, OK, this is what I want to be doing," he said, "this is where I want to be based to be able to work with these people."
Following a path into environmental communication
Upon graduating from the SOJC in 2016, he headed east to be part of the energy he had experienced in New York. With a cat-sitting gig lined up that would provide an apartment for the first month, he hopped a flight and started making cold calls upon arrival.
One of those cold calls landed him a job working for a division of NBC News called NBC Left Field. He still believes that landing the opportunity was largely due to the portfolio of work he established during his time at the SOJC. NBC Left Field took Raphael around the globe with a team of journalists, telling the stories of people from all walks of life. The Left Field division came to an end in 2020, just before the COVID-19 pandemic hit, but not before Raphael wrapped up one of his last stories.
"War on Cow Burps: Can Scientists Help California Produce Less Methane Gas?" was a solutions journalism climate story that Raphael found innately fascinating, but when the video launched on NBC's website, it didn't rack up the views he was hoping for. He was frustrated, not only with seeing his video unable to reach a wide audience, but also with seeing other climate-based story headlines failing to grab the attention of his friends and peers.
Raphael wanted to take on environmental stories but kept asking, "How do we make it more fun and exciting and something people will eagerly click on?"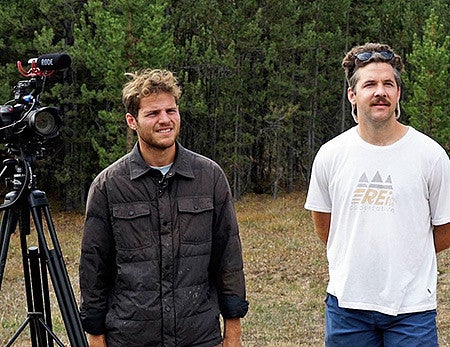 Enter: Wormhole, Raphael's own solution to the dilemma. The video series, currently on YouTube, takes stories about environmental topics and tells them through an engaging, and often humorous, lens. Wormhole is the work of Raphael and his friend Eric Straubhar '14, a fellow SOJC alum who graduated just two years ahead of him. Typically, the pair attempts to solve an environmental problem by any means necessary, often leading to a hilariously inefficient solution.
Their intent is to point eyes in the direction of the correct solution by presenting one that is so wrong that you can't help but stop and pay attention. In turn, it helps people empathize with the actual solution to whatever issue they're tackling. It's a delicate balance of blending science, storytelling and humor — a technique Raphael frequently incorporates into his work. He still lets early inspiration from music videos guide his approach, giving his work an artistic and cinematic feel.
Wormhole has released four episodes so far, in which Raphael and Straubhar have created a pedal-powered gym, asked New Yorkers what they're going to do with their corpses and produced a song about the confusion surrounding Fahrenheit and Celsius conversions. Raphael says the series has infinite material to explore and hopes to see it one day picked up by a streaming service.
"I never really paid attention in biology, physics and chemistry in high school," Raphael said with a laugh, "and now it's my biggest regret."
In addition to Wormhole, Raphael does freelance work, including work with SOJC students, and continuously finds new projects to inspire his creativity. Recently, that's meant taking things back to the basics.
"I started filming things on my phone in the last year and it reignited a sense of, 'OK, scale it all back,'" he said. "If it's not about the camera and it's only about the story and what's happening, what can I film with a phone and how can I make it entertaining?"
Why hands-on experiences were so important
As far as he's come with his work, Raphael still remembers his biggest influences from the SOJC, including Associate Professor Ed Madison and his in-field reporting opportunities. They allowed him to visit other countries and cities, working on things in school he never expected.
Raphael traveled with Madison to Nepal, working with a team of SOJC students to cover the relief efforts following the devastating 2015 Gorkha earthquake. Another one of Madison's trips took Raphael to Cuba, just as the country's political relations with the United States were mended. The students on the trip profiled six Cuban creatives, bringing a human connection to a country whose story had been previously defined primarily by its political news.  
Raphael now looks back on these trips as "crash courses" where he learned more than what was possible to get in a classroom setting. The complete immersion in journalism, in a new country and with stories moving quickly, pushed Raphael out of his comfort zone — something he said helped him grow the most.
In addition to the global opportunities, Raphael took part in local projects like an experimental documentary series called Northwest Stories in partnership with Oregon Public Broadcast (OPB). Led by Madison, the project allowed students like Raphael to tell the stories of people who shared a connection with the Northwest.
Throughout it all, Raphael said other SOJC professors like Deb Morrison provided a "sounding board" for him and his projects, both in and out of class. The published bylines that resulted from those projects gave him the portfolio and the confidence to go out and work for a national publication. His network of peers, including those from Combined Culture, is something he still uses today, often collaborating with SOJC alums on new projects.
At the end of the day, Raphael is always asking a new question, never wanting to get stuck doing the same thing. He consistently leaves projects wishing there was just a little more time "to film this one more thing or talk to one more person."
"I think that's a great feeling to have as a journalist, a desire to learn more, a desire to want to film more and feeling like you never quite got enough material," he said.
It's a drive that keeps him going.
—By Haley Landis, Class of '22
Haley Landis a recent graduate of the SOJC from Portland, Oregon. She has a passion for writing and is driven by her desire to meet new people and learn about new and challenging topics. She strives to engage an audience through compelling storytelling across a variety of subjects.