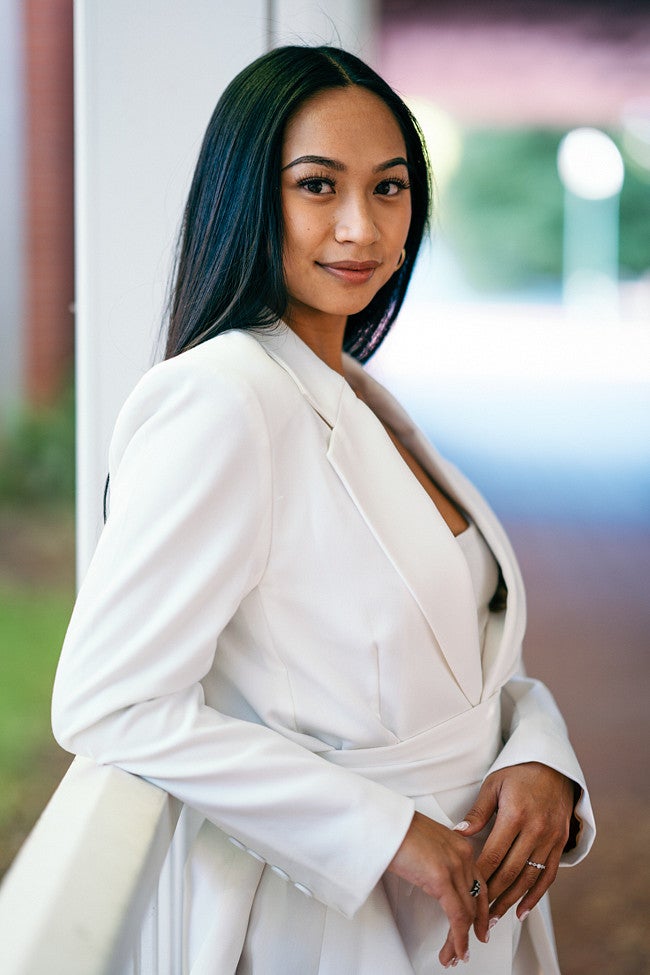 Madilyne Nguyen-Acosta '21 always aspired to work in the glitz and glamour of the entertainment industry. It took receiving a fellowship from the Multicultural Advertising Internship Program (MAIP) to realize that her dreams weren't so far-fetched after all. 
Applying to MAIP demands tremendous diligence. Applicants submit four essay responses, a letter of recommendation and a short video highlighting who they are. Once selected as a fellow, recipients complete a 10-week internship in addition to professional workshops and coaching. All of Nguyen-Acosta's hard work paid off when Sony Music Group (SMG) offered her a position as a diversity, equity and inclusion (DEI) intern.
She accepted her internship without hesitation, knowing that her years of undergraduate advocacy work and her education through the University of Oregon (UO) School of Journalism and Communication's (SOJC) public relations (PR) major had prepared her for the highly sought-after professional endeavor. 
Nguyen-Acosta's mom's first job was with Sony Electronics, and her dad has flourished in the entertainment industry as a DJ. While cleaning out her room in preparation for her move to New York, Nguyen-Acosta's mom came across an ultrasound photo of her as a baby — and it was printed on Sony picture paper. 
"It was a full-circle moment," she said. "The universe was telling me that I'm exactly where I'm supposed to be. I would have never thought that this would be my first job postgrad."
Exploring DEI as an undergrad
Nguyen-Acosta graduated cum laude from the School of Journalism and Communication, receiving the Phyllis Van Kimmel Bell Leadership Award and two PR area awards.
It was her infatuation with the entertainment world that drew Nguyen-Acosta to the public relations field with hopes of becoming a publicist. Taking her first class in the PR sequence, Principles of Public Relations with associate professor Dean Mundy, solidified her choice of major. 
"I just felt like it was made for me," she said. 
Mundy — who would later become her SOJC Honors program thesis advisor — played a pivotal part in Nguyen-Acosta's undergraduate experience. 
"His flexibility, mentorship and support meant the world to me," she said.
A native of the San Francisco Bay Area, one of the most diverse places in the nation, Nguyen-Acosta experienced culture shock when she arrived at the UO. Her first step to conquering the feeling of isolation was finding clubs that cultivated a sense of belonging. This led her to the UO Multicultural Center (MCC).
As the programming and events student lead at the MCC, Nguyen-Acosta worked to nurture a welcoming environment for students of color on campus. This was her first insight into the world of DEI, and she learned that it can be both difficult and extremely rewarding. 
"I always paid attention to culture," she said, "but the advocacy work and its importance didn't happen until I started working at the MCC."
Nguyen-Acosta began looking at DEI through a different lens for her thesis. As a PR student, she was interested in closely examining the antiracism statements that many major corporations released after the murder of George Floyd. 
Her thesis led her to dive deeply into the roots of DEI from both a cultural and consumer perspective by learning how it manifests in the corporate world. 
"We are quick to call out companies, but we don't always realize the business case for this," she said.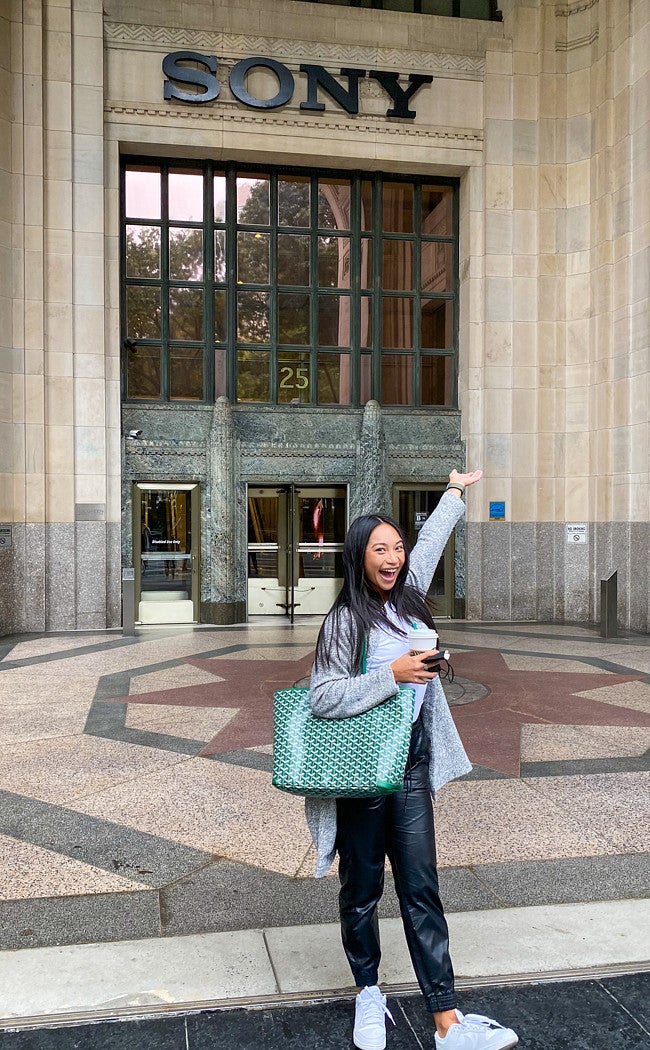 Becoming a DEI leader
As an intern for SMG, Nguyen-Acosta has built the foundation to become a DEI leader in the music industry. As a woman of color, Nguyen-Acosta's main goal is to create an equitable place for employees at SMG.
"I think we all deserve it," she said. 
Nguyen-Acosta's internship at SMG morphed into a full-time position as a specialist of diversity, equity and inclusion in September 2021. She assists the expansion of DEI initiatives for both Sony Entertainment and Sony Music Publishing. 
Her role specializes in event planning and providing DEI strategic guidance to the business: "I work directly with talent advisory groups as well as build partnerships and initiatives for all things inclusivity." 
Nguyen-Acosta's full-time role includes many of the tasks she was completing as an intern, but she feels her work has even more meaning now that she has transitioned into a higher position. 
Being a leader wasn't new for Nguyen-Acosta. As a senior, she served as the president of the UO's chapter of the Public Relations Society of America (PRSSA). Nguyen-Acosta expanded on UO PRSSA's pre-existing DEI initiative to provide members access to diverse scholarships, internships and workshops. 
With the support of SOJC career and academic advisor Sam Nussbaum, Nguyen-Acosta launched the West Coast Connections event to connect PRSSA members with over 30 public relations professionals across the West Coast.
"I wanted to provide members with the resources, network and opportunities necessary to have a successful career in PR," she said. "I was super passionate about using what helped me to help others."
Developing her innate passion for culture
Growing up, Nguyen-Acosta always had a "passion for culture" due, in part, to her biracial heritage. She has been performing hula and Tahitian dance since she was 7 years old and teaching since she was 15. Although that isn't part of her own Filipino and Vietnamese culture, she "learned to practice and appreciate it in the most authentic way."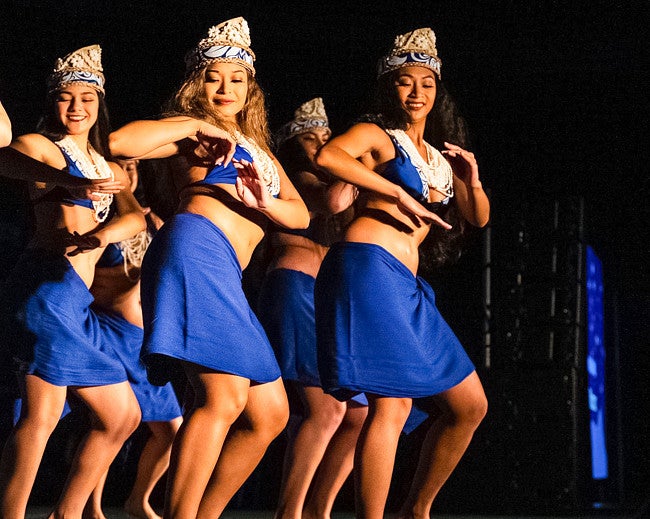 Her love for Polynesian dance was the catalyst for her involvement in UO Hui'O Hawaii. Operating in the role of lu'au coordinator, president, then co-president, during her time in the club, she shared both her passion for dancing and the Hawaiian and Polynesian culture with members of the community.
Nguyen-Acosta's fascination with African art as a child motivated her pursuit of an African studies minor. 
"It was a tie-in to my interests in culture, and those classes helped me understand a lot with the conversations of today, like racial injustice and Black history," she said. 
One of her fondest memories of the SOJC was studying international communication in Accra, Ghana, with the Media in Ghana program. The PR lessons she learned during this internship abroad challenged her knowledge and adaptability and still serve as "little reminders" in her work today.
Nguyen-Acosta credits her confidence in her work to the capabilities and education that she acquired during her time in the SOJC. She encourages current students to follow in her footsteps and take advantage of every opportunity that comes their way: "You came to the SOJC for a reason, and you are going to reap the benefits of it all through your future."
— Whitney Conaghan, class of  '24
Whitney Conaghan, class of '24, is a public relations major and multimedia minor. She is currently working as an events and social media intern for the SOJC's Communication Team.