2013 Hall of Achievement Inductee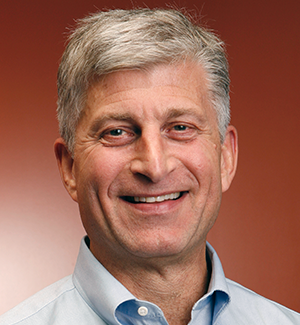 On May 4, 1970, when the Ohio National Guard opened fire, killing four students at Kent State University, Mark Zusman was 16.
The Nixon administration insisted that the Guard was returning fire from a sniper on a nearby rooftop. A young reporter from The New York Times spoke truth to power: There was no sniper. The shootings were unprovoked. At that moment, Zusman knew he wanted to be that reporter.
A decade later, with B.A. in English from Hobart College in upstate New York and a Master's in Journalism from University of Oregon, Zusman joined Willamette Week, then owned by the Baker family, as a business reporter. In 1982, Zusman and business partner Richard Meeker purchased the paper and as editor, Zusman began laying the groundwork for he calls "the DNA" of the place: building community and speaking truth to power.
Committed to Willamette Week's "holy trinity" — great reporting, excellent writing and active intelligence — Zusman and his reporters set about making significant events interesting to a readership they assumed was smart and looking for meaning.
It's this last element — active intelligence — that is the stamp of Zusman and where he says Willamette Week makes a difference: connecting the dots and placing things in a larger context. His fierce commitment to exceptional local journalism is lauded by staff and peers alike.
In 2005, nearly 35 years after Kent State, Zusman was at the helm when Willamette Week again spoke truth to power, becoming the first and only weekly newspaper to win the Pulitzer Prize for Investigative Reporting and the first newspaper to win a Pulitzer for a story that was originally published on the web.
Zusman and Meeker have brought the same determination to community building, achieving similar success.  MusicfestNW, TechfestNW and "Candidate Gone Wild," a series of election debates that include irreverent videos and candidate quizzes, are each recognized for their influence on creating an engaged and strengthened Portland.
Expanding on their aspiration of community building through intelligent journalism, Zusman and Meeker bought the Indy Week and Santa Fe Reporter, alternative weeklies in Raleigh/Durham, NC  and Santa Fe, NM, respectively. Although serving very different markets, all three publications thrive in places where people care deeply about their communities.
Zusman is the recipient of the Gerald Loeb Award for Distinguished Business and Financial Journalism and the Bruce Baer Award. The International Society of Weekly Newspaper Editors chose his editorials as among the 12 best in the nation in three separate years. He has served as president of the Association of Alternative Newsweeklies and the Independent Media Institute. He currently serves as a judge for the Payne Award for Ethics in Journalism.
Zusman has taught journalism at the University of Oregon and has lectured at the Academy of Alternative Journalism at the Medill School of Journalism at Northwestern University and the Walter Cronkite School of Journalism and Mass Communication at Arizona State University. He is also a former fellow of the East-West Center.