2021 Hall of Achievement Inductee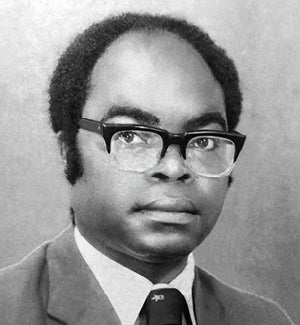 Professor Francis P. Kasoma (1943–2002) was a 1979 graduate of the UO School of Journalism and Communication journalism master's program. He was the first UO international student to win the Neil Taylor Award for best graduate thesis. His thesis formed the first part of his seminal book, The Press in Zambia, which was adopted as a textbook in many African universities and cataloged in the Library of Congress.
Intending to be a Catholic priest in his formative years, Kasoma attended Kachebere Major Seminary in Malawi, where he studied philosophy and theology for three years. In 1969, his career took a different path. Kasoma joined the Times of Zambia as a reporter and worked his way up to assistant editor in charge of the editorial staff and legal files.
In 1977, he joined the University of Zambia (UNZA) and headed its Department of Mass Communication for over a decade. He was the mastermind behind the establishment of degree programs at the undergraduate and graduate levels. Kasoma also served as president of the African Council of Communication Education.
Professor Kasoma was a press freedom firebrand in Zambia and was instrumental in founding the Press Association of Zambia, for which he also served as president.