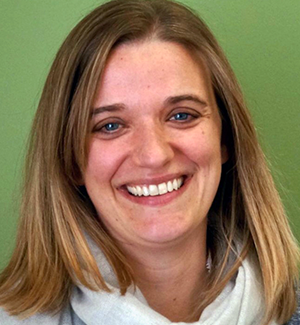 2017 Eric Allen Outstanding Young Alum
Tricia Duryee's path to success in journalism began while she was still a student at the SOJC.
As a member of the inaugural cohort of the Charles Snowden Program for Excellence in Journalism, Duryee interned as a general community and business reporter with the Bend Bulletin in 1998. The following year, she held two more prestigious internships, including a term covering the business beat for the Oregonian and a stint at the Seattle Post-Intelligencer. During her student years, she also wrote for both the Daily Emerald and the Chronicle, a newspaper based in Centralia, Washington.
After graduation, Duryee returned home to Seattle, where she developed her skills as a thorough and consistent reporter for the Seattle Times for eight years. It was at the Times that she established her niche in technology reporting, adding extensive coverage on venture capital, telecom, tech companies, and the wireless industry to her portfolio.
When Duryee left the Times in in 2008, she put everything she had learned there to good use as a reporter and editor for online technology and e-commerce publications. As an editor for MocoNews.net, she contributed to the Guardian-affiliated news site for two years, writing daily stories and features focused primarily on the mobile content industry.
Next, Duryee took a senior editor position at AllThingsDigital, a Dow Jones-owned publication based in San Francisco, where she expanded her repertoire to include stories on gaming. After more than two years in California, she returned to Seattle to work as a staff writer for GeekWirewhile expanding her freelance business and raising a family.
After the years of success she's enjoyed in her still young career, Duryee is quick to credit the SOJC for giving her a leg up.
"She never forgot about the value of her Snowden internship, and she has helped us grow the program," said Tim Gleason, Hall of Achievement director, SOJC professor, and former Edwin L. Artzt Dean of the school. "And few journalists have developed her level of expertise as quickly."