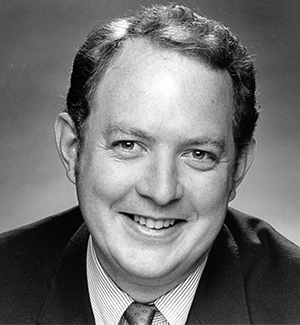 Some journalists keep their finger on the pulse of a place; few keep its heart beating. Steve Neal does both. A force committed to the ideal of journalism for the public good, Neal's career as a political reporter and columnist for the Chicago Sun-Times has distinguished him in his community and his profession.
Early on, Neal demonstrated a fascination with politics and a desire to improve his surroundings. While attending the University of Oregon, he served as ASUO President of his sophomore and senior class and Chair of the ASUO Higher Education Committee. Neal also served as President of the Interfraternity Council. He was a member of the Friars Honorarium, Druids, and Theta Chi Fraternity, which in 1971 chose him for the national Colley Award—the equivalent of "undergraduate of the year." He completed his master's at Columbia University in 1972.
Neal began his career as a reporter at the Philadelphia Inquirer and the Chicago Tribune before moving to the Sun-Times. He is one of the few journalists to have interviewed Ronald Reagan in four different decades. His coverage of the Reagan shooting earned him a nomination from the Tribune for the Merriman Smith Award and recognition as a top White House Correspondent by the Washington Journalism Review in 1982.
His reporting not only enlightens, but inspires change. A three-time nominee for the Pulitzer Prize in commentary, Neal has influenced Chicago's mayoral election process, prompting legislation that converted it from a partisan to a nonpartisan system. His commentary garnered support for the renaming of the Illinois State Library for the late poet Gwendolyn Brooks. He advocated for funding to save the home of the late Illinois Governor Adlai E. Stevenson and deterred the efforts of the Governor of Illinois to make a political dumping ground out of the Abraham Lincoln Presidential Library and Museum.
Described as a "consummate American Political Historian" by the Philadelphia Inquirer, Neal is the editor of four books and the author of six, including Harry and Ike: The Partner-ship that Remade the Postwar World. Released in 2001, the book has been heralded by prominent biographers and journalists. Dr. Henry Kissinger's review states that "Neal gives us fascinating insights into these two giants that saved the West."
In 1999, Neal published his first collection of columns entitled Rolling on the River: The Best of Steve Neal. The book was met with much critical acclaim and earned Neal the title of "Renaissance man of political columnists" among his peers. What's inscribed on the book's jacket could easily describe his entire career—"Tough but fair. Illuminating. Compassionate. That's the best of Steve Neal."