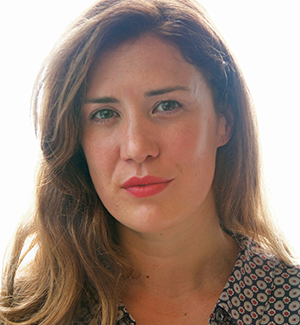 2013 Eric Allen Outstanding Young Alum
If you ask Sheena Brady, she will tell you that she came to advertising by accident. As a student at Oregon, she was busy writing essays and studying for midterms when a friend showed her an assignment from his copywriting class in the School of Journalism and Communication.
That was all it took.
Within a year of becoming an advertising major, Brady held leadership positions on both the Ad Team and on Allen Hall Advertising, a student-run agency on campus. As a senior, she won the Thompson award for copywriting.
After graduation, Brady headed for San Diego where she worked for Big Bang Idea Engineering and Vitrorobertson before heading home to Alaska for a creative recharge.
Once again it was a visit with friends in Oregon that set her next course. After they encouraged her to join to the creative scene in Portland, Brady connected with Wieden + Kennedy and began working for the agency six months later. For the next several years, she worked alongside a group of people she says raised the bar for writing and creativity, pushing her to get better and prove herself.
And prove herself she did. With her trademark combination of principles and bluntness, Brady developed a portfolio that includes work for Starbucks, Nike, Careerbuilder.com, and — perhaps most importantly — Coke and Diet Coke.
Working with a junior team that had much to prove and little to lose, Brady helped land the international account. It was Brady's head-turning Coke spot Videogame and the Super Bowl standout It's Mine that catapulted her onto what W+K creative director Mark Fitzloff called a "superstar trajectory."
From there, Brady was named AgencySpy's Hot Ad (Wo)man of the Day in 2008 and her commercial Heist for Coca-Cola, which aired during the Super Bowl in 2009, won an Emmy. Brady also served as creative director for Siege, for Coca-Cola, which won a 2011 Silver Clio for film.  In addition, she earned critical acclaim for her work with Nike in the short film Black Mamba and the commercial Pretty.
In October of 2011, Brady left Wieden + Kennedy for New York-based agency Anomaly, where she again won accolades as creative director the Wear Sneakers campaign for Converse account. In January of 2013, Brady was selected to participate on the panel of judges, comprised of "thirty of the advertising industry's most esteemed professionals," at the 38th annual One Show Awards.
In October 2013, she left Anomaly to freelance and pursue her own creative interests. Brady says that even though she's no longer with the company that brought her to New York, she will stay for a bit.
"In New York you just walk out on the street and there is always something going on," Brady said. "There's lots of creative fodder."
Brady says she's not sure where she'll be in five years but she does know she will still be trying to create.
"It's easy to put your head down and work but time goes by quickly," she said.
"I always want to be creative. It's my life-force, it keeps me energized. I don't want to be holed up somewhere grumbling."