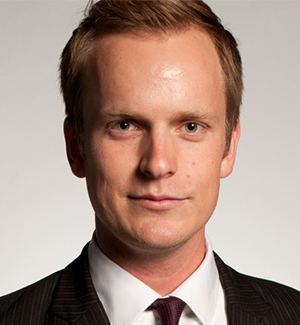 2015 Eric Allen Outstanding Young Alum
Ten years ago, as Hurricane Katrina battered the Gulf Coast and struck New Orleans with catastrophe, Robert X. Fogarty sat in front of his television in Eugene, hour after hour, transfixed by the images of flooded city streets, houses submerged in water, and stranded residents waving helplessly from rooftops.
Fogarty can't explain exactly what he was feeling back then. It's been too long, and too much has happened since. But he knows those images stuck with him, following him to New York City and to an unfulfilling sales job and eventually to the crisis moment when he realized his plans to conquer the Big Apple had spoiled on the stem. "I had my tail handed to me," he says. "I just had to leave New York."
Fogarty could have gone anywhere, but for those who believe in destiny, it seems inevitable that he would land in New Orleans as an AmeriCorps volunteer tasked with helping rebuild the city that he'd watched nearly wash away a year earlier. It turned out to be the perfect match.
In 2009, after deciding to stick around following his AmeriCorps commitment, Fogarty co-founded Evacuteer, a nonprofit that trains local volunteers to assist in future evacuation efforts. The organization has now trained thousands of "evacuteers" and placed statues at 17 pick-up locations around the city — part of a plan to safely evacuate as many as 40,000 residents who might otherwise be stuck in the city.
"It was the absolute, 180-degree opposite of a sales job in New York City," Fogarty says. "It changed my life."
Stop there and Fogarty's New Orleans story would already be a journey come full circle. But he was only getting started.
In 2010, an even more ambitious chapter began, rather unexpectedly, at an Evacuteer fundraising event during the Super Bowl featuring the hometown New Orleans Saints.
The fundraiser had a simple directive: write a "love letter" to New Orleans on your hands, then add $5 to the jar and pose for a photo. The messages Fogarty photographed that night were heartfelt and touching.
"The only city I've ever missed," one guest wrote.
"Better than before," wrote another.
Fogarty's images went viral online, and soon local celebrities like Saints quarterback Drew Brees were joining the action. The whole city seemed to be tuned in. "It just took off in a way that was really neat to see," Fogarty says. "I thought, 'Man, I ought to see this through a little bit.'"
Months later, as he continued staging shoots across the city, one message helped Fogarty see the project's potential beyond New Orleans. It happened with two words, written in block letters across a man's chest: CANCER FREE.
That photograph marked the launch of Dear World, a campaign that brought Dear New Orleans' message-on-skin approach to the international stage. The project has captured messages from cancer survivors, first-generation college students, celebrities, and thousands of other people with a simple but powerful story to share.
Again, the response was astounding. In addition to its global social media buzz, Dear World has been featured by CNN, The New York Times, and NPR, among others, and Fogarty now travels to photo shoots and speaking engagements across the country. In 2013, he even brought the Dear World campaign to his alma mater, photographing hundreds of students, faculty, and staff at the Erb Memorial Union on campus.
During September, Fogarty and Evacuteer will mark Hurricane Katrina's tenth anniversary with a celebration event to raise money for the organization's latest initiative: adding solar-powered lighting to the city's 17 evacuation sites. Evacuteer is accepting contributions at the event's Indiegogo site, which has already raised more than $28,000.
It's the kind of support that still amazes this year's outstanding young alumnus. "There are hundreds of people, maybe thousands by now, who have helped me out directly," Fogarty says. "That's a real gift."