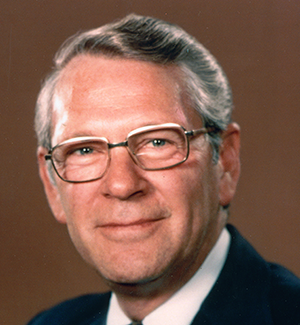 The ultimate skill in public relations is effective crisis management. Robert Short will long be remembered as one who put his communication skills to work lifting Portland General Electric out of a crippling crisis in the mid-80s.
Short served the U.S. Navy in the South Pacific before attending college. After graduating from the UO in 1950, he began his career as city editor for his hometown paper, the Klamath Falls Herald and News, and later served as news editor at KUGN Radio Eugene. He worked in the public information office of Eugene Water and Electric Board before joining PGE in 1955 as a public information director.
He became Vice President in 1964 and President in 1977, retiring in 1988 as chairman of the board and CEO of the utility. He established the company's reputation for customer service and community relations and explained complex information about the utility to the general public. He claimed that communication was the key to his job, yet Short is distinguished as possibly the only utility CEO with a journalism degree.
Short was an active participant in his community, serving on the boards of many educational, medical, and arts organizations. For his contributions, he earned the UO Distinguished Service Medal in 1986. Then-president Paul Olum noted "Robert Short has demonstrated his belief that people should give back a part of their energy to the community in which they live…he has been aptly described as a man enamored of public service."
Upon his death in 2001, then-PGE Chairwoman Peggy Fowler remembered Short for "getting PGE back in touch with the customer and the community."
"He established a clear mission for the company that was customer service," she said. "That is still with us."