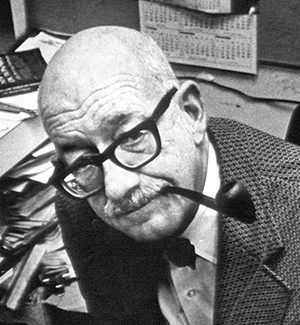 Robert Frazier was never bashful about his love affair with the University of Oregon. As Charles Duncan noted in the introduction to a collection of Frazier's columns, "Bob's affection for his alma mater was deep and abiding, almost possessive."
When he entered the University in 1940, Frazier was determined to prove himself worthy of his "Great Lady." In both his collegiate and professional careers, he did that and more.
After graduating, Frazier began working as a reporter for The Register-Guard having earlier worked for brief periods for the Aberdeen Daily World, the Bend Bulletin, and the now defunct Eugene Daily News. At The Register-Guard, Frazier's primary assignment ultimately became producing each day's editorials, as well as a signed column in the Sunday paper.
From his position on The Register-Guard's editorial page, Frazier helped shape public debate in Eugene and statewide. In a period of Oregon history noteworthy for the high quality of editorial voices in its newspapers, he stands out as one of the best.
Frazier also spend a year at Harvard as a Neiman Fellow and served for 12 years on the Neiman Reports editorial board. In addition, Frazier served on the board of the National Conference of Editorial Writers, editing its quarterly publication, The Masthead. He was a Pulitzer Prize judge in 1976 and 1977 and was elected to the American Society of Newspaper Editors in 1975.
Frazier also worked with the Oregon States Park and Recreation Advisory Committee, the Oregon Prison Association and the Governor's Task Force on Nursing Homes.
The Honorable Alfred T. Goodwin, whose friendship with Frazier spanned 37 years, said, "His insights brightened the editorial columns of The Register Guard for a quarter of a century–indeed made it one of the most distinguished newspapers in the land. He was one of Oregon journalism's brightest stars."
Robert Frazier died in 1997.