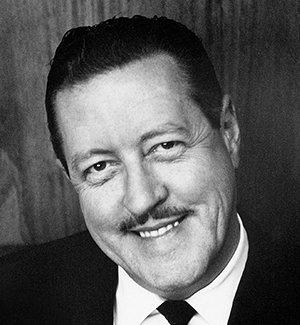 For Richard W. Johnston, it was all about words. Whether he was at UO reading books that weren't even assigned or earning the nickname "The Blue Pencil" for his line editing at Sports Illustrated, it was the play of words—the editing—that fascinated Johnston.
Bob Creamer, a longtime colleague at Sports Illustrated remembers that "for years, Dick would edit every single piece of copy that came in." Writers who worked with him had little need for anyone else to read their copy.
Johnston literally learned his craft in the trenches. After stints at The Register Guard and The Portland Journal, he joined United Press in 1939 and was sent to the Pacific in 1943. During World War II, he reported from Pearl Harbor, the Gilbert Islands, the Marshall Islands, Saipan, Tinian and Peleliu. He was also aboard the battleship Missouri for the Japanese surrender in Tokyo Bay. Johnston would later recall these experiences in his history of the 2nd Marine Division, Follow Me!
In 1946, Johnston joined Time magazine and then moved to Life as a text editor. In 1953, he was asked to join a team that would create a sports magazine. He scouted and hired editors and writers for the startup, and once Sports Illustrated was up and running in 1954, he oversaw the editorial voice of the publication. Today the magazine has a circulation of 3.3 million and is considered the country's premier sports publication.
Johnston eventually became executive editor–the number-two person at Sports Illustrated. In 1970, after 17 years at the magazine, he retired but continued to contribute as a freelance correspondent for several more years.
"Dick always said that if Sports Illustrated were to make a life for itself, it had to be well-written," Andy Crichton, a friend and SI colleague, says. "There was a special quality at the magazine in those early years, and Dick was very much responsible for that."
Johnston died in 1981.