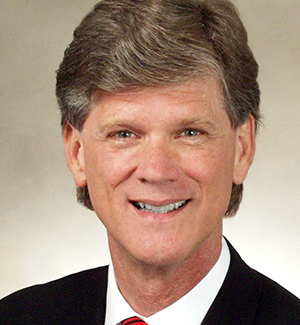 In the world of public relations, Rich Jernstedt seems to have done everything right. The chief marketing officer, corporate executive vice president and senior partner at Fleishman-Hillard Inc., one of the world's largest public relations firms, is known for his expertise in consumer marketing and brand strategies. He has contributed to the success of some of the world's leading companies and products.
Prior to his 2004 move to Fleishman-Hillard, Jernstedt served for twenty-six years at GolinHarris, most recently as chairman. During his time as chief executive officer at GH, he helped build the company from a small, local PR shop to a global firm with offices around the world. He oversaw client programs in crisis management, consumer marketing, corporate communications, and reputation management. In 2003, to mark Jernstedt's twenty-five years of service, the company established a public relations scholarship at the School of Journalism and Communication, from which he graduated in 1969.
His professional involvement is extensive—his memberships include the Arthur Page Society, where he is secretary of the board of directors; the Institute for Public Relations, where he is also a board member; PRSA, and IABC. Jernstedt was a founding member of the board of directors of the Council of Public Relations Firms and served as its chairman in 2003. He is also a member of the American Brands Council that serves an advisory role to the America's Greatest Brands publication. He is a frequent speaker on branding, agency management, and communications strategies worldwide.
Early in his career, Jernstedt worked in marketing communications at Container Corporation of America and served for three years as a Navy public affairs officer on aircraft carriers in the Western Pacific and the Mediterranean. The Chicagoan is a native of Carlton, Oregon.
While building an impressive career in a fast-paced and demanding field, Jernstedt has always made the time to make a difference. Children and education are at the top of his list. He is on the board of the Off-The-Street Club, Chicago's oldest club for boys and girls, and chicagoWorkforce2.0 with other local business leaders. He served as a UO Foundation Trustee for eight years.