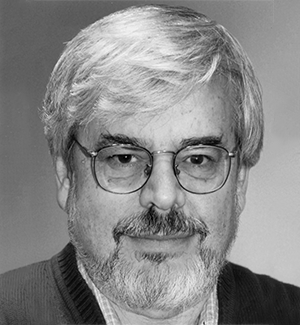 Phil Semas likes to say that he has had five careers, all of them at The Chronicle of Higher Education. He has spent all but a year of his forty-four-year journalism career helping create a publication that is a "must read" every day for people in academia.
Getting into journalism, Semas says, was "almost by accident." As a junior at Wy'East High School in Hood River County seeking a class to fill his schedule, he chose journalism simply because it sounded interesting. As it turned out, it was even more interesting than he'd expected: He became sports editor and then editor of The Wy-Hi News, the student paper.
At the UO he followed a similar course at the Oregon Daily Emerald, beginning as a sports writer, then sports editor, then editorial page editor, and, during his senior year, editor. He also worked for a while in the sports department at The Register-Guard.
After graduating in 1967, Semas worked for a year as editor of the College Press Service (CPS), a commercial news agency supplying stories to student newspapers, and then spent a year in Berkeley, California, as a stringer for CPS and The Chronicle of Higher Education. In 1969, he joined The Chronicle staff as a reporter, covering campus protests that were sweeping the country, including the aftermath of the shootings at Kent State, as well topics such as faculty unionization and science policy. In 1978 he was named managing editor.
After nearly ten years, Semas took a leave from the managing editor's job to investigate the potential for a new publication for charities, foundations, and the nonprofit world. The Chronicle of Philanthropy began publication in October 1988; today it is the leading newspaper in that field, appearing in print eighteen times a year, with a regularly updated website and a circulation of 28,000 subscribers and an estimated 100,000 total readers. The website has 200,000 unique visitors per month generating about a million page views.
Semas served as editor of The Chronicle of Philanthropy until 1995, when he became editor of new media for both Chronicles, overseeing all online activities. Today The Chronicle website, chronicle.com, boasts traffic of more than 12.8 million pages a month read by more than 1.9 million unique viewers. He was named editor in chief of the company in 2002, overseeing all editorial operations of the two Chronicles and the website Arts & Letters Daily, which the company had acquired that year. The following year he assumed responsibility for all operations of the company, business and editorial. He added the title of president in 2009 to more accurately reflect his role.
Under Semas' direction, The Chronicle of Higher Education has cemented its role as the go-to, credible news source about the academy. Today the paper and its website have a circulation of 64,000 regular subscribers and more than 315,000 daily readers. Online, it has 1.5 million monthly unique visitors generating more than 15 million page views. In addition, more than 1,000 colleges (including the UO) have purchased site licenses that allow anyone on campus access to all of the website. Together, the print publication and website have been nominated for nine National Magazine Awards and have received multiple honors from the Education Writers Association, the Society of News Design, the Webby Awards, and Editor & Publisher's EPPY Awards.
Explaining his longevity at The Chronicle, Semas notes that he "expected to stay for two or three years and move on," but that each role as well as the paper's growth and change has offered different challenges and opportunities to learn, "especially as the world we all work in has changed so much with the advent of the Internet. In addition, the areas we cover—higher education and the nonprofit world—are fascinating and important to society."
When not working to deliver news about higher education to the world, Semas and his wife Robin spend time with their two daughters, Katie and Anna; adopted son, Jeremy; and two granddaughters.