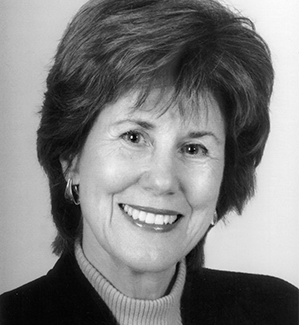 Patricia O'Brien has turned the adage "write about what you know" into a successful career, whether writing about political intrigue or women's friendships. As an award-winning political reporter, columnist and novelist, she knows both subjects very well.
O'Brien was married and the mother of four children in 1965 when she headed back to school to complete her undergraduate degree. She graduated the following year at the age of 30. O'Brien began her journalism career as an obit writer at the South Bend Tribune in South Bend, Indiana. In 1970, she began working for the Chicago Sun-Times, first as a reporter, then as a columnist and editorial writer. She describes 1973 as a "watershed year"—her marriage ended, she published her first book and she was awarded a Nieman Fellowship at Harvard University.
At Harvard, O'Brien met Ellen Goodman, also a single mother, who would become a lifelong friend. Their friendship provides the backbone for their bestselling collaboration, I Know Just What You Mean: The Power of Friendship in Women's Lives. The highly acclaimed book led to this prediction by The Boston Sunday Globe: "When historians ask what it was like for women and their friends in a time that often seemed everything was changing, this will be the book that provides the texture of life as real people lived it."
Her other works of nonfiction hold that same resonance. Her first book, The Woman Alone, which she has characterized as "…in part stories from my own life and the lives of other women who were single, widowed and divorced," remained in print for 13 years. It was followed by Staying Together: Marriages that Work in 1976.
O'Brien, a seasoned journalist of 20-plus years, covered the Reagan administration, Congress, and the 1984 political campaigns of Gary Hart and Geraldine Ferraro. In 1987, she served as press secretary for Governor Michael Dukakis during the first half of his presidential campaign.
From these experiences, O'Brien gained insight—both personal and political—into what would fuel the content of her bestselling novels: The Candidate's Wife and The Ladies' Lunch. Her third novel, Good Intentions, was described by The New York Times Book Review as "The perfect plot for a summer beach read."
In 1999, she and Goodman took part in the first Writers in Residence program at Harvard and Radcliffe, a semester-long program that provides the two schools with the opportunity to learn from the experience of renowned essayists, journalists, authors and poets.
A frequent contributor to many national magazines including Esquire, Harper's Bazaar, and Columbia Journalism Review, she has written about Geraldine Ferraro, former White House press secretary Dee Dee Meyers, and Hillary Clinton, among others. In 1988, she was awarded a Freedom Forum Fellowship at Columbia University. Her book reviews appear regularly in The New York Times.
O'Brien was The Baltimore Sun's Distinguished Lecturer at the University of Maryland School of Journalism in 1989 and has taught at Northwestern University's Medill School of Journalism.
Her latest book, The Glory Cloak, a novel set in the Civil War, is slated for publication in May 2004 by Touchstone Books, a division of Simon & Schuster.