Journalism Students Head to New Orleans for Real-World News Experience
STORY BY HALEY LANDIS '22
New Orleans is known for its rich culture. Jazz music floating through the streets, a bustling nightlife scene, Creole cuisine and the famous Mardi Gras festival all contribute to the captivating image of the city that is typically portrayed.
But the city's residents are no stranger to tragedy.
In 2005, Hurricane Katrina hit New Orleans, bringing with it a level of destruction never seen before in the city. The levee system, built decades ago to protect New Orleans against flooding, primarily from the Mississippi River, was no match for the force of Katrina. It broke, flooding the city with 31 billion gallons of water, taking the lives of 1,833 people and displacing 80-90% of residents, some of whom were never able to return. Black community members were particularly hard hit.
Then came Hurricane Barry in 2019, the COVID-19 pandemic in 2020 and Hurricane Ida in 2021. Despite the devastation the city weathered on each occasion, once the news wasn't breaking, the coverage stopped.
In response to this missing link in news coverage, Associate Professor Ed Madison took a group of five UO School of Journalism and Communication (SOJC) students right into the heart of New Orleans, Louisiana, in December 2021 to capture stories about its vibrant culture and resilient community members for the Big Easy Blues project.
"Mainstream media functions pretty much in the news cycle, where they come in right at the flashpoint of a catastrophe or disaster and then move on to the next story," said Madison, who started the SOJC's Global Stories program in 2014 to take journalism students to locations around the world. 
Madison and the students set out to tell real-world news stories about the city the national media left behind, including the disproportionate effects of these disasters on communities of color, the impact on culture and small businesses and, most important, how the people of New Orleans bounced back.
Over the course of their 10-day trip, the group spent time in the French Quarter, Lower Ninth Ward and Bayou towns in southern Louisiana, bringing stories of resilience, community and culture to life.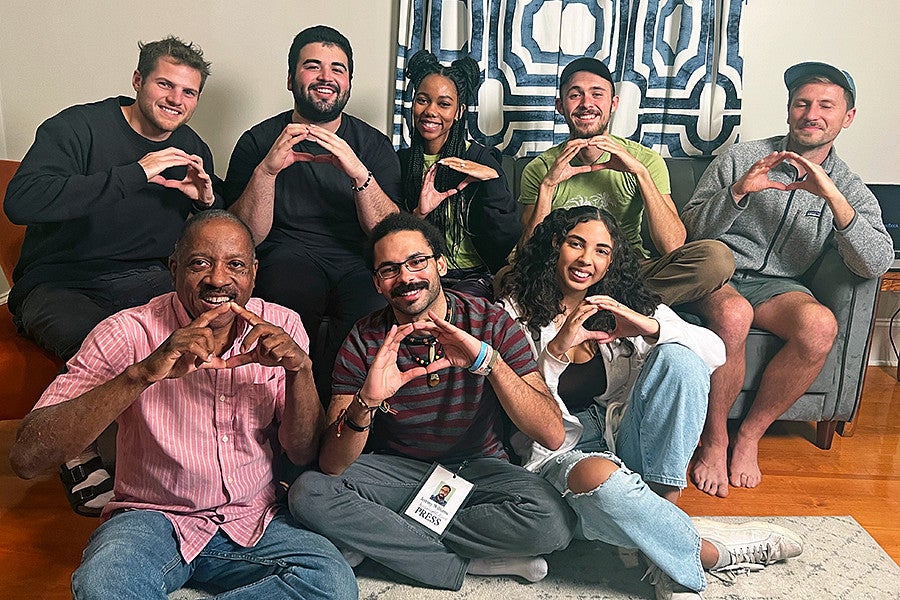 2,521
miles from eugene to new orleans
Meet the Students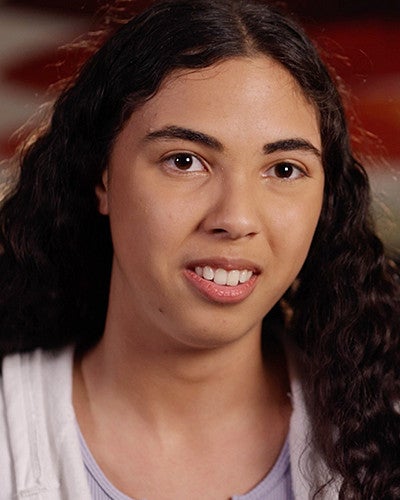 Jael Calloway
Writer and Editor
Journalism class of '22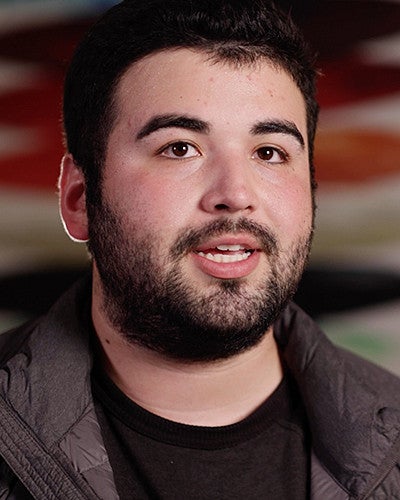 Canden Gutierrez
Videographer
Advertising and Cinema Studies class of '23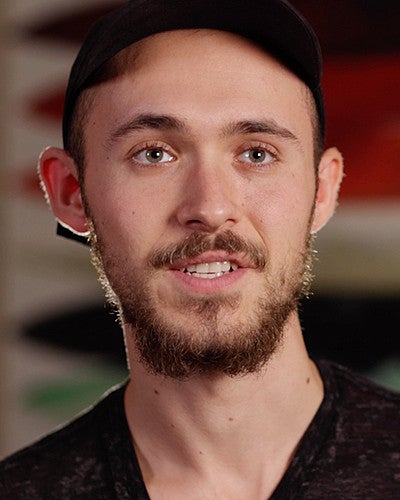 Aaron O'Gara
Videographer and Editor
Journalism class of '22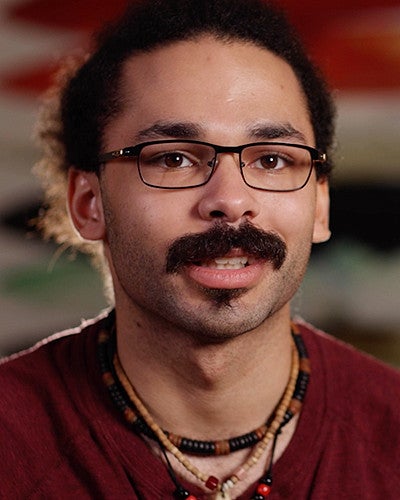 Jeremy Williams
Photojournalist
Journalism class of '23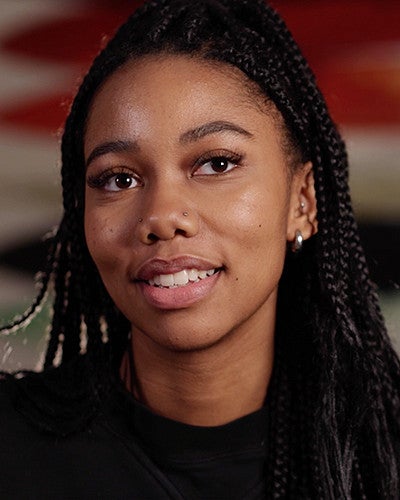 Casey Winbush
Writer
Journalism class of '22
Alumni Mentors: Sutton Raphael '16, and Jordan Bentz '12   |   Faculty Advisor: Ed Madison   |   Project Web Designer: Maggie Salter, Advertising class of '23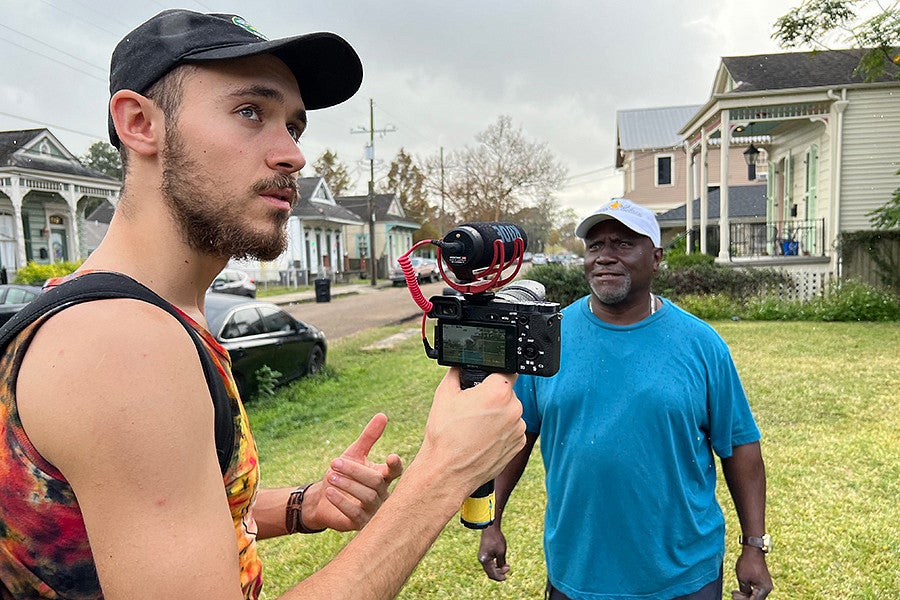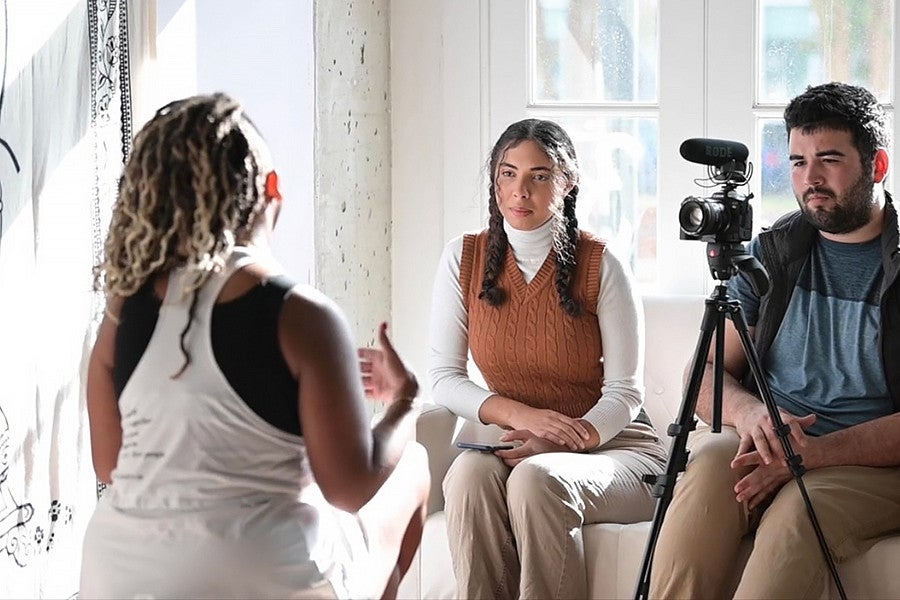 How They Did It
To find stories, the team visited the French Quarter, a high-tourist area of New Orleans known for its bustling nightlife and famous Mardi Gras festival. The students chatted with rideshare drivers, walked up to musicians on the streets and scoured social media for potential sources.
"Even though all the stories were so different, there was that string of 'we're here to stay. This is our home.' That's very prevalent in each one of them," said Jael Calloway, editor and one of two writers on the team.
Their stories took them beyond the French Quarter and into the homes and businesses of locals. They visited the first Black-owned yoga studio in town, a voodoo temple with a high priestess, the famous restaurant Dooky Chase's, a high school with an abundance of heart, the home of a couple in the Lower Ninth Ward and a hard-hit bayou town called Houma.
"I think a lot of attention gets put on the disastrous moment," said Aaron O'Gara, videographer and editor. "But I think the more important place where we need to focus our energy is how we treat people afterwards, how we rebuild and take care."
SOJC students also worked with fellow journalism students from Xavier University to get a sense of what it was like to be a local and to ensure references were accurate.
The students each selected stories that allowed the diverse voices of the New Orleans community to be heard. They talked to those who had to adapt their businesses when COVID-19 hit, rebuild their home for the second time after Hurricane Ida or face scrutiny for practicing their traditions. The stories also emphasized the lively culture that pulses through the city: the jazz music, Creole cuisine and long-standing French influence.
Jeremy Williams, the trip's photojournalist, explains why his attention to detail and dedication to truthful storytelling is essential to his process as a photographer.
While new to disaster coverage prior to the trip, videographer and editor Aaron O'Gara explains that he wanted to help fill the gap in the media's coverage of New Orleans.
The students worked to showcase the strength, love and vibrance of a community neglected in typical media coverage.
Here are a few of the stories you can find on the Big Easy Blues website:
A couple repairs their home in the Lower Ninth Ward for the second time in the wake of Hurricane Ida.
The famous restaurant that's served the likes of President Barack Obama, Duke Ellington, Jay-Z and Beyonce is more to New Orleans residents than just food; it's a community.
Adrianne Jackson, founder of New Orleans's first Black-owned yoga studio, is sharing yoga's mental and physical benefits while creating space to help people look at life differently.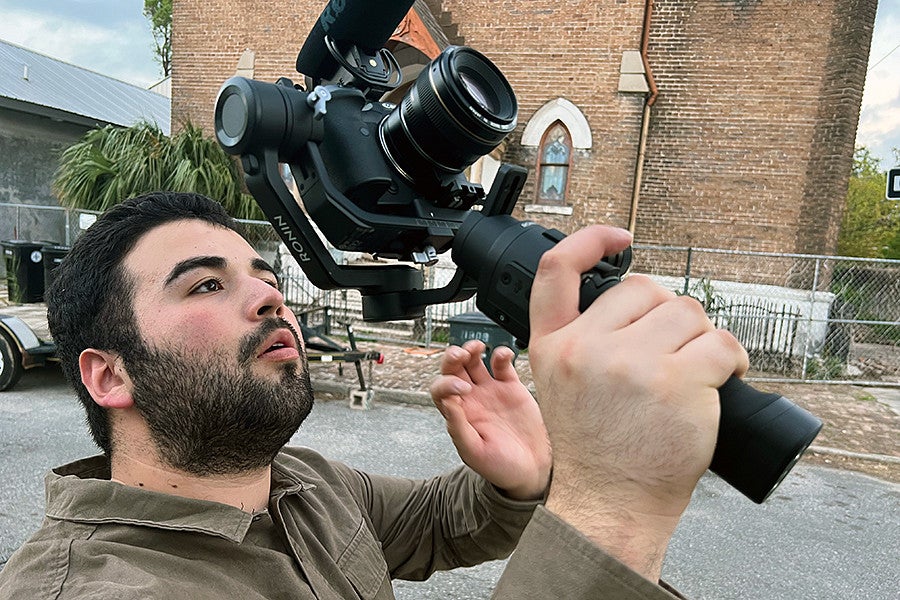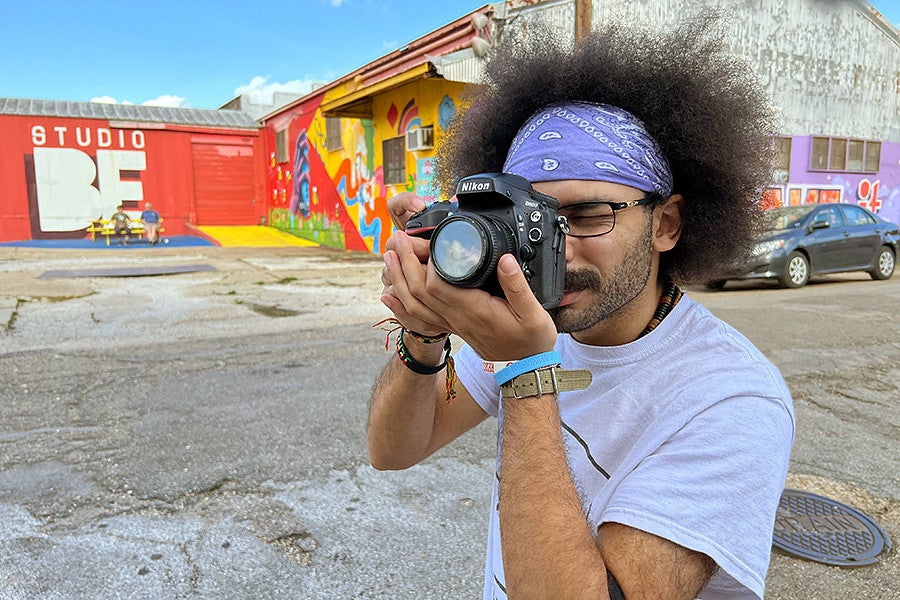 What They Learned
Madison's intent behind this trip was to take students on "an excursion that is going to have them step outside their comfort zone." It was designed to bring students into an unfamiliar environment where they hadn't had a chance to survey the space and adapt their reporting skills accordingly.
In a new city and without the pressure of a class assignment or a grade lingering in the future, students were able to immerse themselves in the more human side of reporting.
"We're really taught to pursue stories," said Casey Winbush, "but being able to adapt to a situation, switch into a more humanistic mode and have a conversation with no intent behind it, it was a good learning experience."
We're really taught to pursue stories, but being able to adapt to a situation, switch into a more humanistic mode and have a conversation with no intent behind it was a good learning experience.
Casey Winbush, Journalism, Class of '22
Aaron O'Gara took the opportunity of being unfamiliar with the area to develop a skill crucial for reporting — sensitivity. Because he has reporting experience, he was comfortable stepping into most environments, but he quickly realized that his comfort may not be shared by the people he interviews. The trip taught him how to nimbly step into someone else's world — especially one after a disaster — and avoid causing further discomfort.
"I felt like I found a lot of purpose and connection with myself and [others]," he said, "just being there to understand their story and being in a position to share that … in a way that honors them and tells the truth about them."
A running theme that students experienced on the trip was finding their voice, both as a journalist and a person. Jael Calloway said the simple practice of talking to ride-share drivers, people in the streets or business owners helped grow her confidence and allowed conversation to flow naturally.
For Calloway it was a trip where she stood up for herself, used her voice and learned to be both a human being and a reporter.
"I've never felt more stable and at peace and safe — and in a community I have never been in before," she said. "I really found my voice during that trip."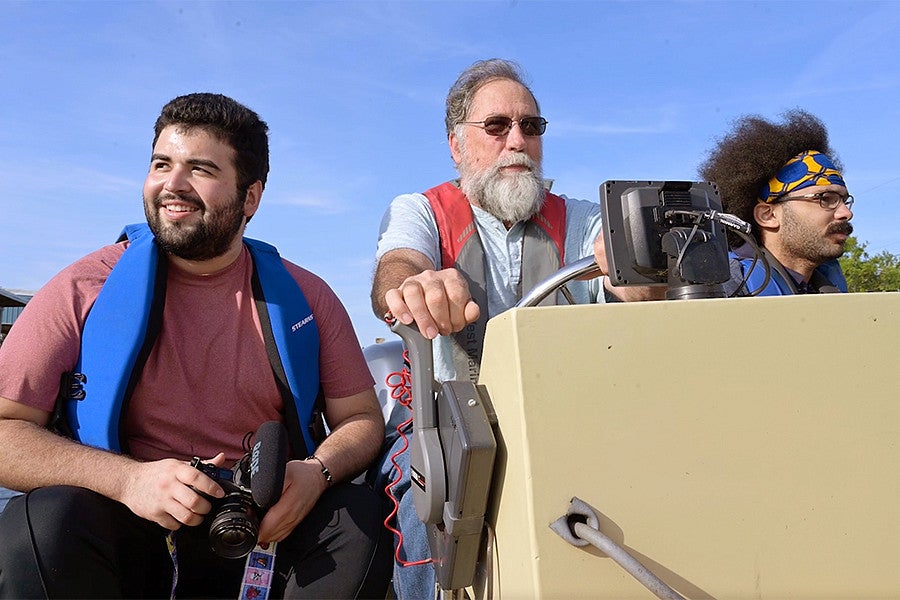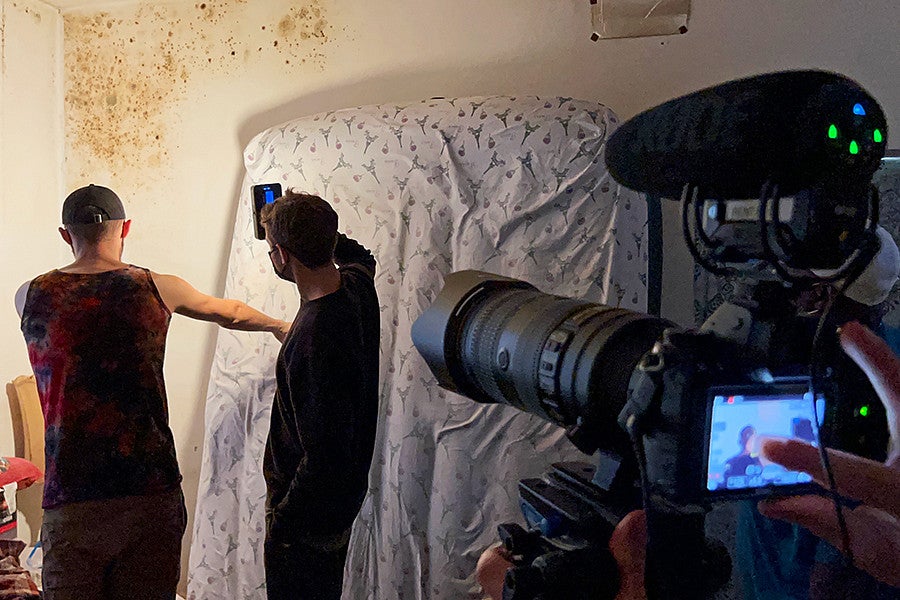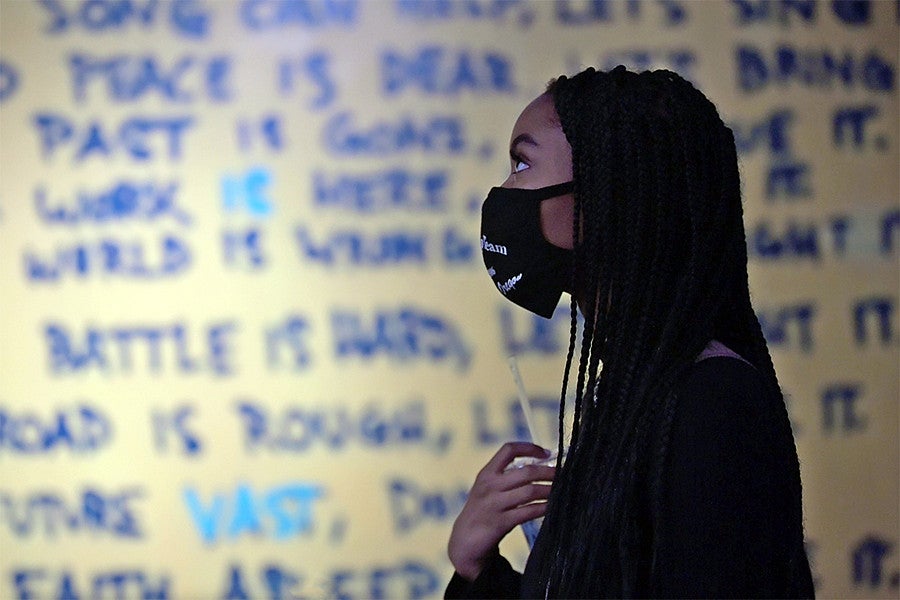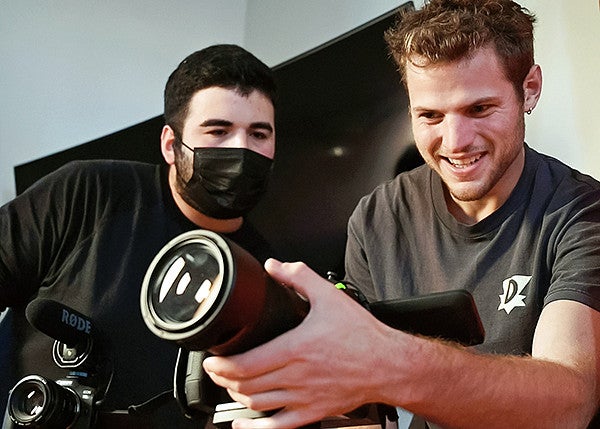 Documentary Masterclass with SOJC Alumni
Also in attendance on the trip were SOJC alumni Sutton Raphael '16 and Jordan Bentz '12. The professional videographers provided mentorship to the students while working with Madison to create a documentary about the trip.
The documentary, which features interviews with the students who worked on the trip, is an educational piece that will also benefit future students.
For Raphael, getting to work with students out in the field was a "full-circle moment" after attending a handful of reporting trips with Madison and other SOJC professors during his time as an undergrad.
"Getting to go out into the field with equipment from the school," Raphael said, "that's what really made a difference in my education."
Go behind the scenes of the Big Easy Blues trip to hear from students about their growth and experience on the trip, what it's like reporting in a new city and how the SOJC's mentorship propelled them through the process.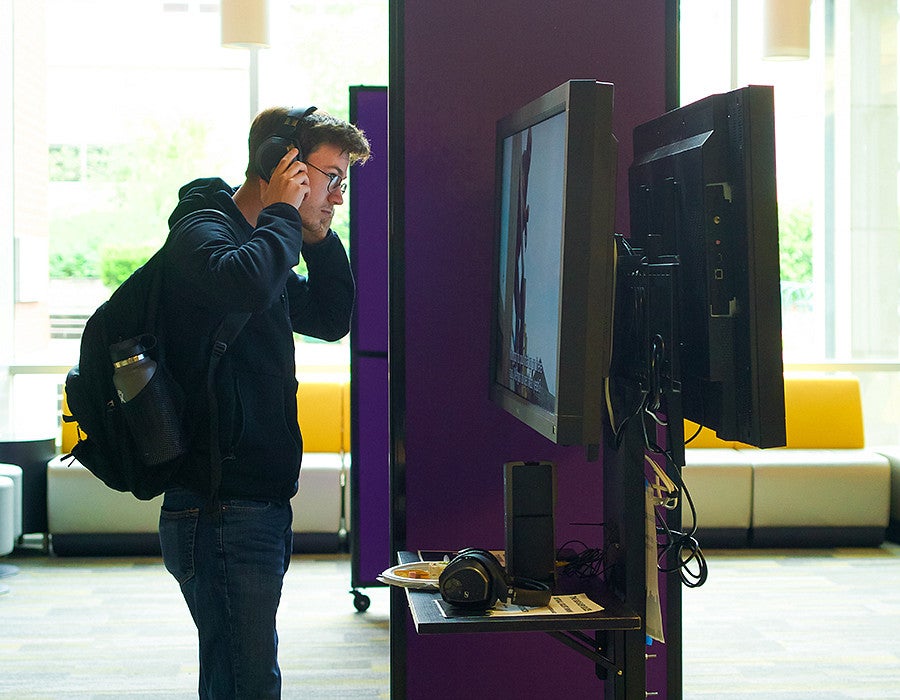 Student Exhibit Provides Immersive Experience
In the spring of 2022, the Big Easy Blues team set up an immersive exhibit in the Allen Hall atrium to showcase the work they produced over winter break following the trip to New Orleans in early December. They printed and hung images depicting students in the field, story subjects and New Orleans landmarks to share the stories of the communities of color who were adversely impacted by Hurricane Ida and COVID-19. A video display showing the work produced by student videographers on the trip accompanied the images.