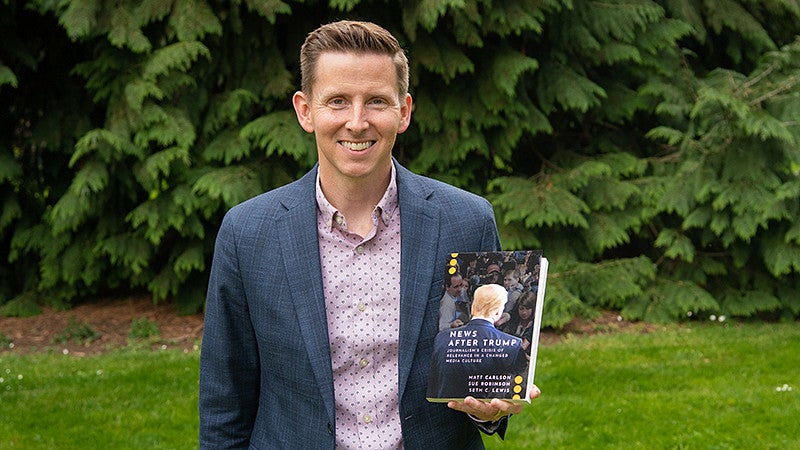 While Donald Trump is no longer the U.S. president, his attacks on the media may have a long-lasting effect on the public's trust in media and how journalists cover politicians.
To understand how the news industry has changed since Trump was elected president, we talked to Seth Lewis, director of the journalism program and Shirley Papé Chair in Emerging Media in the UO School of Journalism and Communication, about the research that went into "News After Trump," his new book with co-authors Matt Carlson and Sue Robinson.
Journalism doesn't have the impact it once did
According to Lewis, several factors have altered the public's trust in media and journalism's influence on public opinion.
"To understand journalism today is to recognize how it became decentered in our media landscape," he said. "Historically, journalism has played a much larger role as a gatekeeper, but less and less so in our contemporary media culture."
In their book, Lewis and his co-authors explore the extent to which journalism has lost its relevance as a primary sense-maker for society.
"It's been decentered in our media culture by so many abundant media choices — news has to compete for attention with Netflix and everything else more interesting online — as well as in a political environment where the news media has been turned into a primary target and situated as a key political opponent by Republicans especially, and even some Democrats," Lewis said.
Trump knew how to use the press — and how to diminish trust in media
"Prior to becoming president, Trump was successful at taking advantage of preexisting routines journalists often use when they cover political events," Lewis said. "He made for great news because he wasn't like other politicians. He was unpredictable, and his campaign was nicely suited to the entertainment-centric media culture we live in today. The president of CBS said, in effect, 'Trump may not be good for the country, but he's good for CBS.'"
When he was a presidential candidate, Trump also mocked disabled reporter Serge Kovaleski during a campaign rally in South Carolina and blacklisted media outlets such as BuzzFeed, Politico and The Washington Post to prevent them from covering his campaign events.
"In the book, my co-authors and I say journalists aren't guiltless in this situation, but there are many ways that the traditional modes of covering politics and candidates facilitated Trump's rise to begin with," Lewis said. "Of course, after using the news media to become president, Trump turned against them — and turned journalists into his main political rivals. It exposed how the role journalism plays in society has become tenuous because of the media culture we swim in today."
After he was elected president, Trump began labeling the media "fake news" and "the enemy of the people," barred reporters he didn't like from the West Wing and encouraged violence against reporters, which greatly impacted the public's trust in media.
The media fought back against Trump's attacks
Unlike past presidents, who often held daily televised press briefings, the Trump administration hosted only 158 during his first three years in office. Instead, the president took to Twitter to air his grievances about the biased coverage he believed he was receiving from the media.
When Trump did speak to the press, he was often hostile to reporters. In particular, CNN's Jim Acosta's fraught interactions with Trump went viral and became points of controversy that generated widespread discussion, offering a window into how the press is perceived.
"This is described as 'meta-journalistic discourse,' and it's a conversation about journalism that occurs among journalists as well as among news consumers and politicians," Lewis said. "That conversation is important for understanding how people define journalism and how they define the role of news media in society."
The media tried to fight back against Trump's attacks. In August 2018, hundreds of newspapers, in a loosely coordinated effort, began pushing back in their editorial opinion pages. This effort ranged from large metropolitan newspapers such as the Boston Globe, which started the campaign to promote a free press and counter Trump's claims against journalists, to smaller newspapers such as the Topeka Capital-Journal, which explained for readers the dangers of Trump's rhetoric.
"One of our chapters is based on an analysis of those editorials, looking for key themes and patterns that emerged," Lewis said. "In one sense, journalists were trying to hold fast to a traditional ideal of the First Amendment and this idealized notion of journalism in society."
Journalists have two paths to choose to regain public trust in media
According to Lewis, after the 2016 election, journalists across the country had to come to terms with the fact that they helped elect Trump, as they often gave his rallies unlimited airtime and didn't cover him with the same kind of scrutiny applied to previous candidates. Journalists also began to recognize how disconnected they were from the ordinary concerns of many people, and how that disconnection was contributing to a longer trend of waning public trust in media and the news.
Lewis and his coauthors see two potential approaches journalists can take to address this growing distrust.
"One path that journalists can choose is to double down on a traditional mode of objectivity and really emphasize the neutrality and distance of a reporter from the things they cover," he said. "I believe there is a reason that survey after survey seems to suggest people want straight, objective news.
"We also recognize, too, though, that when you look at how people vote with their feet or vote with their clicks, likes and shares online, clearly people aren't clamoring for a whole lot more wire service coverage from the Associated Press," he added. "They often are drawn to things that are more in accordance with their political leanings."
Lewis and his co-authors say that instead of doubling down on the "standard model" of detachedness, journalists can find a fresh approach in accentuating a "moral voice" — that is, more assertively and transparently standing up for democratic norms, free and fair elections and other broadly shared values for social good.
"My co-authors and I aren't suggesting that journalists should go out and chase a partisan tone, but we are suggesting, instead of the standard model of journalism, a different path that could be followed that would take seriously the idea of a moral voice," he said.
Journalists often are taught to remain objective and avoid covering stories or communities they know well. However, according to Lewis, this has created a point of contention between journalists and marginalized communities when coverage of those communities becomes largely focused on stigmatizing topics such as crime.
"This moral voice model is not about trying to become more partisan for the sake of polarization, it's more about really deciding what journalists stand for," Lewis said. "What sort of community values and norms are important, and how can those lead to different forms of coverage?
"Journalists can be more forthright in calling out lies and calling out racism, and some of those things have been revealed to us through the course of the Trump presidency. There are more efforts that can be made in getting better at simply telling things as they are rather than, in some cases, hiding behind objectivity as an excuse to not be fully engaged in portraying reality."
—By Alli Weseman '22
Alli Weseman (she/her/hers) is a second-year student in the SOJC's Multimedia Journalism Master's program in Portland. She has freelanced for Portland Monthly Magazine and now works as a multimedia specialist.