The York Street Working Group is a group of Black Portland community members focused on telling the story of York, an enslaved man of African descent who traveled to what is now Portland in 1805 as part of the Lewis and Clark expedition. York had a significant role in the expedition as a tracker, caregiver, forager and liaison between the group and the native communities.
However, his story has been left out of history. The York Street Working Group was formed to honor and remember York by creating a village with affordable housing, businesses and a Black history museum on York Street in NW Portland.
In spring 2023, my fellow cohort members from the Multimedia Journalism Master's program at the UO School of Journalism and Communication (SOJC) and I had the privilege of sharing the group's story through a short documentary called "Remembering York."
Jane Glazer, another student from our cohort, wrote an article about the production of the documentary, which was our class project in J-656 Producing the Story. For this blog post, I wanted to explore what it felt like to tell a story that dealt with uncomfortable topics, like race and erasure.
To convey the real history behind the York Street Working Group, we used methods within engaged journalism to guide the storytelling process. Engaged journalism attempts to center communities. It asks the question, "How do you tell a truly inclusive story while reframing our understanding of objectivity and ethics?" We sought the perspectives from community members impacted by the historic erasure of Black communities in Portland to compare them with the stories that have either conflated narratives or left stories out for the sake of brevity or control of a narrative.
"It gets me thinking about the way, when we can't have the deeper conversations, that inevitably thins out the journalism. Because then you just have to stick with — as a writer, as a journalist, as a reporter – the stuff that feels safe," said Regina Lawrence, associate dean of SOJC Portland and research director of the SOJC's Agora Journalism Center. "It's safe because it maybe fits the general narrative rather than stuff that is more nuanced."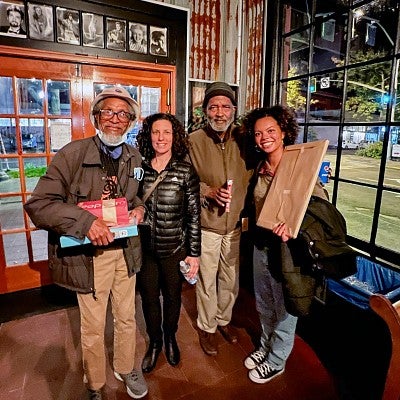 Oregon's racist history begins with being the only state in the nation that would not allow Black people to live here. When Black people became legal residents, their community in Vanport was flooded out in 1948, and they had to seek shelter in Albina in Northeast Portland. By the 1950s, Portland's discriminatory laws displaced the Albina community during several freeway construction projects that destroyed homes and historic Black landmarks.
Exploring this local racism was a major factor in the selection of our subjects. Our instructor, Ifanyi Bell, oversaw this selection, so I asked him what it was like to watch us tackle a story about Portland's racist history.
"I think the young people who exist now are much freer to talk about race and to talk about gentrification and, for white students in particular, to own their privilege. These are all new things that are beginning to impact journalism," said Bell. "So I think in this class with this cohort, all those conditions existed. And the goal was to let the audience know that these are the things that we as producers, as journalists, felt."
For the documentary we were researching a community that our team was not a part of. We are all transplants, having come from different states. We had no ties to the historic Black community that was Albina, the original region before it merged with Portland, and its displaced history.
However, as we learned more about the story of York and the continued disenfranchisement of Black people in the area, it began to feel familiar to me because it's not complex. It's a story that's taken place repeatedly throughout history, including within my own ancestral line. Instead of shying away from my interest and personal experience with this story's themes, I embraced that I had a connection to the story through the lens of experience, and I let it guide me in telling a true story.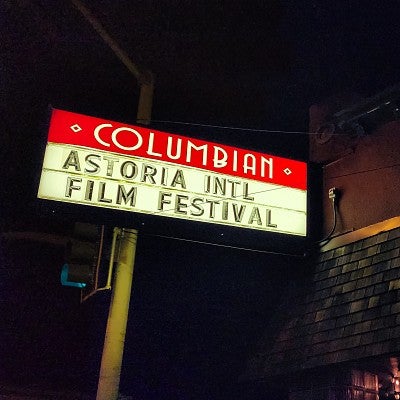 As a team, we parsed over 10 hours of interview footage from five sources to ensure we told a story that was as multifaceted as our subjects, and we chose not to exclude anyone. We wanted to ensure we didn't limit the expansive topic that this video came to encompass — the large themes of injustice, erasure, race and gentrification.
In making sure we were ethical and respectful of the story, I found that the folks who held me accountable the most were the members of my cohort.
"I think the vulnerability and transparency of our storytellers really inspired our team to know we had to do their stories justice," said Caitlin Crowley, a member of our cohort who was a part of the production. "There just wasn't an option to cut any ethical corners, and having many hands on the team helped that be a feasible goal."
The conversations that were hard to have between our cohort and the York Street Working Group allowed us to form deeper relationships with them and each other that are still alive to this day. As the video gets ready to premiere at the Astoria Film Festival in Oregon, organized by Ron Craig — a member of the York Street Working Group and a subject of the video — his words resonate with me on the one thing that brought us together.
"We are a team, working to get the history out," he said.
—By Ranya Salvant, class of '24
---
Ranya Jennifer Salvant is a second-year Master's in Multimedia Journalism student at the University of Oregon's School of Journalism and Communication in Portland, getting her graduate degree in indigenous, race and ethnic studies. As a visual storyteller, she hopes to change how stories are told about the arts and the environment. She wants to produce stories that can elevate artistic and cultural experiences and share legacies that are a part of the land.