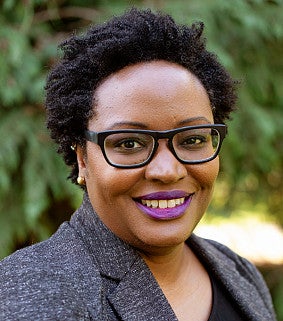 Story by Eric Schucht
Hometown: Richmond, California
Primary research interest: Gender, race and media
Favorite quote: "Not everything that is faced can be changed, but nothing can change until it is faced." — James Baldwin
Say "hello!": Follow her @DaynaC_PhD
The television industry is on a quest for diversity, both behind the scenes and on the screen. But it has yet to master the art of representing the differences among groups in an authentic way. How do black women who work in the industry — the showrunners, producers and writers — deal with this conflict?
That's one of many questions about diversity in media that Dayna Chatman wants to answer.
This fall, Chatman joins the UO School of Journalism and Communication as its new assistant professor of media and intersectionality. As one of five new faculty members starting in fall term, Chatman brings expertise in feminist media scholarship, the television industry and fan studies to the SOJC.
Chatman's research focuses on the ways TV audiences, as well as industry decision makers like network executives and writers, navigate racial, gender and cultural politics. When it comes to audiences, she is particularly interested in social media spaces, like Twitter, where black viewers and fans consume, discuss and interact with television programs driven by black female protagonists, such as HBO's "Insecure" and ABC's "How to Get Away with Murder."
We caught up with Chatman to find out more about her background, her research and her plans at the SOJC.
Why did you decide to come to the SOJC?
The SOJC has a great reputation for media research, and I liked the diversity of subject areas within the school. I wanted to join a school where I felt my research and teaching — which focuses on the intersections of media and identity — would be valued. And after meeting with faculty and students in the school, I was convinced it is the right place for me.
I'm also really excited to experience all that nature in Eugene. It's probably the most scenic place I will have ever lived, as I've always lived in urban areas.
What do you hope to accomplish at the SOJC?
Part of the work I do is focused on how we think about media consumption research, particularly as it relates to black media consumers. I've always been interested in how to bridge the dynamic of qualitative and quantitative research.
My goal is to create opportunities within the school for students of different backgrounds to come together to tackle big data projects and drive meaning from looking at it through an intersectional lens. I want to build a space for a diverse student body to grapple with issues that are of interest to them.
Why did you decide to research intersectionality in media?
When I first started my undergrad education, my interest was initially in communications studies, and I wanted to go into broadcasting. That changed when I had to write my senior thesis, which was focused on the media effects of black women viewing — or rather, not viewing — themselves in fashion and beauty magazines. At the time, I did not know about intersectionality as a theory and framework. However, I knew I wanted to study more about black Americans' representation and absence in U.S. media.
When I undertook my master's program, I was interested in meta-stereotypes — black Americans' assumptions about other groups' perceptions of them based on media representations. It was during that time that I started taking courses in gender studies, and that began my theoretical training in that area. Surprisingly, it wasn't until I began my doctoral studies that I heard the word "intersectionality." Once I discovered it, however, it became central to my approach to my research.
What is the value of studying intersectionality in media?
Intersectionality is an analytical framework that began to be used in the 1990s by black feminist scholars across disciplines to identify the ways interlocking system of power and oppression impact marginalized groups in society. In the context of television or film, for example, intersectionality is used as a lens to explore how casting practices; diversity among producers, directors and crew; and the general workplace culture and ideologies around identity shape media representation. Media is not neutral. It plays a significant role in reaffirming, shaping and challenging existing social discourses and ideologies.
I believe the value of using intersectionality as a framework for studying media is that it supplies a way of thinking about media that recognizes that it is embedded within systems of power and is not merely a vehicle for entertainment and communication.
What do you like to do in your spare time?
What I like to do in my spare time is actually connected to some of my research. For three years I have been into Korean pop music, and I really enjoy going to concerts. As part of the research I will undertake at the SOJC, I plan to focus on fandom around Korean pop music in the U.S. — particularly with black women fans. I've collected a lot of K-pop albums and have learned a lot about the Korean music industry.
Besides that, I enjoy cooking and traveling. But right now, K-pop is the thing that is really exciting to me, I think because it is connected in a lot of ways to my experience as a fan when I was growing up in the late '90s early 2000s.
---
Eric Schucht '18 recently graduated from the UO School of Journalism and Communication with a bachelor's degree in journalism, a minor in multimedia and a certificate in film studies. He was an intern for the SOJC's Communication Office for a year, interned at the alternative The Inlander this spring, and worked for the Roseburg News-Review as a Charles Snowden Program for Excellence in Journalism reporting intern this summer. He has also written for the Daily Emerald, Around the O, The Cottage Grove Sentinel and The Creswell Chronicle.