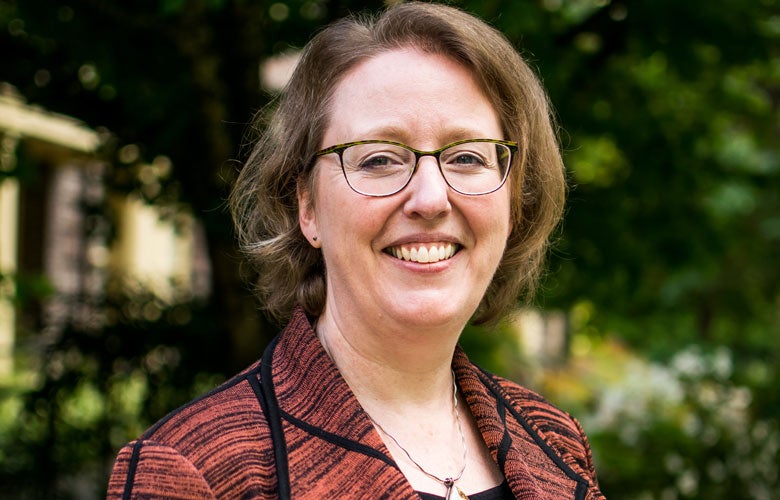 Position: Philip H. Knight Chair, Director of the Media Center for Science and Technology
Hometown: Birmingham, Michigan
Primary research interest: Communication and decision-making in health care
Favorite quote: "The most difficult thing is the decision to act, the rest is merely tenacity. The fears are paper tigers." —Amelia Earhart
Say "hello!": Follow her @ellenpetersjdm
The UO School of Journalism and Communication is thrilled to welcome Ellen Peters back to the flock. Peters earned a graduate degree at UO before going on to establish herself as a major international researcher in decision sciences. Now she's back on the Eugene campus as the new Philip H. Knight Chair and director of the SOJC's Media Center for Science and Technology (MCST).
Peters earned her doctoral degree in judgment and decision sciences from the UO psychology department in 1998 and continued at the university as a courtesy professor until moving to The Ohio State University to teach in 2010. As director of the MCST, she will help build the science of science communication by helping to build interdisciplinary bridges between the UO's science and communications programs.
We caught up with Peters to find out more about her research at the intersection of science and communication.
What interests you about decision science?
I'm really interested in decision-making and ways to improve decisions. We just finished a pilot study, for example, about women making decisions about breast cancer treatments. Emotional reactions to cancer had a large effect in this preliminary study, and we'll look next at how physicians can communicate with patients to help them make good choices. I'm also really interested in numeracy (like literacy but with numbers), its effects on decision-making and life outcomes, and how evidence-based communication and enhancing numeric literacy both can make a difference.
What are the most influential books you've read? 
Anything at the library. I love to read, and I read about two to three books a week. I finally bought a Kindle so I could travel more easily. Electronic books are much lighter! Picking out just one book is impossible for me!
Why did you decide to come back to the SOJC?
It's simply an exciting opportunity. In a time of rapid technological and scientific change, I think we can make a difference to the American public by improving science literacy and the understanding and use of science. The collaborative potential is amazing across the SOJC, MCST and UO.
What do you hope to accomplish at the SOJC and within the MCST?
I want to grow a collaborative network across the SOJC and UO to tackle some of our most pressing communication issues in health, the environment, science and technology. I want to grow the scientific literacy of the public so they can understand and use science and technology in their daily lives in ways that fit with their values. And I want to grow the capacity of our students and our scientists to teach and engage the public in science so they can be better decision-makers and citizens of our world.
How did you get involved with decision science and scientific communication?
As a graduate student at UO, I was fascinated by the work done by Paul Slovic, Sarah Lichtenstein and Baruch Fischhoff on public perceptions of risk and methods to improve decisions that involve risk. Science communication is a natural and critical step in this process.
What is the value in studying decision science and scientific communication?
Through decision science, we know what people know and don't know and what they need to know. We also can know how the human mind works (how information is processed) as people judge and decide. As a result, we can identify where the problems are, and we can design better communications.
For example, if we know that patients make worse decisions about disease management when they have adequate math skills but lack the confidence to use those skills, then communication techniques can be tailored to improve their confidence. Other patients may not have the needed math skills to make effective health decisions. Communications to them therefore can target doing the math by simplifying the information and making numbers easier to evaluate.
In my research, decision science forms the foundation of effective scientific communication. Communication can't be an afterthought. It needs to be built early into the process of designing new products, working with patients and developing effective public policies.
What do you like to do in your spare time?
Hang out with family, read, hike, walk our dogs — the usual stuff! My husband and I like to travel and discover new cities, restaurants and museums too.
What are your favorite parts of the UO campus?
Definitely over by the Willamette River. As a graduate student, I used to take off at lunch every day and roller-blade for an hour, watching the osprey and occasional eagle.
What do you look forward to doing or seeing again in Eugene?
I'm looking forward to hanging out with our daughter Michelle and her husband Eric, seeing old friends and making new ones, and going hiking on Spencer Butte!
---
Kristin Kessler is an SOJC senior majoring in journalism and minoring in environmental studies to prepare her for a career as an environmental journalist. She works as a student writer for the SOJC Communication Office.