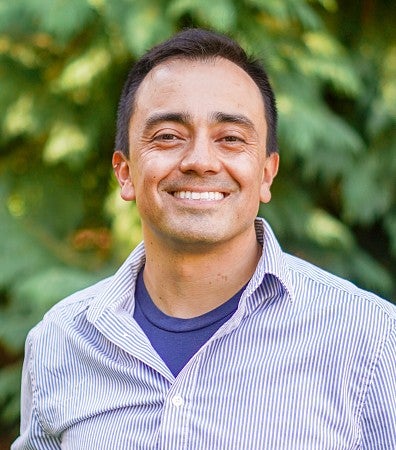 Primary interests: Global media, Indigenous people's media, religion in the media, American Christianity
Hometown: Bogotá, Colombia
Favorite book: "El Pais de la Canela," the second book of a William Ospina trilogy on Colombian colonial history
Hobbies: Traveling (he's been to over 75 countries), CrossFit, swimming, biking
Global media affects us all. The way media systems intersect with different countries, cultures and beliefs shapes how we understand the world around us.
Diego Cortés, the UO School of Journalism and Communication's (SOJC) new assistant professor of media studies, is excited to expand and lead research and conversations around global media.
Cortés, who has a doctorate in communication studies, a master's degree in Latin American studies and a bachelor's in sociology, is interested in how the media influences and is influenced by religion and, consequently, culture.
He's conducted research in the Andes about the connection between American evangelicals and Indigenous people, as well as the complex interactions among media and religion through the radio. He is currently researching the historical interactions between American evangelicals and Indigenous people in Colombia, Ecuador and Bolivia.
We sat down with Cortés to find out what knowledge and experience he will bring to the global media courses at the SOJC.
SOJC: Why did you decide to come to the SOJC?
Diego Cortés: Becoming a part of SOJC's faculty is a dream come true for me. This dream is rooted in the fact that SOJC offers an ideal environment for fostering innovation in both media research and practice. I'm genuinely excited and drawn to be a part of this institution, as it allows me to actively contribute to the rich legacy of the SOJC by motivating students to engage in exciting practices and research in media studies. 
SOJC: How will you work with global media in media studies?
DC: I, along with my students, will explore media phenomena from a global and transnational perspective. One such example is our examination of global perspectives on media and religion. Over the years, scholars have produced exciting work uncovering how religion has influenced media practices, from content creation to audience consumption. These connections have often been overlooked and overshadowed by prevailing theories of cultural secularization, especially in the "modern" Western world. I aim to challenge these views, highlighting the enduring cultural impact of religion on a global scale.
In addition, I intend to offer a diverse range of courses that will broaden students' worldviews. These include courses on global media, Indigenous people's media, Latin American media systems, religions and affect and memory. I also plan to offer classes in Spanish. For spring 2024, I am planning a course on cronica periodistica (journalistic chronicle). I hope the latter will attract students eager to enhance their bilingual skills while gaining insights into Latin American culture through exceptional journalistic essays unavailable in English.
SOJC: What is the value of what you're studying?
DC: Examining media and religion from a critical perspective is truly exciting. When it comes to understanding American society, religion provides invaluable insights. The primary goal is to challenge the division of concepts between religion and culture. Our approach involves exploring religious influences in different contexts and contemplating the often-concealed ethics and morals that underlie journalism and popular culture here in the United States and around the globe.
SOJC: How did you come to study this?
DC: I originally hail from Colombia and moved to the United States when I was 20, embarking on the journey to navigate the American university experience. The United States offers numerous opportunities, but it was undoubtedly a challenge to understand the educational system, given that I was the first in my family to attend college. Fortunately, I could make sense of the system and progress in my academic journey, all thanks to the support of dedicated mentors and the exceptional programs available, such as McNair, which is available here on our campus. (For anyone seeking guidance on accessing these programs, please don't hesitate to contact me. I am genuinely excited to share my knowledge, particularly with first-generation students and others who may not have a network of people to turn to for advice related to higher education.)
Upon completing my undergraduate degree, I pursued a Ph.D., driven to continue exploring Indigenous community life and contribute as an educator. During my Ph.D. research, I started to pay close attention to American Christian missionaries. This focus, shared with many Indigenous individuals I encountered during my study, made us question why so many Americans were engaging in evangelizing efforts in Latin America. What were they seeking in those communities? What was the impact of that exchange in terms of religion, identity and indigeneity? In search of answers, I initiated work on my current book project, "Christian Fundamentalism in the Indigenous Andes: Race and Media Innovation."
SOJC: What do you hope students will take out of your teaching?
DC: My objective is to inspire students to engage in research on media from a transnational perspective. Additionally, I aim to contribute to the ongoing debate on the significance of religion — an often overlooked yet crucial element in any culture, including that of the "modern" West, and within the media realm.
I intend to contribute to shifting the focus of discussions from merely international to a more encompassing global perspective. The term "global" signifies a more dynamic and interconnected viewpoint. I eagerly anticipate guiding students' research endeavors across different countries and encouraging them to uncover connections between the Global North and South. While there are evident connections like immigration, I am particularly interested in understanding how religious ideas circulate and transcend boundaries. I hope to encourage students to find a purpose, dream bigger, find their voices and contemplate the direction they wish to pursue.
–By Jane Glazer, class of '24
---
Jane Glazer received a bachelor's degree in journalism from University of Oregon in 2022 and will graduate from the Multimedia Journalism Master's program in spring 2024. She joined the master's program to sharpen her production and storytelling skills.