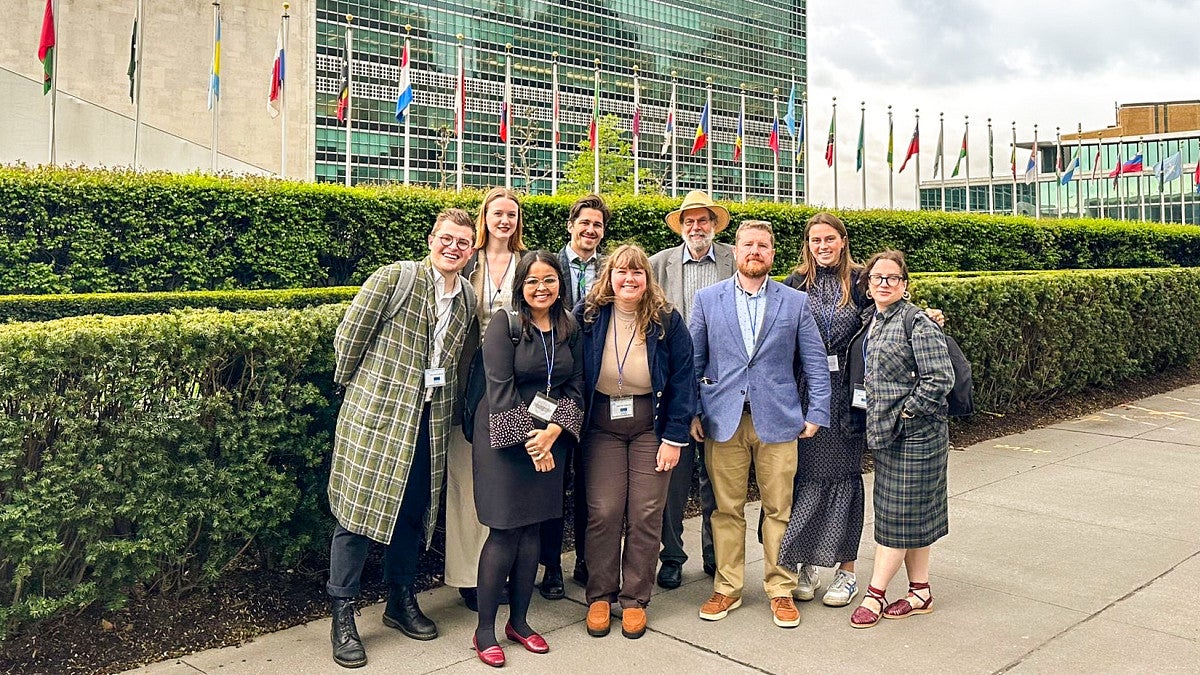 From Jakarta to Addis Ababa, from Helsinki to Montevideo, for a dozen years journalists from the UO-UNESCO Crossings Institute for Conflict-Sensitive Reporting and Intercultural Dialogue (Crossings) have been covering World Press Freedom Day (WPFD) activities.
"At this time of unrelenting attacks on free expression, UO School of Journalism and Communication students showed that our UNESCO-shared commitment to press freedom is in good hands and hearts with the upcoming generation of reporters," said Peter Laufer, professor at UO's School of Journalism and Communication (SOJC) and co-director of Crossings.
This year marked the 30th anniversary of WPFD. With a focus on the theme "Shaping a Future of Rights: Freedom of Expression as a Driver for All Other Human Rights," journalists, activists and media experts gathered at the United Nations headquarters in New York City May 1-4.
Reporting among the world leaders was a team of seven Crossings journalists with diverse backgrounds and skill sets, including multimedia, writing and social media journalism, with focuses on climate change, incarceration and the Global South.
"It was no surprise — but nonetheless inspirational — to watch as our students made the UN General Assembly Hall into their newsroom," said Laufer.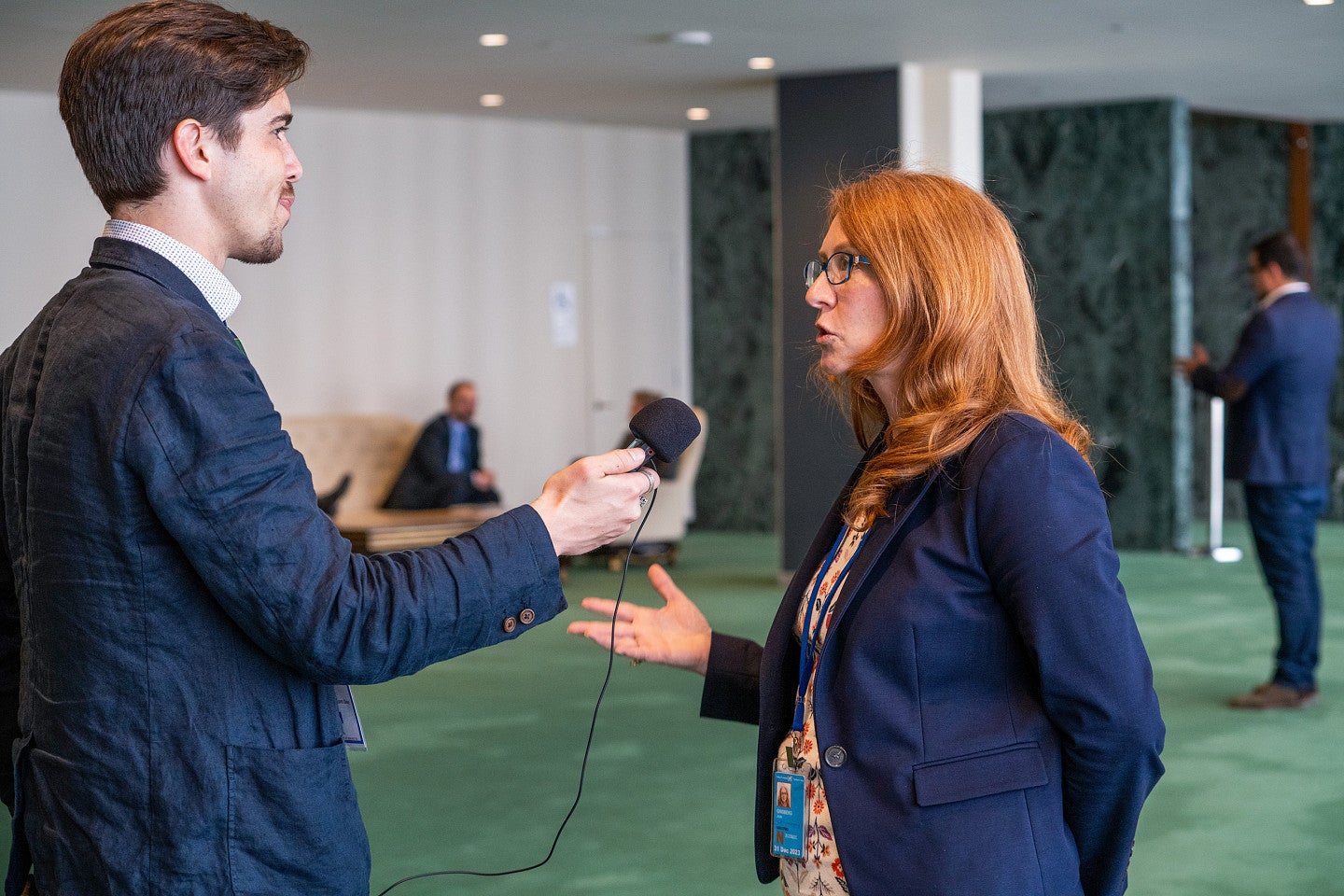 The Crossings team grabbed interviews with newsmakers after the experts finished their formal speeches. And the reporting team moved seamlessly throughout New York City from Columbia University to the Port Authority Bus Station as they reported on formal WPFD events, engaged passersby in chats about freedom of expression and covered breaking news stories related to press freedom.
All content was uploaded to the Crossings website, Instagram and Twitter accounts, to disseminate the student-produced work and voice of WPFD contributors. Nahla Bendefaa, a UO doctoral student, served as the website content manager, while Oregon senior Maxwell Ely developed and managed the team's online social media presence as digital editor.
"I hope my work helped inform and educate new audiences about the importance of press freedom and the many threats journalists face," said Ely.
Ely took UO SOJC and Crossings' Instagram followers through a day in the life at WPFD. The shared content reached WPFD opening ceremony performer, poet J. Ivy, who reposted the student-written article "Sharing Truth through Spoken Word," along with the accompanying photographs captured by UO journalism master's student Berit Thorson.
"It was a privilege to cover the conference and learn from the experts who were present," said Thorson, who focuses on the intersection of climate change and incarceration. "As an early-career journalist, I felt almost overwhelmed by the importance and breadth of the discussions that I was photographing and reporting."
Zachary Jones Neuray, a senior born in Belgium, found opportunities throughout the week to use his native language skills. He spoke in French with UNESCO Director-General Audrey Azoulay and her press attaché, François Webaux. On Columbia University's campus, Neuray conducted person-on-the-street interviews with passersby, including French tourists. An Instagram compilation reel included their transcribed responses to the question, "What does press freedom mean to you?"
As a bilingual reporter, Neuray brought more voices into the WPFD conversation and onto the Crossings' various platforms. He shared that "reporting on WPFD was an eye-opening experience into the world of international dialogue."
Ruby Wool, a sophomore passionate about social justice and the benefits of cross-cultural learning, echoed this sentiment.
"I was immersed in an environment that promoted the cross-cultural exchange of ideas, opinions and facts," said Wool. "WPFD encouraged me to think and speak critically about the issues facing press freedom."
Wool responded to a breaking news story at the Port Authority Bus Station during WPFD. Alongside reporters from ABC, CBS and FOX, she interviewed the commissioner of the mayor's office of immigrant affairs and migrant-supportive nonprofit organizations. In Spanish, she listened to the migration stories of asylum seekers from Ecuador and Venezuela. Wool and Thorson, her reporting partner, are in the process of developing a comprehensive article about New York City's migrant support systems and their future plans, following the expiration of Title 42.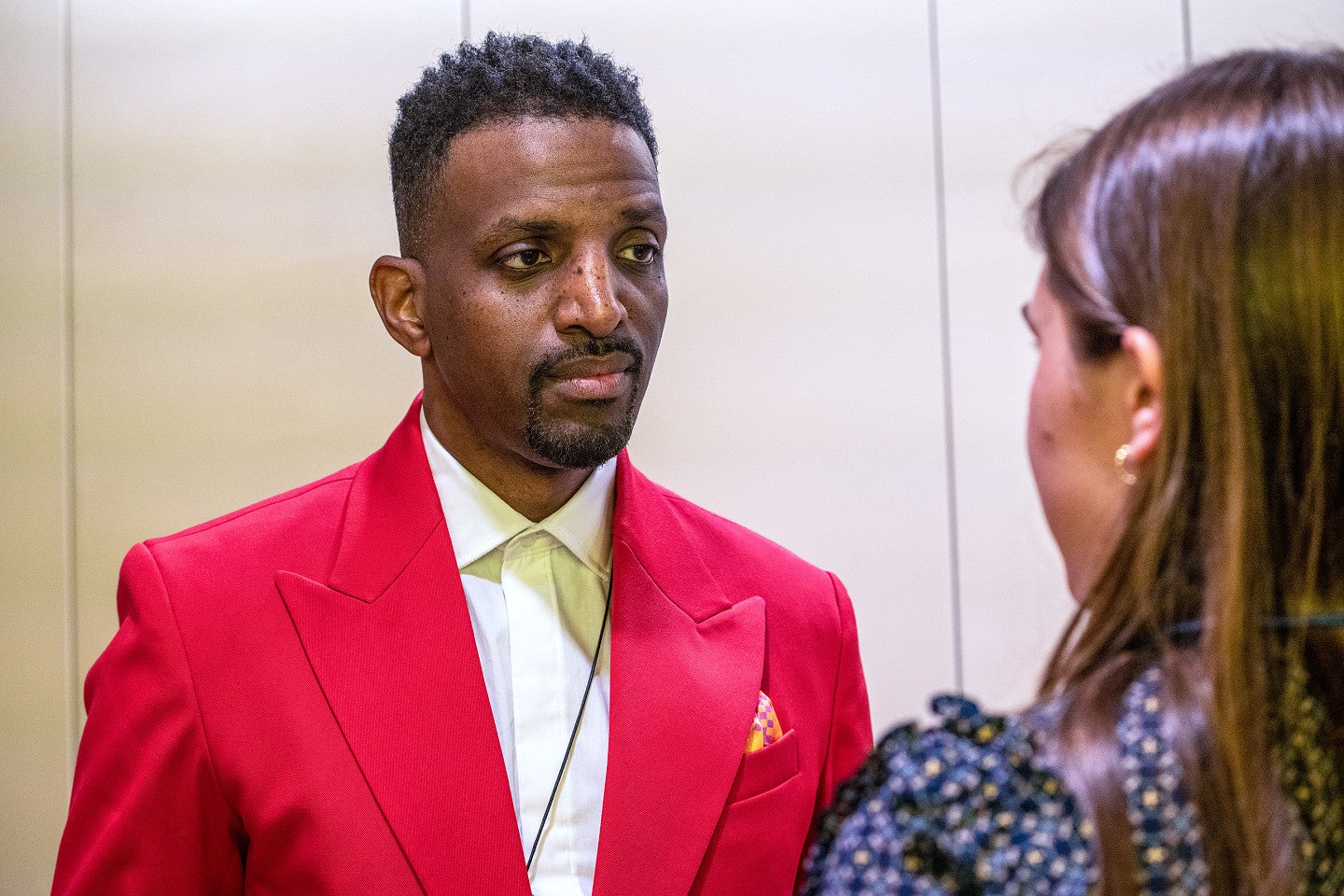 For many of the student journalists, this was their first time reporting outside of the classroom. For senior Emma Johnston, it was also her first time in New York. Throughout the week, Johnston focused her reporting on gender justice in the media landscape. She generated written pieces about Iranian-American journalist and activist Masih Alinejad and #ShePersisted co-founder Kristina Wilfore. Both articles brought attention to the violent physical and digital attacks on female journalists.
"I am in awe of the work of my fellow female journalists who dedicate their lives to fighting for freedom of expression," said Johnston.
Nishtha Yadav, a doctoral student focused on the Global South, worked across media to explore the ways that different media actors can combat digital threats and tactics to silence journalists.
"My heart is filled with immense gratitude after listening to journalists' stories, the threats they face, and the emotional and cultural burden placed on them," said Yadav. "It's time we pledged our solidarity with this courageous community of journalists and activists."
Throughout the week, Yadav worked closely with fellow communication and media studies doctoral student Erica Pulley. Pulley documented behind-the-scenes WPFD coverage using multimedia equipment.
"I am humbled to have met, photographed and interviewed remarkable people whose very lives are on the line to tell their stories," said Pulley.
She produced a recap video that will be published on the Crossings website.
Overseeing the production of the Crossings work was SOJC instructor and managing editor Charlie Deitz. This educational and journalistic experience showed him that "freedom of speech is the paramount freedom and it is under threat. We have a chance — an obligation — to defend it."
Crossings answered the call from UNESCO and global journalism counterparts to uphold press freedom. In doing so, the team amplified the voices and stories of UNESCO WPFD changemakers. It is a mutually beneficial partnership that inspires meaningful work for passionate journalists across multiple areas of expertise.
The Crossings team will continue their WPFD coverage next year in Santiago, Chile. Despite bringing a new cohort of students, the objective of Crossings will remain the same as always — to support press freedom leaders to ensure protection and progress within the journalism industry.