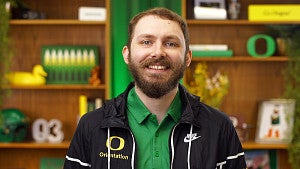 Motivation and drive come from many places.
Your motivation might come from wanting to do your best to make a partner, friend, sibling or parent proud.
Your drive could come from a financial desire. Maybe you grew up in an environment where you often went without, so you push yourself to achieve more to avoid that lifestyle in the future.
Or you could be motivated by competition. You want to be the best in something, whether in a class, an entire school or at work. It's all you're after.
There wasn't a single factor that encouraged me to finally return to college and join the UO School of Journalism and Communication (SOJC), but rather a combination of many motivators in my life.
Once I made the leap into higher education, I made a promise to myself to be completely invested and to contribute to not just my own success in college, but also to the success of my peers.
It's so easy for nontraditional students like me — who already have full lives with things like families, jobs and children — to go into college with blinders on. They start out with a goal and plan to have the shortest possible stay while achieving their educational objectives. And there's absolutely nothing wrong with that.
The truth is, it's hard enough balancing classes and getting decent grades. Add to that raising children and supporting a family financially, and you can see how there isn't much time left in a day to be involved in school beyond just doing your best in your coursework.
I came back to school with a different motivation. From Day One, I pledged to get involved and push my boundaries.
I returned to higher education after over a decade of working in management and supervisory roles. I worked 50- to 60-hour workweeks and balanced my professional goals with my family goals, all while making myself a vital resource to those who reported to me.
So, upon my return, I promised myself I'd continue to be a resource to those around me. My life outside of education and my many years in the professional world could be — and should be — a resource to my peers who've yet to experience that aspect of life.
I got involved early and often: I've worked in student leadership as both a financial director and legislative director. I've been the vice chair for statewide student government, representing the students across Oregon in meetings with members of local, state and federal government. I've been a peer mentor, helping new and existing students get acclimated to life in college. I've been a peer-to-peer tutor. I've worked with different clubs and organizations. I've written for campus publications, been a reporter, done on-air work and so much more outside of the classroom while exploring the field of journalism, where I hope to work postgraduation.
All of that will look great on a resume, sure, but more important, it feeds me creatively.
Recently I've continued my passion for taking part in student orientations, where I get to be an ambassador for the university and help welcome new students to their new home. I'm fortunate to represent the university as a whole as well as our amazing SOJC — something I'm incredibly proud of.
Motivations can be funny. You could be driven by irritation or outrage or the desire to prove others wrong. You could just as easily be driven by jubilation or love, motivated to make others feel overjoyed.
Whatever motivates you, take a chance early and push yourself to get involved. You'll find over 25 student-led clubs and organizations here in the SOJC. Explore one — or two! — that pique your curiosity. Try one, then another and another until you find one that hits home with you and expands your sense of community here.
Five to 10 years after you graduate, what will you look back and regret the most? Will it be the lack of free time you might've had? Or would it be missing out on signing up for Duck TV, The Daily Emerald, Ethos or Flux magazines, Allen Hall PR or Allen Hall Advertising, or After Hours?
A piece of advice that has become a bit of a platitude is, "You get out what you put in."
Take it from a parent, husband, son, brother, friend, peer, reporter, writer, transfer student, mentor, tour provider, student leader, orientation member, ambassador, intern and nontraditional student: College is indeed all about getting out what you choose to put in. Why not go all in and get the most out of your short time at school?
—By Johnny Media, class of '23
Johnny Media is a junior majoring in journalism with a minor in sports business. This is Media's first year writing for the SOJC Communication Office. He has previously written for The Commuter and is currently working as a student ambassador for the SOJC. He loves getting opportunities to highlight the amazing alumni who have come through Allen Hall as well as the students still excelling here today. You can view more of his work on his personal blog.