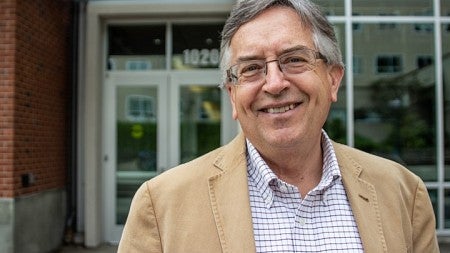 Story by Becky Hoag
Photo by Bryan Rodriguez
Jim Pensiero, BA '75, has dedicated his working life to the journalism industry. He served as a reporter and editor at newspapers, a magazine company and The Associated Press before getting a job at The Wall Street Journal. At the WSJ, he worked his way up the ranks over 31 years to become deputy managing editor.
Now retired, Pensiero serves on the UO School of Journalism and Communication's Journalism Advancement Council and visits SOJC classes. Most recently, he taught a student workshop called "Project Management for the Media World." He also has helped fund student experiential learning in the school and supports journalism students' annual trip to New York City.
When Pensiero retired from the WSJ in 2015, its parent company, Dow Jones & Co., established the F. James Pensiero Summer Reporting internship in his honor. Each summer, the WSJ selects a student pursuing a career in business or financial journalism, with a preference for students at public universities, to work in the paper's office in New York City for 10 weeks. The first two internships were awarded to SOJC alumni: Dahlia Bazzaz '16, who is currently an education reporter for The Seattle Times, and Francesca Fontana '17, now a full-time reporter at the WSJ.
Pensiero's wife, Karen Miller Pensiero — who was previously the WSJ's editor for newsroom standards and now its managing editor — contributes time and expertise to the SOJC as well. She serves as a judge for the SOJC's annual Ancil Payne Award for Ethics in Journalism.
We sat down with Pensiero to learn more about his long career in journalism and why he gives back to the SOJC.
Tell us about your first journalism experience.
When I was a 16-year-old kid, summer of '69, I had the good fortune of getting a job as a copy boy. I worked in the newsroom at The Evening Bulletin, at the time the biggest newspaper in Philadelphia, running reporters' stories.
The reporters would yell out, "Boy!" and we would take a copy and run around the newsroom to the different editing desks. And you would do this all day. It was a very lively environment. I thought it was the greatest place I'd ever seen because it was full of these irreverent, shouting adults. When you were raised at a certain time, all the adults had an honorific in front of their name, and this was the first place I'd ever worked with adults who were totally irreverent. They wanted to be called by their first name, and everyone was smoking cigarettes, throwing paper and shouting. It was this controlled mayhem and I loved it.
What did you like about being an editor?
I had the good fortune of being a part of great news organizations with some very talented people, and I always felt honored that I got to work for these places. I felt it was a lovely way for someone with my temperament and skill set to make a living. You were paid to learn things!
How would you describe the difference between being an editor and being a reporter?
I view a good reporter as a prospector or miner. They go out and dig holes in the ground looking for minerals. They have an eye for it and they can tell the difference, if they look at a bunch of pebbles. They can say, "Well, that one's a tourmaline or sapphire, and that one's just a piece of quartz."
The editor can tell the difference between a really good piece of tourmaline and one that's not so good. And they can take that piece of tourmaline and put facets on it to make it really sparkle — make it read. That's what I like about editing. I was a better person to shape and polish the story.
What did you look for in reporters?
Curiosity, general knowledge and what I call the "common touch." The best reporters I've known are the ones who can talk to anyone. They can talk to parking lot attendants, and they can talk to kings. Not everybody can do that.
I also look for people who can understand a complex situation or environment and write an article that makes it intelligible for someone who's not a subject-matter expert. So I'm looking for an intelligent, hardworking, perceptive person who can get people to talk to them.
And it's not easy. You can find a lot with some of those traits, but very few have it all. I've met a few reporters in my 42 years of doing this who are just extraordinary, and I've met lots of people who are very, very good.
Why did you make a gift to send journalism students to New York?
I think a lot of students here are very bright. Some of them have probably never been to New York and don't understand that is where the work is. You go there to earn your reputation. You do five or 10 years in New York, and then you come back to Oregon if you want. I think it's good for your career to play in the big leagues. And I had been told that all the advertising students have been going to New York for years. So I thought, why not?
What advice do you have for students about to leave the SOJC and enter the working world?
Work hard. There's no secret weapon, no silver bullets. Most of it is how intelligent you are and how hardworking you are. And a little bit of luck doesn't hurt. Getting a break or two doesn't hurt. Having somebody help you get started doesn't hurt. But you've got to do the work yourself.
If you want to be a journalist in Seattle or Portland or San Francisco or Eugene, but you can't find anything, then go where you can find something. And if that's Tulsa, Oklahoma, then so be it. It doesn't mean you have to stay there. But if you want to work in the field, work in the field. Go fish where the fish are, not where they're not. And you'll eventually get where you want to go.
---
Becky Hoag is an upcoming senior double-majoring in journalism and environmental science. This is her second year interning for the SOJC Communication Office. This summer, Hoag works as an intern at the KQED science desk in San Francisco, producing content for the new program about climate change, "This Moment on Earth." She is editor-in-chief for UO's Envision Magazine and web designer for Glacier Lab's outreach site Glaciers & Society. She wants to become a research scientist and environmental/scientific journalist. You can view her work at beckyhoag.com.
Bryan Rodriguez, BA '18, is a recent SOJC graduate who majored in advertising with a minor in folklore. His final year in school, he interned as a digital content creator for the SOJC Communication Office with specializations in photography and film production. He is currently living in Los Angeles, working as a production assistant and creating films for small businesses and brands. Check out his portfolio to see more of his work.