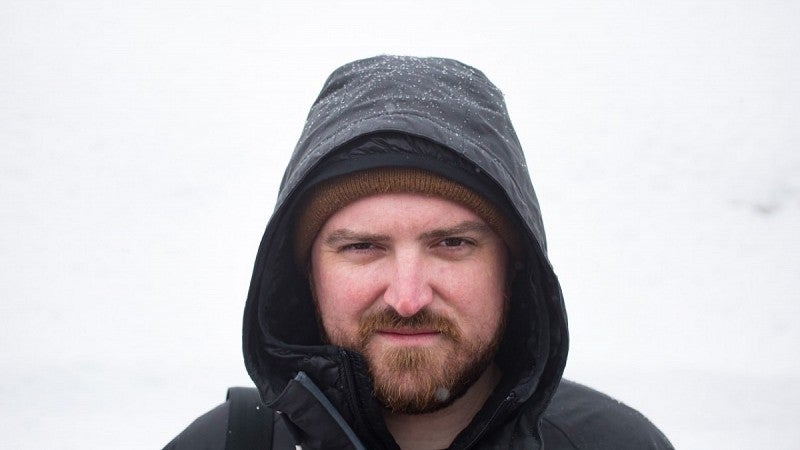 Jeff Dean '18 grew up filming his brother and their friends skateboarding through his neighborhood. It wasn't until he was a U.S. Army medevac crew chief in Baghdad, Iraq, in 2005 that he saw the importance of using a camera for documentation when he filmed his and his fellow soldiers' experiences during the Iraq War. 
Dean enrolled in medical school after his military career. While working for a camera store part-time, he saw how people used their cameras to tell stories of the world around them. He dropped out of medical school and moved to Oregon to pursue a journalism degree. 
After graduating with his bachelor's from the UO School of Journalism and Communication, he decided to stay in Eugene to earn his journalism master's degree. He now works as a freelance photojournalist for Agency France Passe, Reuters, Getty Images, USA Today and Associated Press. 
Why did you choose to stay and get your master's from the UO?
I finished my bachelor's degree right before professor of practice Torsten Kjellstrand started the Roots and Rivers project with National Geographic's former executive environment editor Dennis Dimick. I love Torsten's approach, and the master's program provided me with an opportunity to work with Torsten for one more year. Earning my master's has helped me move into the next iteration of my career that I don't know I would be in if I had just gotten my bachelor's. 
While at the UO, is there a particular experience that stands out?
I took part in the Media in Ghana internship program with senior associate dean for academic affairs and professor H. Leslie Steeves. After I completed the program, I graduated with my master's, interned at the Cincinnati Enquirer and then flew to Ghana. I lived there for six months with my colleagues I had interned with the previous year when I was at the UO.
That program opened my eyes to the world around me. Taking part in these programs while at the UO is the most crucial step for anyone in their journalism career. When you first start, people don't tell you how to take the next step after school. 
The second step is to get out there and be involved in different things. I made connections by going to Ghana and working with Tiger Eye P.I. and the BBC after they published their documentary "Number 12: When Greed and Corruption Become the Norm," concentrating on corruption in the Ghana Football Association. 
I was able to develop my skills more, which put me in a position to network with other media companies. When I was in Ghana, I was introduced to Agency France Presse, a European news outlet, and they set me up with news editors in the United States. Once the Breonna Taylor protests started in Louisville, Kentucky, I was in a unique position to cover them because I was geographically in the area. I had the portfolio and skillset to provide the needed service, which was photographing the protests. 
How do the skills you learned in the military transfer to your work as a photographer?
The military helped me develop situational awareness. As photographers, we have our eye up to our cameras, focusing on capturing the scene. In a fast-changing dynamic, situational awareness is such an important skill. 
I also learned how to communicate with people and stay calm in stressful situations while still doing my job. During a recent assignment, I was photographing the Indianapolis FedEx shooting, and I was able to compartmentalize and work 14- to 15-hour days without complaint.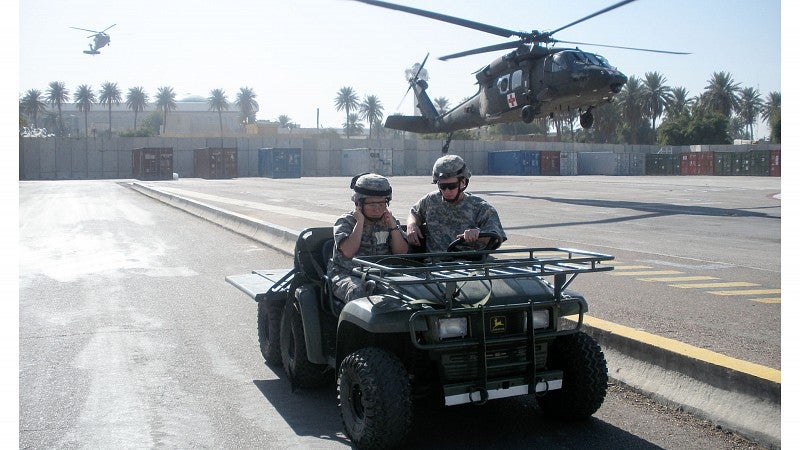 Medics at the Combat Support Hospital (CSH) in Baghdad protect themselves from the dust of two HH-60L MEDVAC helicopters carrying patients from an IED blast near Baghdad, Iraq, in 2008. (Photo credit: Jeff Dean)
Tell us about your career path so far. 
After I graduated with my master's from UO, I took an internship at the Pulitzer Prize-winning Cincinnati Enquirer. That was my first dive into working on a paper, where you have strict deadlines and are required to file photos. You also learn how to be in two places at once and make sure you are covering an entire community.
After my internship ended, I flew to France, and I did a two-week tour with a French rock band, Chunk! No, Captain Chunk! I then flew from France to Ghana, and I lived in Accra, Ghana, for six months, working with Tiger Eye P. I. and the BBC. I helped organize the footage and provided information to arrest people who'd committed crimes.  
I flew back to the United States in March 2020, right when the World Health Organization declared COVID-19 a pandemic. I wasn't working, so I started going out and documenting what was happening in my community with my camera. I think that helped to keep my creative wheels turning. 
Once the protests started, I knew things were about to change. We saw thousands of people start showing up in the streets, and I didn't know who to reach out to so I could photograph what was happening. I talked to my friends who were covering the protests, and they help me figure out how to pitch stories to news outlets. I focused my pitches on stories that people weren't covering or talking about. 
My first assignment for Agency France Presse was a no-mask rally in Ohio, and I spent most of my summer in Louisville, Kentucky, covering the protests. I've been covering the Indianapolis FedEx shooting, and one of my photographs made the front page of the Washington Post.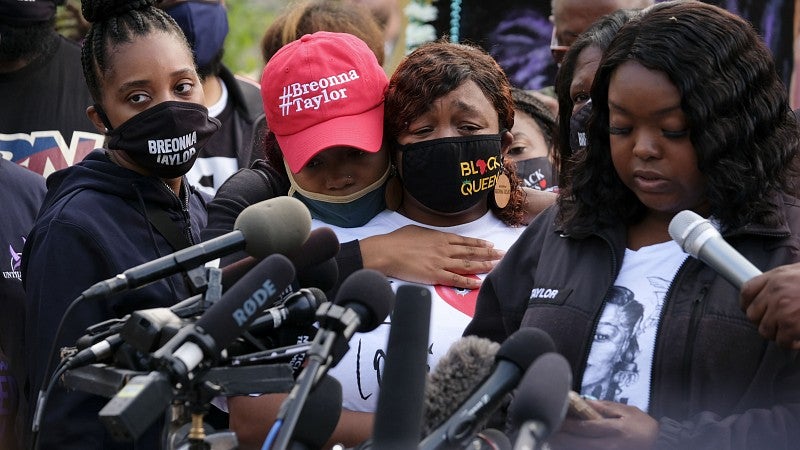 The mother and family members of Breonna Taylor speak at a press conference in Louisville, Kentucky, following the findings of a grand jury investigation into Taylor's death. (Photo credit: Jeff Dean)
What advice do you have for people who want to become freelance journalists or photojournalists?
At the core of what we do as journalists, we should be good people. It affects everything that we do and how we approach this job.
You should be a hard worker and be ready to work. It's tough freelancing, especially when you are just getting started. You must find ways to make freelancing work because assignments won't be handed to you; you have to go out and find stories. 
Network with people in a nonorganic way, surround yourself with good people, and they will build you up. When you are given an opportunity, take advantage of it and work hard when you are given an assignment. 
—By Alli Weseman, class of '22
---
Alli Weseman (she/her/hers), class of '22, is a first-year student in the SOJC's multimedia journalism master's program in Portland. She has freelanced for Portland Monthly Magazine and hopes to work in a newsroom one day. You can find more of Alli's work at alliwesemanphotography.com.