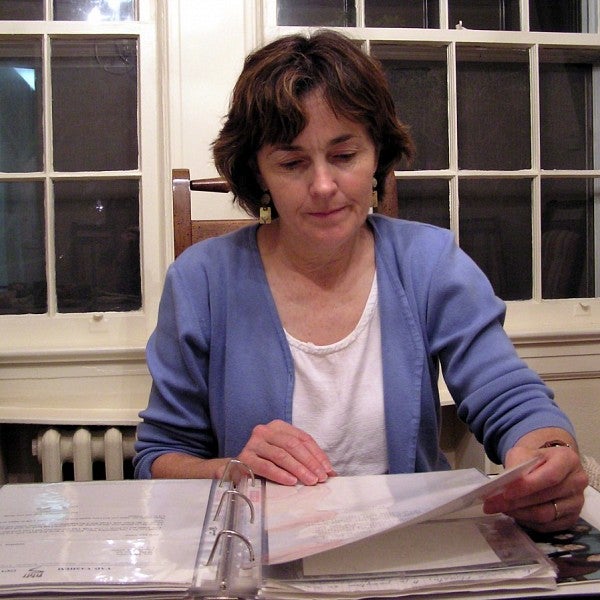 Months after Nazis seized Vienna in 1939, a Jewish merchant named Alfred Berger poured all of his hope into one last letter.
Written to a stranger whose address he acquired by chance, it crossed an ocean and landed in a mailbox 6,000 miles away — a desperate plea for help that would never come.
You are surely informed about the situation of all Jews in Central Europe and this letter will not astonish you. ... We are seized with fright thinking of the moment when our children will leave us and we shall be left here alone. … The only possibility we have to join our children, the dearest we have in this world, is the way to America…
Years later, as the unanswered letter yellowed in a Los Angeles attic, a girl too small to hold a newspaper knelt on a living room floor in Seattle, reading about the big events happening in the world.
Raised Christian in the years before the Vietnam War, Faris Cassell MS '90 was only dimly aware of the Holocaust. An inquisitive child with an adventurous spirit, she grew up on her grandmother's stories of the East Coast and dreamed of one day attending Mount Holyoke College in Massachusetts.
Although she wouldn't realize it until decades later, Cassell's childhood dreams set her on a path that would carry her all over the country — and ultimately to Israel, the Czech Republic, Belarus and Austria — to retrace the steps of a family separated by war and genocide. Now, with fascism once again rearing its head around the world, her lifelong journey has culminated in the book "The Unanswered Letter: One Holocaust Family's Desperate Plea for Help."
"It happened by accident. It wasn't written with any kind of politics in mind at all," says Cassell, an investigative journalist and University of Oregon School of Journalism and Communication alum. "It's about what happened to people who were made to seem so unimportant they became nothing in their culture. And when democracy fell apart, the destruction swept them away.
"I think that message of the Holocaust is chilling."
Cassell didn't set out to investigate the Holocaust. Although she majored in history at Mount Holyoke and wrote for the school's daily newspaper, her passion at the time was Chinese studies. As a junior, her newfound passion prompted her to transfer to the University of Michigan, where, after missing the bus on the way to class, she hitched a ride to campus with Sidney Cassell, a Jewish pre-med student from Mississippi who would eventually become her husband.
After graduation, she briefly worked at the library in New York City's United Nations building before joining Sidney in St. Louis while he finished medical school. The couple then moved across the country to Los Angeles, where they unknowingly lived within driving distance of a home where the letter from Vienna continued to gather dust.
Following the Vietnam War, "we jumped around quite a lot until finally we said, 'OK, where do we really want to be?' We just picked Eugene without knowing anybody here because we thought it was a wonderful city," she says.
As a stay-at-home mom, Cassell found herself drawn back to journalism. She started taking courses at the UO, walking or biking to class and then rushing home to pick up her three kids. After earning her journalism degree, she spent the next decade freelancing for the Register-Guard.
Then, in 2000, Dr. Sidney Cassell came home with a letter from a patient.
A cry for help                              
In 1939, less than a month before World War II broke out in Germany, Alfred and Hedwig Berger had found a way to get their married daughter out of Austria.
"What the Jews of Germany and Vienna were saying out loud to each other was, 'The children first. Save the children,' " Cassell said.
Their younger daughter had already fled on a train to Greece with her Zionist youth group, departing from a train station overseen by Holocaust organizer Adolf Eichmann. Smuggled out of Europe on a leaky pirate ship previously filled with bootlegged alcohol, 18-year-old Gretl was unloaded in the middle of the night onto a flimsy life raft off the coast of Palestine, then swam the rest of the way to shore with her shoes tied together and flung around the neck. The man who helped her settle into a refugee camp later became her husband, and the couple settled in Palestine.
With one child safe, the Bergers exhausted the last of their resources to secure an affidavit that would allow their older daughter, Martha, to emigrate to the United States and await her husband. He fled across Europe and was imprisoned by the French army, which was in turn pursued by invading Germans in 1940, and hid in haystacks in the Pyrenees before sailing from Europe to Trinidad and finally reuniting with his wife in New York in 1941 – just weeks before Jews in France would be rounded up and deported.
Desperate to escape the rising tide of death and join his daughter in America, Alfred Berger made a last-ditch attempt to obtain an affidavit for himself and Hedwig. He penned a letter to a stranger in California who happened to share his last name. It ended with the plea, "Help us to follow our children, it is our last and only hope."
The California Bergers never responded, but they saved the letter. Their niece, who discovered the missive among their keepsakes, passed it on to her Jewish doctor, hoping to preserve what she felt was a piece of history.
Ghosts of the past
When her husband first brought the letter home, Faris Cassell had basic knowledge of the Holocaust. Although she had married into a family of Holocaust survivors, they never spoke about what happened in Europe. But Berger's futile cry for help, resounding across the decades, ignited her curiosity and compassion.
"The letter moved me so deeply, I just couldn't put it away. I couldn't let it go," she said. "The people who received the Bergers' desperate letter literally held lives in their hands. But they didn't believe they did. They didn't think they could make a difference in large world events."
Cassell spent the better part of the next two decades contacting members of the Berger family, painstakingly piecing together the story of Alfred and Hedwig. What she discovered was a story that has both inspired and haunted her, at times reducing her to tears in her study late at night.
"It taught me on one level how fragile life is, how fragile our own world — our democracy — is. Of course, that fragility has been on display for us all since the January assault on the Capitol," she said. "We have seen how people can be pitted against each other. People who once could be in friendly dissent have been pushed farther apart, so now there's real animosity."
Fortuitously timed and eerily relevant, Cassell's investigative odyssey has struck a chord with critics. Dubbed a "modern classic" by author and feminist Blu Greenberg, it has already earned the Jewish Book Council's 2020 National Book Award in the Holocaust category as well as top honors from the American Society of Journalists and Authors.
While Cassell's answer to the Bergers' letter may have come too late for Alfred and Hedwig, it wasn't too late for their descendants, whose family tree had ultimately spread to Palestine, Brazil and China, as well as the United States.
"Hitler had once tried to eradicate Jewish people. He planned to erase them from history. He tore up cemeteries where Jewish soldiers of the First World War had been buried so people would not know the contributions of European Jews in World War I. He wanted all traces of the Jews eliminated," Cassell said.
"On several levels, the Berger family felt, 'This is our answer to Hitler. We have a thriving, big family making contributions to the world, and we know our family history.' They've reclaimed that history, which had been lost."
For Cassell, who helped her husband discover his own Holocaust history while researching the Berger family, writing "The Unanswered Letter" has been a deeply moving and personal experience.
"Everyone is important. That is the thing I think this book has taught me," she said.
"Ordinary people, even in ordinary times, can make a big difference in the world. In extraordinary times, it's ordinary people who make all the difference."
— Nicole Krueger '99
---
Nicole Krueger '99 is a copywriter and former newspaper reporter whose work has appeared in publications such as The Tennessean, the Statesman Journal and Empowered Learner magazine.