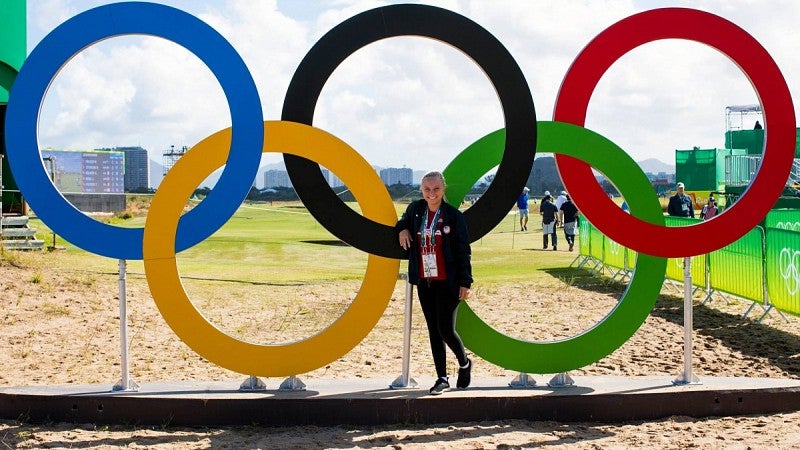 Story by Polly Irungu Photos by Taylor Wilder, BA '16
Recent UO School of Journalism and Communication graduate Taylor Wilder is passionate about storytelling. Specifically, the former advertising major lives to find new ways to tell stories through a lens and across social media.
That desire drove her to become a 2016 Shorty Awards finalist for best photography use in social media (she lost to National Geographic). It has also propelled her to success as a photographer for the Daily Emerald, Todd Rosenberg Photography, Sports Illustrated, the Chicago Blackhawks and Banner Collective.
Most recently, Wilder finished a stint as a photographer for Team USA at the Summer Olympic Games in Rio. Given that her other two passions are travel and sports, it seems that she's already on track for the career of her dreams.
We caught up with the Chicago native between transatlantic trips and jobs in the field to find out what she's been up to since graduation and where her talents will take her next.
Tell us a bit about your background.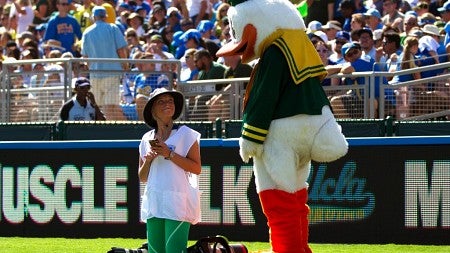 I grew up in a small suburb west of Chicago. In high school, I was interested in sports, but I wasn't interested in playing them. Freshman year, I noticed there were a lot of moms of players on the sidelines taking photos and thought about how that would be something fun to try. My first thought was to join the yearbook to have a purpose to be on those sidelines. After shooting my first football game, I was absolutely hooked. By my junior year, I was the photo editor and head photographer. Everyone sort of knew me as "that photographer girl" because I was at all the school events and games with a camera in hand.
Why did you choose to pursue advertising at the SOJC?
I still took a lot of journalism classes because I wanted to graduate with a well-rounded creative, but ethical, background in photography. Ever since my freshman year of high school I knew I wanted to be a photographer, so the journalism school just made sense.
What experience and knowledge has the program given you?
The professors at the SOJC are incredible. Sung Park was an incredible instructor who knew how to push my boundaries in photography and give me incredible feedback and critiques that always made me want to go back out there and try to expand my craft. Todd Milbourn showed me how I could turn my passion for photography into a business and into my very own brand. Every class I took was so dynamic and helped contribute to where I am at today as a photographer.
Do you have a memorable experience or lesson learned from the SOJC?
I think my most memorable experiences were in Park's lighting class. It was a two-credit workshop, but I don't think I've ever worked any harder in a class. I was constantly shooting and receiving feedback over and over again, and it helped me grow exponentially as a photographer and as a person. Having to stand up in front of a class twice a week to have people rip apart your photos can be hard, but it is also so important in this industry. Without his critique and that class, I think I would have a very skewed outlook on my own work.
You just returned from Rio, where you covered the Olympics for Team USA. How did you prepare for Rio, and what did you learn from the trip?
Preparing for the Olympics was difficult. I was there for a month, so packing was the first challenge. Before I left, I printed out all the schedules for all the events and made a huge chart that included the importance of the events, how many athletes would be competing, how likely Team USA was to medal in that event, if there was a certain athlete that had an important storyline in a certain event, how far it was from my home base or from the event I would be coming from, etc. But there's only so much preparation you can do beforehand, so I think the most important part was getting in the mindset that things were going to change along the way. Sometimes I stress a lot about the unknown, but in this case I had no choice but to go with the flow.
I can't believe how much I learned in the time I was there. There were a lot of times I only had a few minutes with athletes to introduce myself and make them feel comfortable, shoot a few photos, send a shoutout on our Snapchat, create a Twitter mirror gif, and answer a few questions. It was so important for me to be calm, cool and collected around them.
What is a memorable photo you took, and what's the story behind it?
The most memorable photo I took is of Michael Phelps kissing his son on his forehead after doing an interview with the "Today" show. Phelps is such an incredible person and was really soaking in that it was his last Olympics. The reason the photo was so memorable is because honestly, there is a lot going on in that picture. The photo is right next to the "Today" show set, people are running around like crazy in the background, Katie Ledecky is in the frame talking to someone else, a USA fencer is also admiring the baby, and it really isn't that clean of a photograph. But Michael Phelps is usually an extremely private person, so to see him show such affection toward his son in such a public setting was really cool to photograph.
What do you like about sports photography and covering athletic events?
It's really difficult to create an original image in sports photography. There are so many photographers at professional and collegiate sporting events nowadays that it almost seems like you can't find an angle where another photographer isn't also shooting. That difficulty is what is my drive to keep working in sports photography. When you finally get an image that no one else in the world has, it can be pretty gratifying.
What's one piece of advice you have for students interested in your field of study?
Work for whoever you can to create pictures. It doesn't matter if you're working for the athletic department or the SOJC or the newspaper or a blog that can acquire credentials. At the end of the day, you just need to get there. And once you do get that job or take that class that gets you on the sidelines, don't stop there. Talk to those other photographers. Network and make friends with those around you because you never know who is going to need an assistant at another sporting event or during a photoshoot with an athlete. And most importantly, just be kind to people.
What would you tell students who are contemplating whether to choose a 9-5 job or the freelance route?
You can do both. That's the best part about this job! So many sporting events happen at night and on the weekends. If you can't afford to be only freelance at the moment, then take that 9-5 office job or waitressing job. Then freelance for the local paper or ask moms at Little League games on the weekends if they'd pay you to take professional photos of their kids. And if you're starting to see your freelance opportunities grow so much that the 9-5 job is getting in the way, then find a part-time job. There are so many options out there these days. Just because you have an office job doesn't mean you have to give up photography.
What are your future goals now that you're done with school?
I just accepted my first full-time job! I am going to be the assistant photographer for the NHL Blackhawks Hockey team in Chicago. I'll be working at all of the home games, at events that the players attend, editing/captioning/selecting photos in office, working with sponsors to fulfill their needs concerning photography, and even more. I will also be working as a freelance editor and assistant for the NFL for Bears and Packers games, and I just signed on to be a contracted photographer with Northwestern Athletics. I'm going to be busy-busy, but that's the way I like it!
---
Polly Irungu is a multimedia journalist and social media strategist who plans to graduate from the SOJC with a degree in journalism this fall. She is currently working as a digital content creator for the SOJC's Communications team, a campus editor-at-large at The Huffington Post and a freelance production assistant for the PAC-12 Networks, and she's also been published on CNN, KVAL and YesJulz. A National Association of Black Journalists fellow in 2015 and 2016, she participated in the NABJ and National Association of Hispanic Journalists student newsroom to provide coverage of their historic joint convention for NABJ Monitor and Latino Reporter. She also worked in the Online News Association's student newsroom Sept. 15-17, 2016. Previously, she has worked for TrackTown USA, Def Jam Records, Dell and Adobe. She made the 2013 and 2014 Daily Emerald Ducks Who Will Change the World list, and in May 2015, she was named the Women4Africa International Young Achiever of the Year. You can view her work at www.pollyirungu.com and follow her on Twitter, Instagram and Snapchat @pollyirungu.