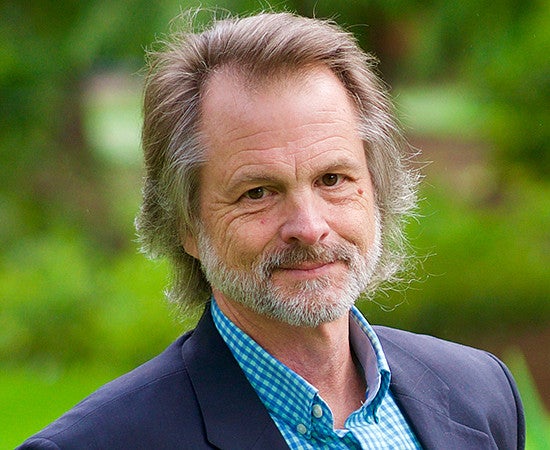 In many ways, Brent Walth '84 has come full circle. The son of teachers, Walth is an assistant professor at his alma mater, the University of Oregon School of Journalism and Communication (SOJC). With over 30 years of experience as a reporter and editor — including a Pulitzer Prize — Walth now teaches investigative reporting to budding journalists.
Walth views investigative reporting as a public service. It is a discipline that shines light on the intricacies of corruption and injustice, requiring significant research on the part of the journalist. Walth's decades-long career centered on this style of reporting, and it all began at the suggestion of another reporter who urged him to attend a three-day conference on the subject in 1986.
"Those three days changed my life," Walth said. "[The conference] taught me an entire new way to think about stories. Still to this day, I approach reporting using what I learned at that conference."
An award-winning journalism career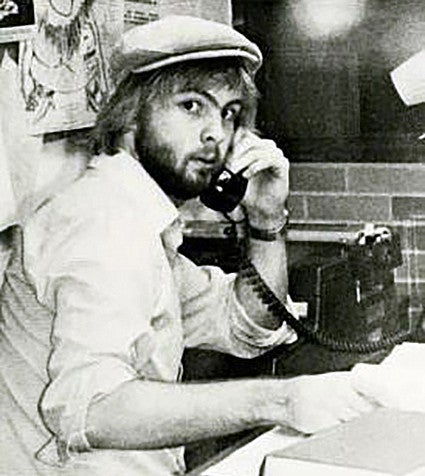 For more than 16 years, Walth worked as an investigative reporter at The Oregonian, first as the newspaper's Washington, D.C., correspondent, and then as a senior investigative reporter. In 2000, Walth and his colleague Alex Pulaski's series on politics' influence on pesticide regulation made them finalists for the Pulitzer Prize for Explanatory Reporting. Then in 2001, Walth, Julie Sullivan-Springhetti, Kim Christensen and Richard Read earned a Pulitzer Prize for Public Service for their investigative reporting on the abuses of the U.S. Immigration and Naturalization Service. (The INS was later supplanted by two agencies: the Department of Homeland Security and Immigrations and Customs Enforcement.)
"It was probably the most satisfying professional experience, not because of the award, but working with three people who were dedicated, hardworking and generous," Walth said.
Walth has garnered many other honors in his career as a journalist. These include the Bruce Baer Award (which he has shared five times), the Gerald Loeb Award, a 2006 Nieman Foundation Fellowship at Harvard University, and his 2014 induction into the SOJC Hall of Achievement.
Teaching the next generation of journalists
Far from resting on his laurels, Walth has continued to explore ways to refine his approach to reporting, and now, supporting the next generation of journalists.
The recipient of an undergraduate scholarship himself, Walth established the SOJC Scholarship for Civic and Watchdog Journalism in 2008. He transitioned into teaching full-time in 2015 and now works with students in the SOJC's undergraduate journalism program and Multimedia Journalism Master's program.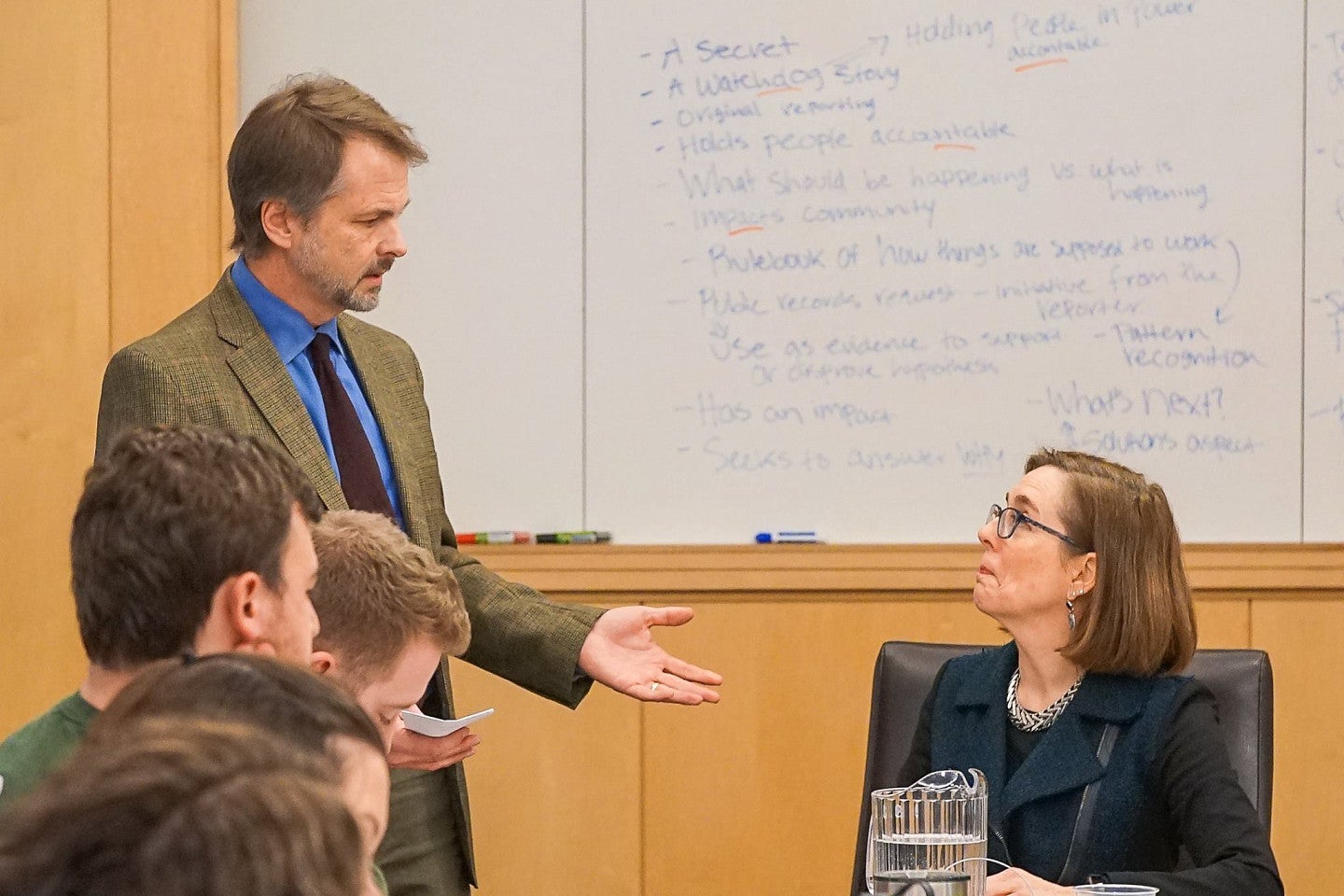 In his first year as a professor at the SOJC, Walth learned about solutions journalism, which is reporting that focuses on the people and organizations addressing problems such as climate change, income inequality and houselessness. Although Walth took some convincing, he came to appreciate that solutions journalism was a complement to the work of investigative reporting.
"With investigative reporting and solutions journalism, the goal is to have an impact," Walth said. "If you have both things working together, the chances of that increase."
This realization led Walth to create the Catalyst Journalism Project with journalism professor Nicole Dahmen and former SOJC instructor Kathryn Thier. The program functions as a pathway for students to advance their skills in investigative reporting and solutions journalism by giving them opportunities to publish their in-depth stories in professional media outlets. The Catalyst Journalism Project has also advanced research into more effective ways to tell public-interest stories.
Walth's newsroom experience has complemented Dahmen's extensive academic research. "Our end goal is the same: helping students succeed and creating public interest journalism," Dahmen said.
A key element of Catalyst is a spring workshop for undergraduate students. According to Walth, this workshop "provides a newsroom-like experience" that pushes students to delve deeply into their topic of choice. "We bring a couple of great ideas into alignment and practice, and change the experience of students toward public service," Walth said.
One such story to emerge from the Catalyst workshop is "Swept Away," published in Eugene Weekly in June 2021. Catalyst students investigated Eugene City officials' claims that they were not forcing unhoused people out of their campsites during the COVID-19 pandemic. The students — Joanna Mann, Jennah Pendleton, Addie Peterson and Silas Sloan — obtained city records that showed city officials had swept more than 1,600 campsites and done so at a faster rate than before COVID. The students' reporting revealed these discrepancies and the negative impacts on unhoused people forced to relocate.
"I was very proud of their work," Walth said. "[The students] were fighting with a government agency for documents, holding the people in power accountable for the statements they make, and focusing on people whose voices aren't otherwise heard."
So far, 12 Catalyst students have won regional or national awards for their reporting in competitions against professional journalists. "Swept Away" is the most recent example, winning first place from the Association of Alternative Newsmedia for best collaboration with a nonprofit. The contest judges said the story shows "how sustained collaboration can help a community, give newsrooms more reach and offer students a guided, firsthand experience doing what journalists do best: dig, dig and dig some more until you've got the documents and information to change the world."
Providing career stepping-stones for students
Walth and Dahmen also serve as co-coordinators of the Charles Snowden Program for Excellence in Journalism. This program places journalism students — both undergraduate and graduate — at internships with Oregon news outlets. The experience can provide a significant career steppingstone for up-and-coming journalists.
"It's humbling, but also quite validating, that professionals in the industry see the work I have done and am capable of producing," said Jenna Deml '22, a member of the 2022 Snowden internship cohort and a Multimedia Journalism Master's candidate. "This isn't an opportunity that comes often, and I don't intend to waste it. I'm excited for what my future holds."
In addition to supporting students' career goals, Walth aims to challenge students to view the world with more nuance — another way he has come full circle from his days as a reporter.
"I always felt like journalism was a form of teaching. You immerse yourself and attempt to become an expert in the thing you're trying to communicate," Walth said. "Then you have to figure out a way to explain it, break it down and communicate it in a way that encourages people to see the world differently. Not any particular way, but just in a new, enhanced way."
–By Jenni Denekas '22
Jenni Denekas first met Brent Walth on the page. Reading his book "Fire at Eden's Gate: Tom McCall and the Oregon Story" inspired her to advance her nonprofit communication career with an internship at 1000 Friends of Oregon. Jenni, class of '22, is a Multimedia Journalism Master's student at SOJC Portland. Connect with her on LinkedIn.