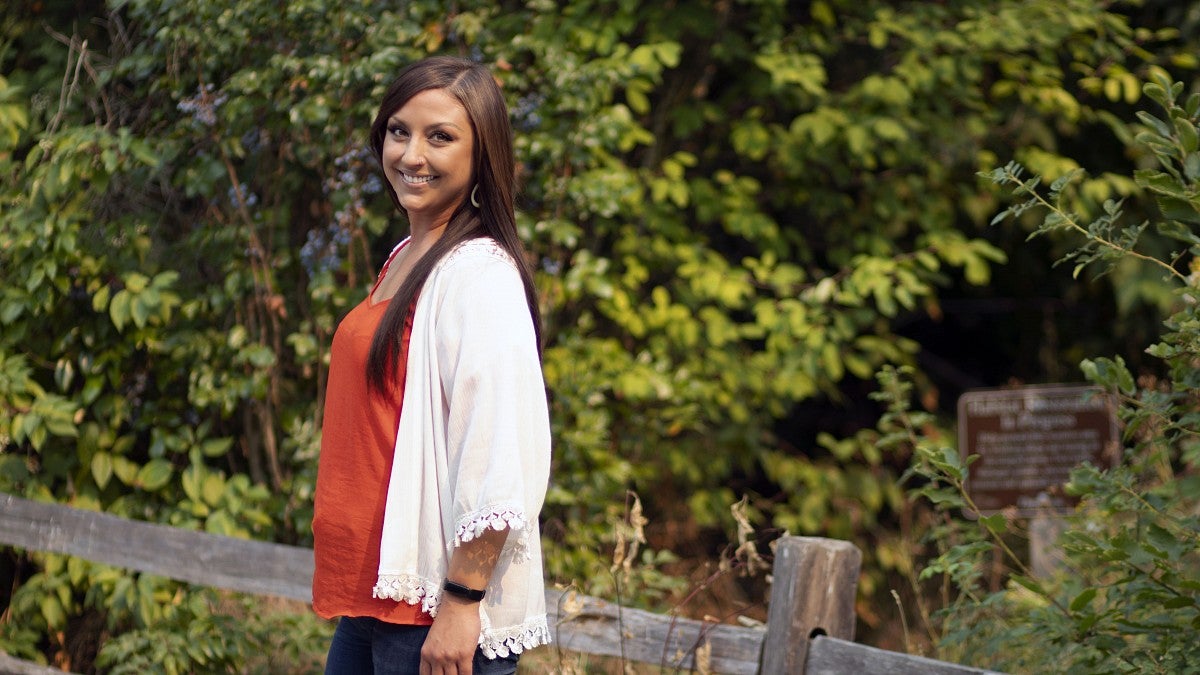 Whitney Gomes, '18 is a video producer for The AV Department, a Portland-based media production company, and an instructor at SOJC Portland. Photo credit: Dan Jones, '13.
Multimedia journalism (MMJ) storyteller Whitney Gomes has dual Duck degrees: She earned her bachelor's in journalism '13 and her master's in multimedia journalism '18 from the University of Oregon School of Journalism and Communication (SOJC).
Gomes also earned the Outstanding Multimedia Journalism Master's Award in 2018 for her capstone project TranStand, a multimedia package that "explores the past, present, and uncertain future of transgender military service in the United States."
"The short of it is that Whitney delivers," said Andrew DeVigal, MMJ master's program co-director and Chair in Journalism Innovation and Civic Engagement. "Her work ethic is impeccable."
Gomes is driven by her intertwined passions for authentic human connection and advocating for human rights. As a person of color with a family member who is mentally ill and houseless, Gomes finds that many social and political causes resonate deeply.
She feels compelled to share stories with the potential to make a difference for marginalized communities—and she is quick to note this work requires humility and nuance.
"I don't believe in the term 'giving a voice to the voiceless,'" Gomes said. "Everyone has a voice; it's extremely important we amplify those voices who aren't represented enough."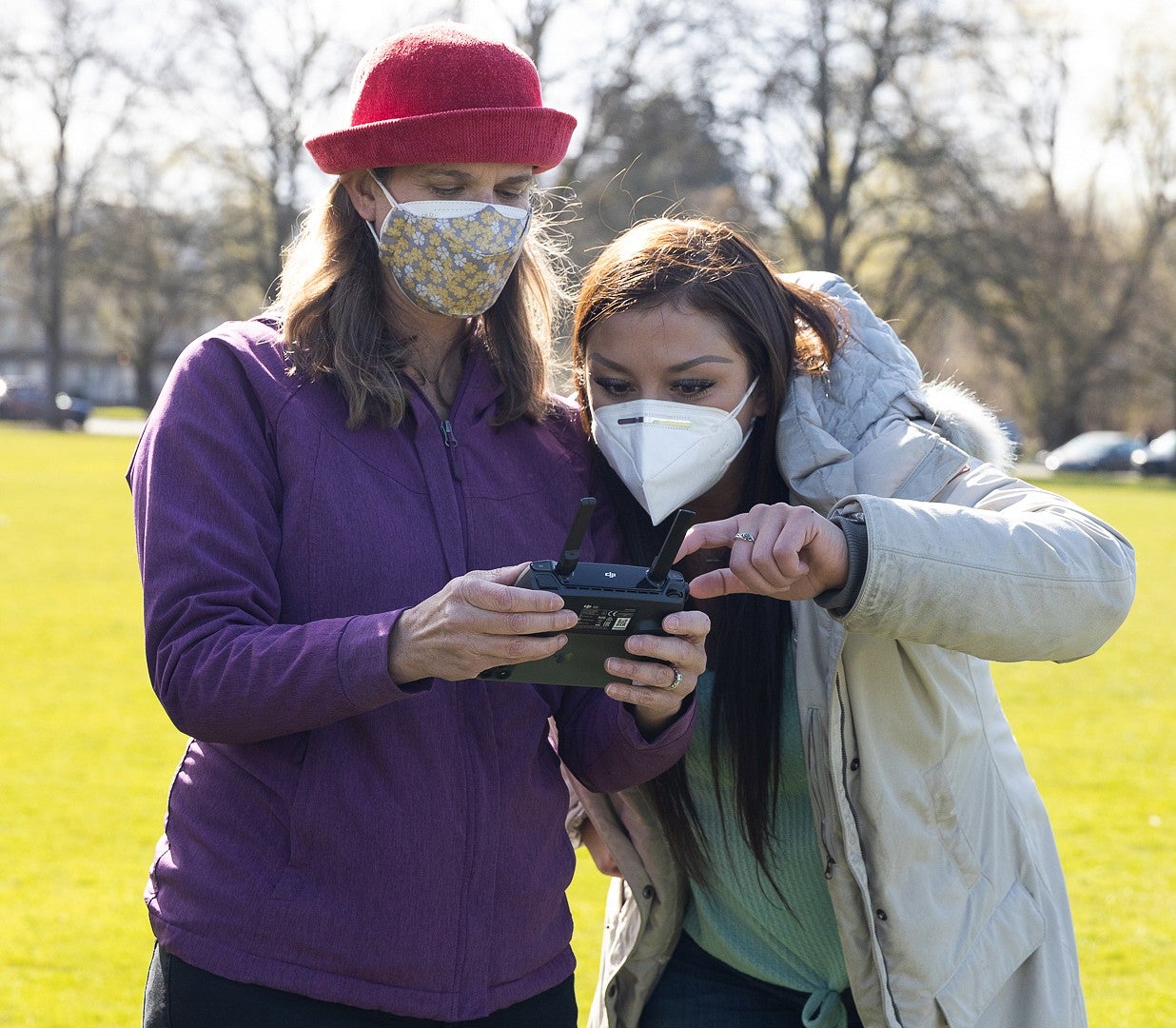 On top of working full-time as a video producer, Whitney Gomes, '18 gives back to her alma mater as an instructor. Here Gomes (right) works with MMJ master's student Sarah Shively, '22 (left) during a drone cinematography field session in Portland, OR. Photo credit: Alli Weseman, '22.
In her graduate studies at SOJC Portland, Gomes not only expanded her knowledge of video production but also zeroed in on her passion: drone cinematography, both of which she now does professionally. Grateful for these formative experiences, Gomes pays it forward by sharing her expertise with aspiring journalists.
"This is a great program and I want to pass on that knowledge," Gomes said. "It's been an absolute pleasure to get to help teach students that are going to be my peers in the field."
Since 2019, Gomes has co-taught SOJC Portland's introductory drone course with MMJ co-director and associate professor Wes Pope. The pair provides aspiring pilots with the knowledge necessary to obtain their FAA Remote Pilot Certification, and hands-on flight experience. For pandemic-era classes, Gomes and Pope facilitate masked, distanced outdoor flight sessions.
"Whitney is considered one of the top drone videographers in the area," said Pope. "Our students love learning from her—her enthusiasm is contagious."
In addition to giving back to her alma mater, Gomes works full-time as a video producer for The AV Department, a Portland-based audiovisual and media production company. True to her passion for making a difference, Gomes' niche is working with nonprofit organizations to share authentic, human stories. Gomes' work has already garnered several repeat clients for The AV Department.
"Whitney has the seemingly effortless ability to immediately empathize and connect with our clients and take their cause on as if it were her own, which is often already the case," said Brian Harris, owner and video production lead for The AV Department. "It's a superpower, and our community partners are better for it."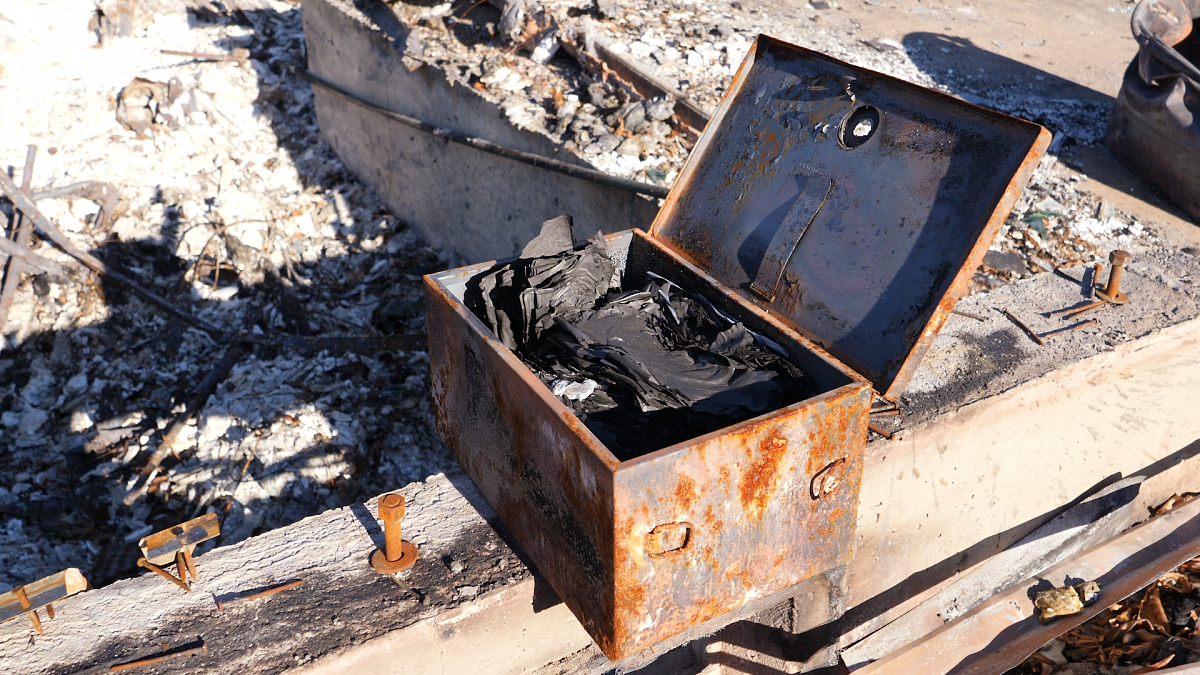 In collaboration with Catholic Charities of Oregon, Gomes, '18 documented the aftermath of the September 2020 Almeda Fire, including this low-angle shot of a lockbox with scorched documents. Catholic Charities of Oregon has assisted multiple families navigating the loss of immigration paperwork and other important documentation. Photo credit: Whitney Gomes, '18.
For instance, Gomes created a video for Catholic Charities of Oregon detailing the organization's work in fire-impacted communities in southern Oregon. In September 2020, the Almeda Fire swept north from Ashland to Medford, killing three people and leveling large portions of Talent and Phoenix, agricultural towns with large Latinx and immigrant populations. According to The Washington Post, "approximately 3,000 homes and other buildings were lost or damaged." Catholic Charities of Oregon has assisted over 150 displaced families, including providing pro bono legal services for people who lost important documents in the fire—including immigration paperwork.
Drones allowed Gomes to access areas of the fire-ravaged towns that would have been treacherous to traverse on foot. With both ground-level and aerial footage shot by drone, Gomes painted a comprehensive picture of the destruction. Meanwhile, footage from interviews and community gatherings  demonstrated the community's resilience and the outside support they have received.
"I get emotional talking about it because it's remarkable: the courage that it takes for strangers to tell their story on camera," Gomes said. "It's fulfilling work."
— Jenni Denekas, class of '22
---
Jenni Denekas, class of '22, is a strategic communication and multimedia journalism dual master's student and the communications and events assistant at SOJC Portland.