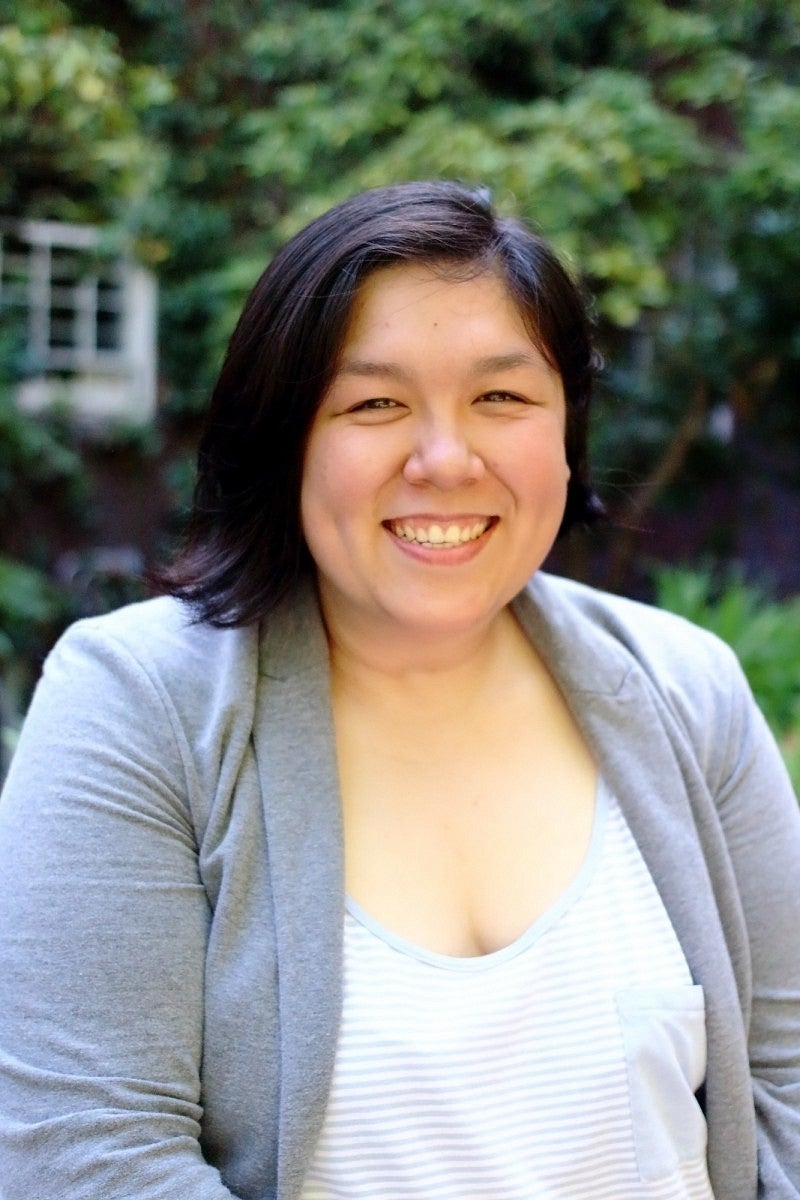 Olyvia Chac-Nguyen '21 is already making waves in the advertising world and drawing nearer to her goal of "becoming the next Peggy Olson," (a reference to the TV series "Mad Men").
With a skill set spanning brand strategy, leadership and writing — as well as diversity, equity and inclusion — Chac-Nguyen succinctly describes herself as a copywriter.
"In traditional advertising, copywriters are the strategists, informing how the copy and design work together," she said.
Upon graduation from the Strategic Communication Master's program at the School of Journalism and Communication—Portland (SOJC Portland) in spring 2021, Chac-Nguyen embarked on multiple professional opportunities at once. She became a junior copywriter at Thesis, a rising mentee at Adweek and a copywriting fellow at the G.R.O.W.T.H. Initiative.
The latter is a project of 100 Roses from Concrete, a nonprofit based in Brooklyn, New York, that provides a "network for people of color in the advertising, marketing, media and public relations industries."
The daughter of refugees from Vietnam, Chac-Nguyen thrived in this mentorship-oriented, BIPOC-only environment.
"I would say that working with so many other creatives of color really gives you affirmation. It was just so powerful," Chac-Nguyen said. "One of the main excuses that agencies make is, 'We can't find creatives of color anywhere.' That's complete B.S. As this experience demonstrated, there are plenty of us. They just won't hire us."
At the G.R.O.W.T.H. Initiative, Chac-Nguyen spearheaded the development of a public relations campaign for Building Beats, a nonprofit that helps youth from marginalized communities develop professional skills for the music production industry. She earned the Life after G.R.O.W.T.H. Human Award for her potential as an advertising  professional and her work during the internship.
These accomplishments stem from Chac-Nguyen's drive to succeed in a significant career transition. Only a few years ago, she was working as a medical receptionist and experiencing a career identity crisis. Chac-Nguyen began to seek out ways to pursue marketing on the side — including volunteering and internships — and noticed the amount of crossover between her current and desired career paths.
"I realized I already know how to do strategy. I know how to write. I know how to be a project manager. I know how to be an account manager. I know how to work with people," Chac-Nguyen said.
As she researched ways to advance her marketing career, Chac-Nguyen found the Strategic Communication Master's program at SOJC Portland. She began her graduate studies in fall 2019 and weathered the shift to remote learning as the COVID-19 pandemic arrived in Oregon in spring 2020. In spite of the challenges, Chac-Nguyen relished the coursework, especially her elective classes.
"All the electives were taught by people who actually work in the field, and they were teaching popular industry topics that were relevant right at the time," Chac-Nguyen said. "I remember working my tail off for the brand strategy class taught by Lisa Peyton."
Advised by Daniel Pimentel and Donna Davis for her capstone, Chac-Nguyen developed an 80-page brand strategy guide for API Forward, a local nonprofit where she had previously volunteered. The organization's mission is to "develop, through education, civically-engaged, socially-responsible Asian American and Pacific Island leaders and professionals."
"API Forward is the type of organization that I wish I had when I was in high school or college," Chac-Nguyen said. "It was great to find a community organization that I could give back to that I felt that I could identify with."
What's next for this hard-working, up-and-coming copywriter? Chac-Nguyen is continuing her work at Thesis and hoping to recharge after her whirlwind summer. She also has some advice for the next cohort of Strategic Communication Master's students: "Ask questions, be open to learning new ways of doing things you thought you knew and pace yourself," Chac-Nguyen said.
"If you start not taking care of yourself, you're hurting your creative process. Some of the best ideas come when you're in the shower or doing something else to take care of your body. Take that fresh breath of air when you need it."
—By Jenni Denekas, class of '22
---
Jenni Denekas, class of '22, is a Multimedia Journalism and Strategic Communication dual master's student and the communications and events assistant at SOJC Portland.