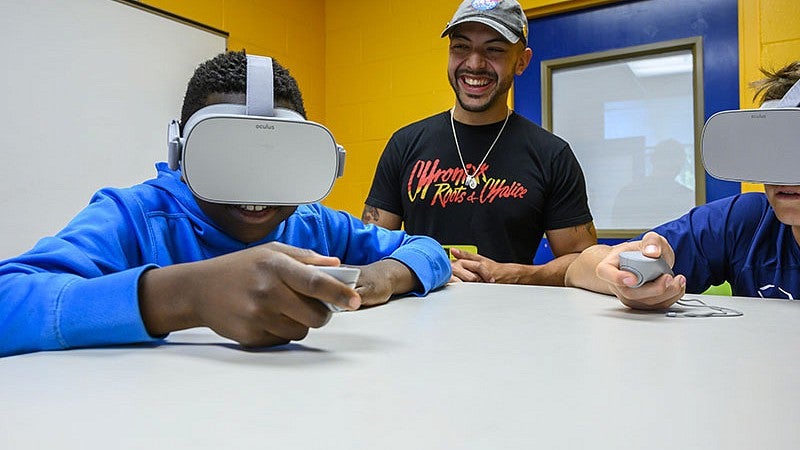 (This photo was taken in February 2020.)
Name:
Danny Pimentel
Position:
Assistant professor of immersive media psychology
Hometown:
Miramar, Florida
Twitter handle:
@xrprof
Favorite quote:
"No grass on the busy road. No hair on the clever head." — Anonymous
Primary research interests:
Immersive media psychology, cross-reality platforms and immersive storytelling, and body transfer.
The advent of cross-reality (XR) platforms — virtual reality (VR), augmented reality (AR), and mixed reality (MR) — has brought immersive storytelling to the masses. My program of research examines how the unique affordances of these platforms influence how audiences process information, and ultimately their decision-making.
I am currently examining the illusion of body transfer, which is the psychological feeling that your virtual body (avatar) is your physical body. There's a lot of great work on the prosocial effects of body transfer with humans. However, I am interested in understanding how embodying threatened wildlife can influence how humans evaluate and respond to the threats facing species, and ultimately inspire conservation action.
How did you get interested in immersive media?
As a graphic designer and avid gamer, storytelling has always been at the heart of who I am. In terms of storytelling as a business, I'd be hard-pressed to identify a group better at it than Disney.
Growing up in Florida, Walt Disney World was the pinnacle of a family vacation, and it was also where I tried my first immersive media experience: Aladdin's Magic Carpet Ride. Since flying through the Agrabah's virtual world, I've been captivated by how this new medium could literally transport me into the story world.
Naturally, when VR became commercially viable and available, I invested in my first headset, the HTC Vive. At the time, I was in my first year of the PhD program at the University of Florida and was researching persuasion through advergaming. However, after getting hands-on experience with VR, I began considering a pivot toward studying persuasion within an immersive storytelling context.
Months later, after taking a VR for Social Good course with my advisor, Dr. Sri Kalyanaraman, and learning basic programming (thanks, Dr. Shiva Halan!), I fully grasped the potential for this medium as a tool for social innovation. I then decided to invest fully in immersive world-building, learning more programming and directing public events bringing together innovators using immersive media for social change.
I have been creating and testing my simulations for more than three years, and I'm beyond excited to see what the future holds.
Why did you decide to join the SOJC?
There are perhaps too many strong points to list. Ultimately, the strength of any institution lies in its people, and the SOJC has no shortage of brilliant thinkers and creators. In terms of the faculty, staff, and students — I was drawn to the nature of the work being done here.
There was a clear emphasis on studying the intersection of media technology, psychology, and environmental conservation. So it was nice to know I'd be joining a team where my work would be a good fit. To say I'm excited to collaborate with SOJC faculty and students would be an understatement.
Another big factor was the opportunity to work in the Oregon Reality (OR) Lab alongside Dr. Donna Davis. From a research perspective, a major appeal was the ability to build and test my VR simulations in a state-of-the-art facility with top-tier hardware.
The location was another big draw. Being in a large urban center like Portland puts me close to industry innovators and tech companies, presenting a wealth of potential for collaboration.
Lastly, as a runner and avid hiker, it goes without saying that I'm looking forward to exploring the state's parks.
What do you hope to accomplish at the J-school?
I am particularly keen on applied research. I plan to keep creating impactful XR content that can be used by organizations dedicated to wildlife conservation to further their missions. For example, I am working with wildlife conservation centers to integrate immersive into their public outreach programming.
Similarly, I plan to continue to create XR solutions to environmental issues specific to the Pacific Northwest. In creating the content and experimentally testing it in the OR Lab, I hope to create theoretical and practical insights into the psychological mechanisms through which these media platforms contribute to pro-environmental attitude and behavior change.
Lastly, I hope to work with the faculty here to keep building the OR Lab into a national and global leader in immersive media research and development.
What about the UO Portland's OR Lab excites you the most?
Having reputed scholars, tech startups and industry innovators all within arm's reach is an exciting thought! There will surely be no shortage of ideas and opportunities for collaboration.
The dedicated space being in downtown Portland also provides unique ease of access for participants during experimental data collection. As I rely primarily on controlled lab experiments, this is a big advantage. Oh, and my inner techie is very much looking forward to working with the latest in XR hardware.
How do you think you will balance your time between research, teaching and creating your own work?
I find that each of these works different parts of the brain and equally fulfills me. Indeed, I regularly switch between writing manuscripts, programming XR content and preparing course/tutorial materials. When I hit a wall writing, I can hop into some programming. If (when) my code gives me trouble, I can pivot toward class prep.
How do you think interactive media will impact the future?
Interactive media continues to shape and alter the human experience in profound ways. Indeed, SOJC faculty here are thought leaders in providing insight on how modern platforms (e.g., virtual worlds, social media) are influencing our quality of life.
However, in the context of XR, I am particularly interested in how advances in artificial intelligence (AI) and mixed reality (MR) are dovetailing into one another to increase the development and use of virtual humans (VHs). VHs will certainly come to have a profound impact on a multitude of industries, from serving as public relations spokespersons to K-12 educators.
A larger share of human interactions will be rooted in experiences with synthetic beings as their capacity for complex human interaction progresses.
What is the value of learning immersive skills to professional communicators, whether in journalism or public relations?
Agnostic of career pursuit, the value of gaining immersive media skills cannot be overstated. While the XR industry may seem in its infancy, immersive media platforms continue to increase their market penetration.
Hardware is increasingly becoming affordable, and the application of XR can be easily justified via use cases within health, journalism, athletics, business, entertainment and other industries. Thus, regardless of what subdiscipline a professional communicator is in, XR will undoubtedly find its way into the communication strategy.
Another important thing to note is that you don't need to know how to program or have a computer science degree to create XR content! For example, solutions like Adobe Aero provides us with a simple yet effective way to build and share interactive MR experiences.
What are the psychological implications of this new technology?
For many years VR has been referred to as an "empathy machine" for its ability to allow users to simulate another being's lived experience viscerally.
This ability to facilitate more effective perspective-taking has been leveraged by organizations seeking to connect audiences with the plight of human and nonhuman victims facing threats that are otherwise unfamiliar to audiences.
For example, studies have demonstrated that embodying victims of homelessness and displacement can contribute to prosocial attitudes and behaviors.
The implications for VR-based perspective taking are amplified when considering how humans actually store VR experiences in memory. Recent research shows that VR experiences, compared to traditional media experiences, become part of our autobiographical associative network.
As such, virtual events are not processed as merely moving images and instead are stored more as events that actually happened to us. With this unique factor considered, creators of XR content (games, educational simulations) need to consider the ethical implications of their virtual worlds.
What do you like to do in your spare time?
If I'm not at a local coffee shop writing or programming or playing basketball, I love being out in nature. As a Hispanic Latinx (Dominican Republic and Colombia), I also love to dance salsa, merengue and bachata. I'm also a huge fan of live music (reggae, folk, classical) and regularly attend concerts and music festivals.
What is one piece of immersive media you wish more people knew about or could experience?
It'd have to be Golem VR in Prague – a free-roaming hyper-reality storytelling experience. It's an immersive escape room that takes you to medieval Prague alongside three other teammates.
I think it's a great example of expertly marrying quality storytelling, solid game design, UX principles and top-notch hardware/software. A bit pricey, considering the flight to Europe, you'd need to pay, but check it out if you're in the area! 
— By Tim Trainor