With a background in fine arts and education, Multimedia Journalism Master's (MMJ) program alum Maia Laperle '21 applies a fresh lens to keeping communities informed.
Laperle is a reporter, moderator and lead podcast producer at Spaceship Media, a national news organization that was founded in 2016 to reduce polarization, build community and restore trust in journalism. The organization facilitates conversations among people with different perspectives on contemporary issues, such as guns and gun safety, and provides resources for individuals to learn more about the topics that matter to them.
Laperle produces "The Wedge," an upcoming podcast by Spaceship Media, and previously worked on a project called "Help! Is this true?!" The latter was a collaboration between Spaceship Media and Arizona State University's Co/Lab, which provided fact-checking and resources pertaining to political mis- and disinformation.
"This work feels really meaningful, purposeful and creative, which are all important to me," Laperle said.
Laperle, who has a Bachelor of Fine Arts degree from Massachusetts College of Art and Design and previously worked as a teacher, has always been driven by creative expression and sharing information. These core interests also drew her to podcasting, which motivated her to apply to the MMJ program at the UO School of Journalism and Communication (SOJC) in Portland.
"I was ready to move on from teaching, and this program provided the perfect opportunity," Laperle said. "I feel like for years I had been building this skill set of presenting information in an accessible way, making complex topics easy to grasp, and I wanted to further my skills in podcasting and video."
During her time at SOJC Portland, Laperle developed an interest in engaged journalism as a student worker for the Agora Journalism Center's project Gather. Gather focuses on making journalism more responsive to communities' specific needs. She enjoyed delving into similar themes in the class Reporting with Communities, taught by Andrew DeVigal, director of the Agora Journalism Center and co-director of the MMJ program.
"It gave me a sense of how I want to be engaging people and telling stories about people, which informs my current work [at Spaceship Media]," Laperle said. "There's a lot of really creative community engagement going on in journalism, and that's the stuff that I'm especially interested in."
Another class that Laperle found transformative was Digital Ethics, taught by  Julianne Newton, director of the SOJC's Communication and Media Studies Master's and PhD programs. Overall, Laperle credited the MMJ program with expanding her technical repertoire, including increased dexterity with the Adobe Creative Suite, and building her confidence as a multimedia storyteller.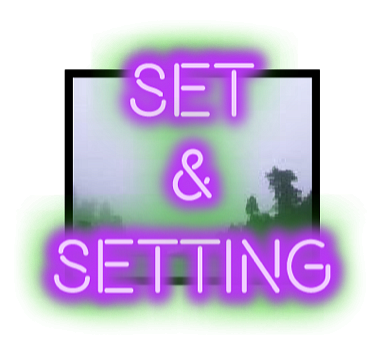 All these influences culminated in Laperle's capstone project, "Set and Setting," a three-part podcast that explores the complexities of psychedelics as an emerging mental health care option. In 2020, Oregon voters passed Measure 110, which decriminalized personal possession of small amounts of drugs including psilocybin, and Measure 109, which authorized the Oregon Health Authority to create a program for administering psilocybin therapy to individuals 21 years or older.
"[This project] started out with me hearing about psychedelics becoming more commercialized and being interested in that angle," Laperle said. "Then someone I interviewed, Rebecca Martinez, said what would be a really interesting story is if I found someone who wants to use psychedelic therapy but doesn't have health insurance. So I started looking at that angle."
Ultimately, Laperle connected with Amber, a young woman who would like to use psychedelics to treat PTSD and depression. Amber's pursuit of this emerging therapeutic intervention is complicated by housing instability. This makes it difficult to ensure a safe and comfortable setting — which is vital when using psychedelics. "Set and Setting" tells Amber's story as a means of illustrating the intricacies of using psilocybin and other psychedelics for therapeutic applications.
"As psychedelics become part of our health care system, how do we make sure that everyone has access to healing through them?" Laperle said. "Especially when not everyone might have access to a safe setting or a mindset conducive to that."
–By Jenni Denekas, '22
Jenni Denekas, class of '22, is a Multimedia Journalism Master's student and the content strategist at SOJC Portland. Connect with her on LinkedIn.