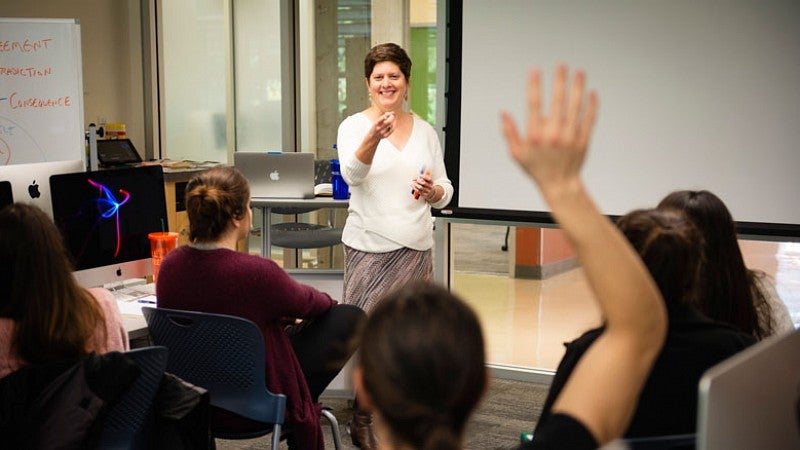 Students sit outside a third-floor office in University of Oregon's Allen Hall — some on a bench, some on the floor — waiting their turn to talk about a paper, ask for advice or just catch up.
Journalism instructor Lori Shontz teaches multiple classes, co-directs Writing Central and mentors the Association for Women in Sports Media (AWSM), yet she still spends as much time as she can engaging with students. This often means snacking or eating lunch while meeting with a student or busing a group to the Society of Professional Journalists Regional Conference in Portland.
"I think students are smart and interesting and funny and entertaining, and why would I deprive myself of that?" she said. "If we're going to spend 12 hours at a track meet or if we're going to spend an hour and 20 minutes every day in Gateway, we may as well enjoy it while we're learning."
Shontz is well known for her esteemed Sports Bureau class (a.k.a. Track Class), which gives students real-world experience covering sports as a team — including the 2016 Olympic Trials; the recent International Association of Athletics Federations World Championships in Doha, Qatar; potentially the Tokyo Olympics in 2020 and definitely the Track and Field World Championships at Hayward Field in 2021.
"The class is not about sports," she said. "Well, it is about sports, but it's really about working in a team. It is a class about working on deadline. It is a class about being a real professional and not sitting in a classroom. I think you learn as much if not more from real-world experiences."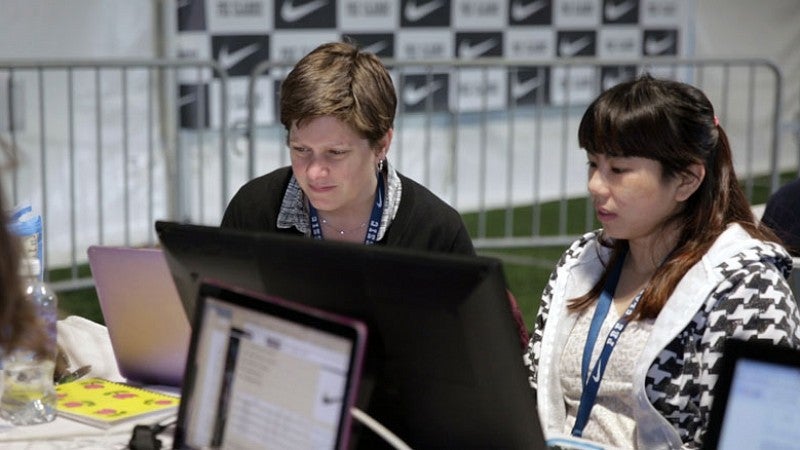 Shontz, affectionately called "Mama Lori" by some students, is a petite woman with short brown hair and a fiery personality. She can talk a mile a minute and radiates caffeinated enthusiasm when discussing favorite subjects such as sports, women's issues and higher education.
Originally from Pennsylvania, Shontz worked as a newspaper reporter and editor before becoming a senior editor at The Penn Stater alumni magazine. She began her teaching career when the journalism program at Penn State University — from which she graduated Phi Beta Kappa and magna cum laude with an English degree — asked her to teach a bit on the side.
"I was so nervous on my first day that I couldn't eat," Shontz recalled. "But that aside, as soon as I walked into that classroom, and as soon as I started teaching and interacting with the students, I knew that this is where I needed to be. This is it!"
She soon decided to get a master's degree in adult education through Penn State online and become a formal professor. She joined the UO School of Journalism and Communication in 2014.
Shontz's master's degree has allowed her to dive into the philosophy and research behind different teaching methods. She is currently using that background to develop better ways to cover mass shootings and trauma, a project she started after some of her students were hired to cover the shooting at Umpqua Community College in 2015. She and associate professor Nicole Dahmen interviewed journalists — including some of her students — for Reporting Roseburg. Shontz received a grant from the Agora Journalism Center to continue the research by interviewing community members about the news media's effect on the community.
"I'm a communicator and a reporter, so I've gone through my whole life listening to people and connecting with people — that's what journalism is all about," she said. "So I've learned to be a teacher by being a journalist. I interviewed my way into it, asking people what they did, why they did it, and how they did it and then listened, observed and changed stuff."
Journalism and public relations double major Linden Moore, BA '19, says she has "majored in Lori," having taken three classes from the instructor. She was also the vice president of the AWSM, which Shontz mentors. Moore can't speak highly enough about Shontz.
"Having her as a mentor has certainly helped me in my career in sports. But at an age where things have a tendency to be rough in school and in life, having someone that is there for you beyond the classroom is a special gift," she said. "I know I can trust her with anything, and she's been there through my highs and lows in college."
Journalism major and former AWSM president Maggie Vanoni, BA '19, appreciates the attention Shontz gives her students. Shontz, she said, was the first instructor who pushed her to reach her full potential.
"She is always honest with her students. I have never felt babied or sugarcoated at all while working with her. To me, that type of mentoring is irreplaceable," Vanoni said.
Shontz's favorite part of being an instructor is when she sees a student turn a corner with their reporting and writing skills. She likes to start by helping students recognize what's good in their writing so they can build off that. She also loves hearing from her alumni.
"I get emails, tweets, notes," Shontz said. "That's truly a joy when you get to know people well enough that they stay in touch with you even after they leave Allen Hall."
---
Becky Hoag, BS '19, is a budding environmental/scientific journalist and researcher, double-majoring in journalism and environmental science with a minor in biology. She specializes in written and audio storytelling. Hoag has written for the SOJC Communication Office for over two years. In 2018, she worked as an intern at the KQED science desk in San Francisco, producing content for its new program about climate change, "This Moment on Earth." She is also a science writer for The Daily Emerald and a co-host for their science podcast Spotlight on Science. Hoag is the website co-administrator for marine conservation outreach organization Ocean Everblue. You can view her work at beckyhoag.com.