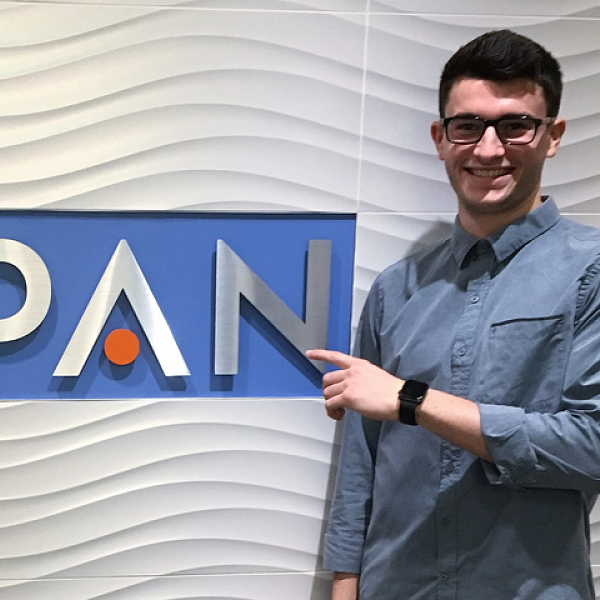 Editor's note: After this profile was published, Cameron Rogers took a job with Walmart eCommerce in June 2019 as an e-commerce category specialist for men's activewear. In this role, he helps give consumers a personalized shopping experience that fits within their lifestyles.
When Cameron Rogers, BS '17, came to the University of Oregon, he knew he wanted to work in the sports communications field. And when he took Kathryn Kuttis' public relations classes in the School of Journalism and Communication, it all clicked: Public relations, he realized, is what he is meant to do.
During his time at UO, he interned for 247Sports (a subsidiary for CBS), where he wrote about Ducks football and basketball. Meanwhile, he developed his narrative skills and honed his strategic communication chops in SOJC classes.  
He also made some important connections. He hit it off with a guest speaker in a PR class his senior year. The contact led to an internship, which ended up landing him his dream job right out of school.
Today Rogers continues to work as a public relations and marketing professional on the PAN Communications team in San Francisco. PAN is a national public relations and marketing company that represents e-business technology and healthcare companies such as Forbes 30 Under 30, Liberty Mutual and Mimecast.
We asked Rogers to share about his journey to PAN, his experience working in public relations and how the SOJC helped him get to where he is today.
When did you know you wanted to study public relations? Was there a class, group, mentor or experience that cemented your interest in the field?
In my junior year, I took the Intro to PR class taught by Kuttis, an amazing professor I am still friends with to this day. At this point in college I barely knew what PR was, but there was an instant connection with both the professor and the content of the course, and I realized that school could be both engaging and fun.
Did you participate in any student groups, internships or other hands-on learning opportunities? 
My two-year sports journalism/social media internship took up most of my free time. I worked for the Oregon Ducks team and recruiting site, 247Sports Oregon, covering everything from football and basketball games to recruiting and breaking news. I am a big fan of Oregon sports and follow the 247Sports Oregon site in my free time, so when the opportunity for an internship presented itself, I knew I had to pounce. My experience with 247Sports was invaluable, allowing me to see the ins and outs of media relations while building stories around topics I am passionate about. This, in turn, helped me understand the PR side of things, as they go hand in hand.
I was also able to study abroad in Siena, Italy, for some business marketing classes focused on wine marketing. This trip was an excellent way to broaden my horizons while learning how to develop integrated PR and marketing strategies. I would highly recommend studying abroad to anyone at Oregon, as it was the experience of a lifetime. 
How did you get your job at PAN Communications? 
An executive at PAN was a guest visitor in my capstone PR class toward the end of my senior year at Oregon. I was instantly drawn to the ideals of the company and their mission to fully integrate PR and marketing for their customers. I began interviewing while still finishing up my finals at Oregon and was ecstatic to be able to join their San Francisco office, right where I grew up. I was attracted to PAN SF because of the company culture and the idea of being developed as a PR professional at a mid-sized agency, as opposed to being lost in the weeds at a larger agency that may only be concerned with the bottom line.
What skills did you learn at the SOJC that helped prepare you for the public relations industry?
Organization and planning were two big things from the SOJC that help me in the PR industry. Public relations requires an immense amount of planning with meticulous details, and time management is key when juggling the needs of five or more clients on a daily basis. The SOJC also helped me hone my skills for writing and strategically communicating to the public, from social media to brand messaging and media relations. 
What do you do on the communications team? What are some of the most rewarding and challenging parts of your job?
My day-to-day at PAN is always changing, depending on the needs of our clients — which is what I would say is both the most rewarding and challenging part of my job. While stressful at times, I thrive in an environment that is always changing, and PAN is perfect for that. I have already been involved with client work in human capital management, cybersecurity, fraud protection, open-source web server development and more.  
Because of PAN's broad customer base and their changing needs, I feel I am taking on new tasks daily that challenge me to become a better PR professional. Whether it is developing and pitching story narratives to publications, writing content pieces for distribution or ensuring my client is presenting ideas at their industry's top events, I am always learning and growing. 
Where do you see yourself in the next five years?
I see myself continuing to grow and develop in the public relations and marketing field. I would ideally like to get some in-house experience at a large tech company to get a feel for both agency and in-house. In either case, I am having a great time in my field and hope to continue down this path.
What advice do you have for current PR students?
Internships while in college were a huge asset to me, both during my time at Oregon and in the post-graduation work world. An internship shows potential employers you are constantly trying to improve yourself. If possible, an internship that incorporates writing or social media will pay dividends down the line, as those are skills that can help in many different jobs. 
—By Becky Hoag, Class of 2019
---
Becky Hoag is a senior double-majoring in journalism and environmental science (with a marine focus). This is her second year writing for the SOJC Communication Office. This past summer, she worked as an intern at the KQED science desk in San Francisco, producing content for the new program about climate change, "This Moment on Earth." She is also a science writer for The Daily Emerald and the student-run environmental publication Envision Magazine, as well as the website administrator for marine conservation outreach organization Ocean Everblue. She is also a co-host of the Emerald science podcast Spotlight on Science. She wants to become an environmental/scientific journalist. You can view her work at beckyhoag.com.