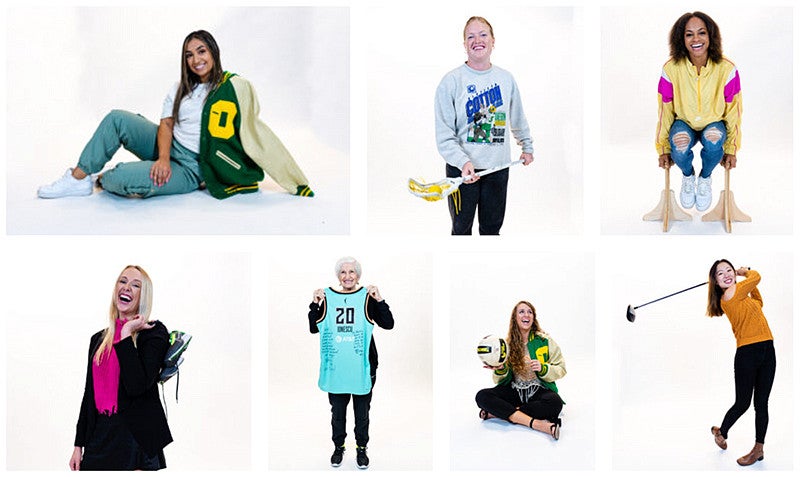 Women's athletics changed forever when Title IX was implemented in 1972. Since then, women's participation in college sports has grown from 30,000 to more than 150,000, and the statute — which protects people from gender-based discrimination in federally funded education programs — is credited with increasing the number of women who earn college degrees.
In celebration of the 50th anniversary of Title IX, Women in Flight, a division of the Duck Athletic Fund that raises funds and spreads awareness for Oregon women's athletic programs, tasked Allen Hall Advertising (AHA) with bringing its "Go Do Anything" campaign to life.  
AHA is the UO School of Journalism and Communication's (SOJC) full-service, student-run advertising agency. Students get hands-on experience working on multiple accounts, building and creating year-long campaigns for real-world clients. The students have created campaigns for many UO organizations, including University Health Services' Protection Connection, UO Women's Basketball, New Venture Championship, and the N.E.S.T., an SOJC student-founded vintage store.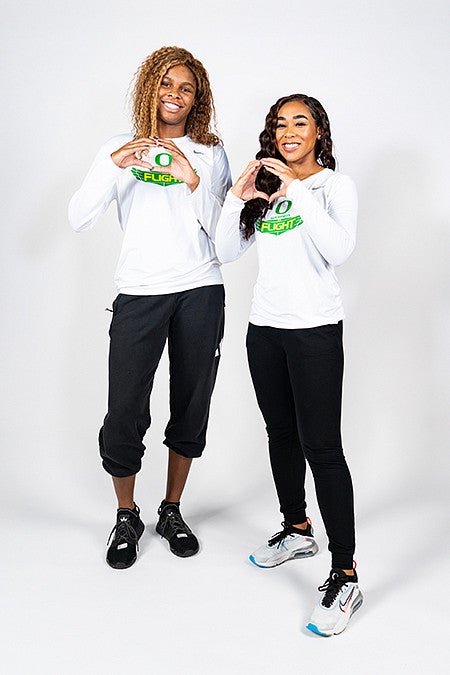 Women in Flight worked with AHA to get the student perspective and ideas for student engagement and involvement with Women in Flight on campus.
In the beginning, one issue Women in Flight identified was a lack of student knowledge about Title IX and Women in Flight in general. After doing some research, the AHA students found that their peers had misconceptions about the impact of Title IX. One goal of the campaign was to clear up those misconceptions.
To increase awareness of the campaign and knowledge about Women in Flight, AHA created a postcard and brochure that were distributed at Women's Basketball home games, sponsored trivia nights at local establishments, branded coffee sleeves and coasters, and maintained a steady and strategic social media schedule.
The campaign slogan, "Go Do Anything," was intended to inspire women everywhere to feel empowered to accomplish whatever they desire. The team interviewed dozens of athletes to capture their stories about their successes credited to Women in Flight and how it has helped them become better athletes and people. The interviews were featured in social posts, testimonies on the Women in Flight website, and informational material.
The "Go Do Anything" campaign launched in January and will run throughout 2022, which marks the 50th year since Title IX's passage into law.
"Partnering with AHA to help execute our 'Go Do Anything' campaign in celebration of Title IX's 50th anniversary has been amazing! The team of talented students provided us with support every step of the way, from ideation, strategic planning, content capture, content creation and execution," said Alexis Cross, director of Women in Flight. "They found creative ways to spread the word, educate and inspire multiple audiences about Women in Flight and Title IX's anniversary. We're thankful to have had the opportunity to work with these skilled and capable students and wish them the best in all their future endeavors."
The students who worked on the campaign at AHA were also thankful for the experience. AHA designer Zoe Hardister said the campaign allowed her to "finally tap into the athletic-advertising field" and "pursue [her] passion of sports-related design in advertising."
Visit the Go Do Anything Title IX campaign website to read stories and learn more about the impact of Title IX.
—By Amy Menendez, Class of '23
Amy Menendez is a third-year advertising student from Portland, Oregon. She is minoring in business and public speaking, and she is the director of account and project management for Allen Hall Advertising. Amy is motivated and committed to work until the job finished.